From the outside, Vivid Sydney looks to be all about spectacle — light sculptures and interactive installations are scattered around the city, and Sydney landmarks like the Opera House are transformed into a ballet of hypnotic, twisting, tangles of color. But at Vivid's heart, under all that brilliant design, lies an ideas-centric festival that pulls together some of the world's most vital creatives to transform the Australian city into a hub of cutting edge music, art, and technology.
Vivid Sydney isn't some weekend destination festival that sees you unplugging from society to reach a more holistic version of you. Nah, Vivid goes hard and constant. It's 23 straight days of light, music, and ideas held in the world's largest outdoor art gallery, which is open to the public and totally free to roam (you'll only have to pay for the keynotes and bands you want to catch).
This morning, the full festival dates and lineup were announced and the bar has most-certainly been raised. Spike Lee, fresh off an Oscar-win, headlines the idea lab; while indie darling and Uproxx RX recipient Maggie Rogers is among the scores of musical acts. Below, we run down all the can't miss music, light installations, and seminars to help plan your trip. Then we do one better and hook you up with some sweet Qantas travel deals.
If visiting Sydney is on your bucket list, Vivid — running from 24 May – 15 June 2019 — is definitely the time to make your move!
THE FESTIVAL:
PART I — Vivid Light
The light shows at Vivid Sydney are some of the world's most brilliant and are without a doubt one of the reasons the festival is so successful in the first place. Show us a person who sees the lights at Vivid Sydney and doesn't want to go, and we'll show you a person who is clearly insane and hates fun, or at least… you know… hates lights.
From the transformation of city landmarks to smaller on-the-ground installations, the 50+ light works curated by Vivid are the heart and soul of the festival. Check out the full lineup of light installations here.
Can't-Miss Installations:
Pixar: 30 Years of Art & Animation

Showtime: This event will last the entire duration of the festival with viewings each day between 1 am and 6 am.
Sydney's famed tunnel and landmark the Argyle Cut in the Rocks will be transformed into a visual documentary of Pixar Animation's creative process. Visitors can expect to see pencil drawings, watercolors, digital paintings and how they all coalesce into the final product. But perhaps most notably — Pixar will be showing off stills and behind the scenes images for this year's much-anticipated fourth installment in the Toy Story franchise.
Austral Flora Ballet

Showtime: This event will last the entire duration of the festival with viewings each day between 1 am and 6 am.
One of the most coveted opportunities for any artist at Vivid Sydney is being given the privilege of transforming the Sydney Opera House, and this year that honor has fallen into the hands of Los Angeles-based artist Andrew Thomas Huang.
Huang is a visual artist and filmmaker who has put his distinctive touch on music videos for the likes of Björk, Thom Yorke and Sigur Rós. Through the Austral Flora Ballet, Huang fuses contemporary dance and motion-capture technology to deliver a lush visual documentary that showcases Australia's unique native plants and wildlife that highlights the connection between the human body and nature.

PART II — Vivid Music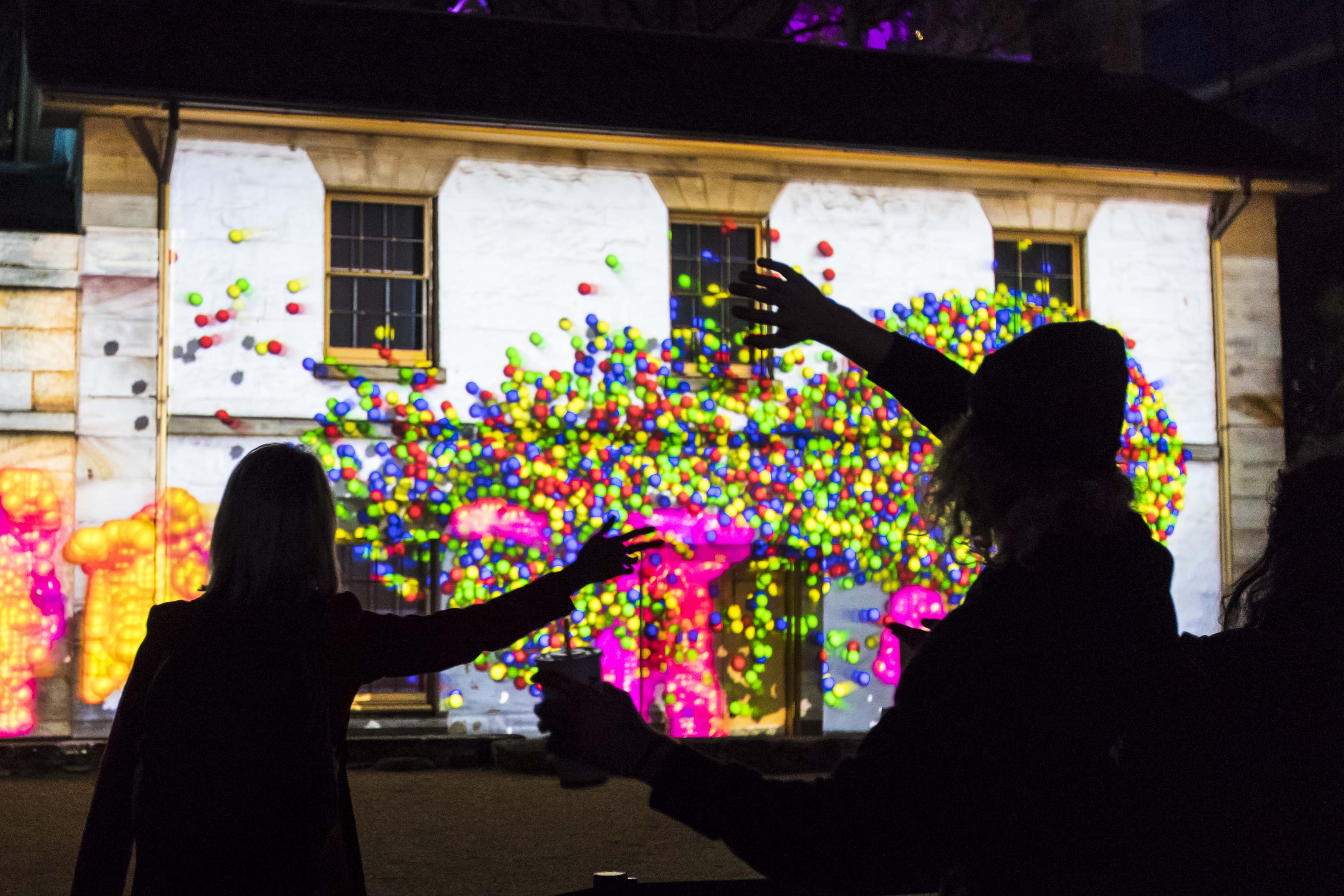 So many destination festivals focus heavily on only one aspect of what they're offering at the expense of others. Not Vivid. With over 108 musical acts performing at this year's festival, music fans of all tastes will find something worthwhile and to their liking. For the duration of the festival, venues and landmarks will hold concerts that gather some of music's most current and cutting edge voices.
To check out the full lineup of music and plan your itinerary, check the full list here.
Cant-Miss Concerts:
The Cure Perform Disintegration

Showtime: May 24-25, May 27-28
Punk, emo, and goth (depending on the era) rock icons The Cure will be playing their masterpiece 1989 album Disintegration in full at the Opera House Concert Hall to mark the album's 30th anniversary. The Cure has a long and storied career but this release contains such classics as "Pictures of You," "Lovesong," "Lullaby" and my personal favorite, "Disintegration."
FKA Twigs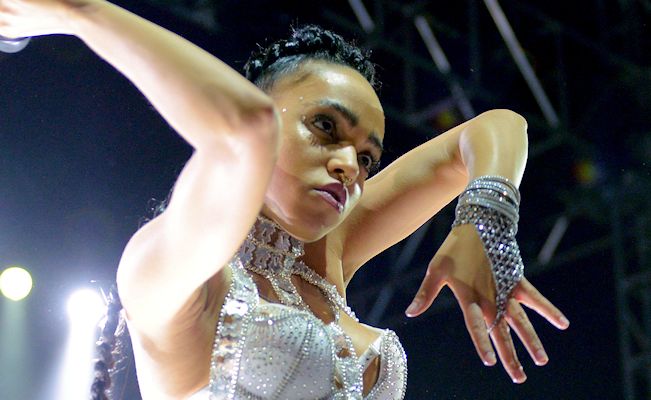 Showtime: June 9th
FKA Twigs will be bringing her iconic brand of avant-garde electronic R&B to Carriageworks in Sydney for a one-night-only show. If you can set your dates for this span, it's an absolute can't miss!
Teyana Taylor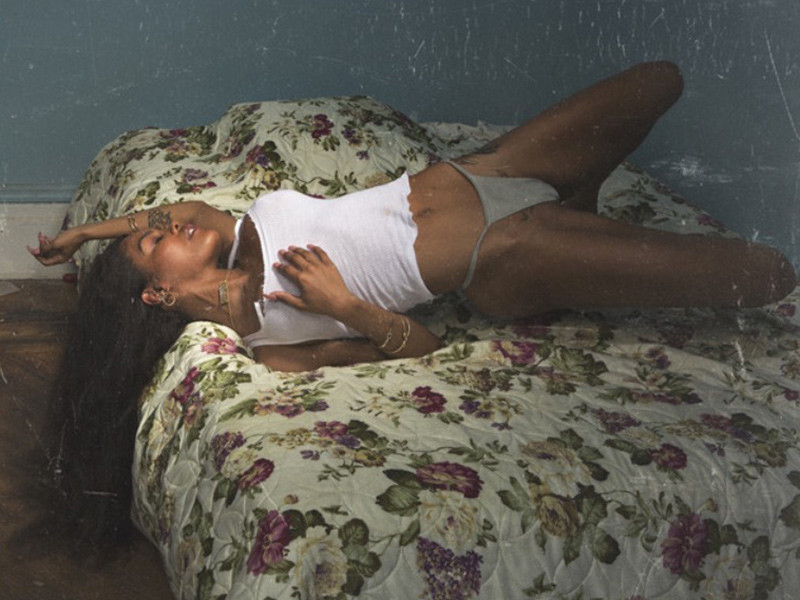 Showtime: May 29th
If you haven't caught Teyana Taylor stateside yet, remedy that situation immediately. The R&B singer, dancer, and Kanye West muse will be bringing her hypnotic stage presence to the Sydney Opera House's Joan Sutherland Theatre for a one-night performance.
Go watch the WTP video if you're still on the fence on whether Ms. Taylor is worth your time.
PART III — Vivid Ideas
Vivid, in addition to being a hub for visual-minded artists, is also the a premiere venue to celebrate innovation in the technological sector. Vivid Sydney brings together business and creative leaders to deliver lectures and conventions on professional development and industry updates.
This year, Vivid will host 64 events on subjects ranging from the dark web to the latest technological advances. To see a full list of everything you can expect to learn about at Vivid 2019 click here.
Can't-Miss Seminars, Speeches, and Symposiums:
New Horizons: The Future Of Sex
Showtime: May 24th
Bryony Cole, the world's leading authority on sex tech, will be giving a talk revealing the entrepreneur's findings about the latest developments in the sex-positive sex tech movement. Bryony's keynote will address how the industry is evolving and what upcoming innovations people should expect, as well as the names to know regarding who is driving the sex tech movement.
Spike Lee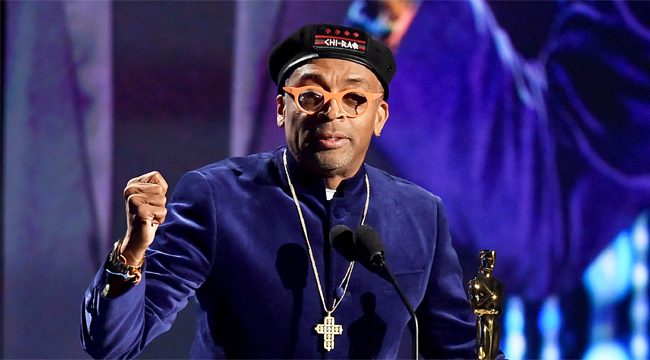 Showtime: June 1st
Spike Lee will be headlining Vivid's Game Changer Series at the Sydney Town Hall where the director is set to sit down with Rhoda Roberts AO — Australia's leading journalists — for a one and half hour conversation about Spike's 40-year body of work and personal political views.
Spike Lee is the type of voice you want to hear candidly and without interruption, so this is the perfect venue to delve into the legendary director's mindset and thought process.
Freshflix Film Festival

Showtime: June 8th
The team that puts together Australia's Festival de C'arn, will be showcasing some of the greatest current short films at Australia's Museum of Contemporary Arts. Freshflix has also curated a list of musical performance stories to fill out the night, and late night screenings of horror and sci-fi movies for those who just can't get enough cinematic goodness.
According to Freshflix organizers, "There will be Vivid views to die for, awards and beverages a-plenty, and by golly, there will be a sensational time had by all."
GETTING THERE AND AWAY
Qantas Travel Deals
Qantas is holding a special airfare sale for anyone trying to attend the festival this year, offering daily departures from the US to Sydney, and non-stop service from Los Angeles, San Francisco, Dallas/Fort Worth and even New York.
If you want in you'll have to move fast though, the roundtrip sales end on April 2nd. Check out the deals below.
Los Angeles to Sydney: $749
San Francisco to Sydney: $789
Dallas to Sydney: $819
New York JFK to Sydney: $949
More Travel Packages
Swain Destinations: Vivid Sydney & Beyond
Price: Starting from $3,185
This 11-night stay allows you to experience the light shows of Vivid Sydney as well as providing the opportunity to taste the finest wines of the New South Wales Hunter Valley and hike among the trails of the world-renowned Blue Mountains.
Qantas: Vivid Sydney Package

Price: Starting from $1,929
For five nights, take in all that Vivid Sydney has to offer and witness the lights shows on the Sydney Harbor Bridge. There aren't any additional amenities included in this package but it does provide the biggest savings out of all the travel packages.
Down Under Answers: Vivid Sydney & Byron Beaches

Price: $1.279 per person based on double occupancy
Not only will you be right in the midst of Vivid's city-wide light installations, this package will also give travelers plenty to do beyond the fest. The classic seaside hotspot of Bryon Bay is famous worldwide and is the perfect place to chill out post-Vivid!
Down Under Answers: Hues of Sydney

Price: $2,599 per person based on double occupancy
Those who want to spend their vacation chilling will want to take advantage of this seven-night travel package by Down Under Answers. You'll be able to take in Vivid Sydney's light shows from both land and sea before you head out to the Blue Mountains for an intimate escape from the hustle and bustle of the city.
Plans to propose? This is the time.
Down Under Endeavours: Luxury Vivid Sydney Vacation Package

Price: $4,499 per person based on double occupancy
In addition to Vivid Sydney, this seven-night stay will also get you a trip up Australia's north coast for a beach retreat to unwind from your long nights experiencing the light shows.
Down Under Endeavours: Vivid Sydney & Surrounds Vacation Package

Price: $2,799 per person based on double-occupancy
This package has it all. Experience the light shows at Vivid, hike the majestic Blue Mountains, and wine-out in Hunter Valley. Make your trip to Australia a truly unforgettable experience, and think about taking us with you. I mean, it says double-occupancy so if you're a solo traveler and don't want to be — drop us a comment!