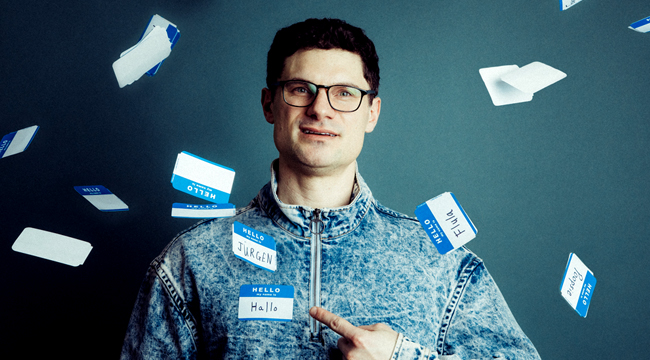 Flula Borg is absurd. To be clear, we've known that since before the Los Angeles-based German-born comedian, actor, musician, and DJ selected the Detroit Metropolitan Wayne County Airport as his entry for our My Kind Of Town series. He hit the mainstream radar as a regular guest on Conan, where he regularly causes the host — and anyone watching — to break into fits of uncontrollable laughter. He's also guested on Silicon Valley, Curb your Enthusiasm, and The Good Place, lent his voice to Archer, and played the head of the German a cappella group Das Sound Machine in Pitch Perfect 2.
The man is supremely talented and supremely weird at the same time. He's also funny as sh*t. So when Borg asked us to focus his entire interview on Detroit's airport, rather than the city itself, we shrugged and went with it. Looking back, we're glad we did.
Last month, Flula dropped a video for his latest single, "Self-Care Sunday," made in collaboration with Ninja Sex Party — a band that features Dan Avidan of the popular YouTube let's-play series Game Grumps. It is… predictably insane. Check out the video below, familiarize yourself with Flula Borg's unique comic voice, and dive into the best of the Detroit Metropolitan Airport.
Why did you choose this location for My Kind Of Town?
For my city, I am selecting the Detroit International Airport. I have spended many hours and days — and length nights! — in this airport as I travel from between Germany (my heart home) and Los Angeles (my work home). Let me just say that I have made many, many memorizations in this city.

Where is the best place to grab a late-night bite to eat?
The Trash Cans Outside Of Earl Of Sandwich
The late-night bitings can be difficult to grab in this city. But a tip for you! I have found that the two garbage disposals in the North Terminal, Concourse D, across from Gate 23, next to the Restrooms — on your right as you walk out of the men's latrine — have a very wide rim. This wide rim is important because on two (2!) separate occasion I have found half of a sandwich on the rims of these bins (first time: meatballs; second time: salad tuna). The secret: there is a Earl of Sandwich Restaurant located near to these trash cans, and I can tell to you: these sandwiches are STILL über tasty even after five hours or more of marinating on these rims!
Where is the best place to catch a comedy show?
Gate 18
The best comedy show I have found is the restroom line near Gate 18 after the 12:20 pm nonstop flight from Shanghai has landed….wow oh wow you must witness the variety of Pee-Pee Dances you will see after a 15 hours flight.
Where is the best place to grab a drink?
The Atwater Brewery
Atwater Brewery, next to Gate D19, but this is only because it is near Gate 18, and does give a great view of the post-Shanghai Pee-Pee Dancers.
What is the best hangover breakfast?
Air Margaritaville near Gate D5. If you are feeling some hangover feelings, then I think the most best choice for your body is to dump more Alkohol into your gullets, and let me tell you something now: this place is definitely having Alkohols for you.
It is in the name.
Where do you get your coffee fix?
The Lufthansa Business Lounge
The Lufthansa Business Lounge, North Terminal, between Gates D6 and D8. If you sprint (or at least speeds walk) past the greeting desk with an empty cup, then turn right immediately around the corner, there is a self-service coffee bar. I have found you can pour at least half of a coffee cup with coffee before a Sky Waiter or Waitress speedwalks to you, touches your elbow and asks you to leave.

What is the best meal you've had?
The best meal I have had would definite be the Beats by Dre bluetooth headphones I purchased from the CNBC News Smartshop. Yes, they did provide me with no food Calories, but they DID deliver many Decibels of Delicious Audio.
Have you heard before George Michael's album Faith? Wow — well if not let me say to you that I guess it would be nice if I could touch your body for I know not every body has a got a body like you. Oh.
What is your favorite thing to do after a set in this city?
I usually reserve my time at Detroit International Airport for biceps day. I enjoy to do three to five sets of bicep curls (using two Bibles from the Hudson Booksellers store). After each set, my most favorite thing to do is to stand near the Trail Mix section of the store, because there I have a perfekt view of the refrigeration section.
From this vantage I can see who will be the first person I observe purchasing any of the hard-boiled eggs floating in water inside clear plastic containers that are next to the Gatorade thirst quenchers.
What do you absolutely hate about the Detroit Metro Airport?
Mayor Mike Duggann
I hate the mayor of the Detroit Airport. I have written this person many times about the URGENT need for a German Beer Garden somewhere in the city but have received no response. It is because he or she or they knows I am right.
What's your favorite getaway outside of this
city

airport?

They have a very large water fountain where it does seem like many tiny men are urinating all over the foundation and in all the directions. I think the Ghost Busters would not like this Fountain…DO NOT CROSS YOUR STREAMS, TINY URINATORS! Is what Venkman would say maybe perhaps!
What is one thing you haven't done in the Detroit Metropolitan Airport that is on your to-do list?
Visit The Nursing Room
I have not yet visit the Nursing Room (North Terminal, across from Gate D15) because, 1) I do not have breasts where Milk can come out, and 2) I do not have a baby (or animal or life partner) that could ingest this human dairy.

Where is the best place to party in the Detroit Metropolitan Airport?
With Rhonda and Eric, my two favorite custodians. They let me drive their golfing carts when it is very late. Also they do "look the others way" when I eat sandwiches from the garbage rims.