First, Netflix broke the internet by posting a job that would allow several very lucky people to travel the world and enjoy spending money while chilling on its sets; then, a prefecture in Japan upped the ante by putting out a hiring call for real live ninjas to put on shows and appear on television programs to promote "warlord tourism." Now, World of Beer, a chain of bars that bills itself as "your local craft beer tavern" is hiring three interns to spend their entire summer tripping and stumbling all over tarnation and drinking every amazing beer known to man. "What'd you do on your summer vacation?" Someone will ask one of the lucky interns who got the job. "I spent my summer drinking and traveling," they'll reply. "And I got paid!" That lucky intern? It could be you! But you gotta hurry because applications close on the 26th!
Here are the main rules if you want to be World of Beer's "Drink It" intern: You've got to be over 21, be a U.S. citizen (or allowed to work in the U.S.) and be willing to go wherever it is where the best beer lives. The job application claims anyone chosen won't be needed on a "full-time" basis, but it's not just drinking and eating (although that's a big part of it), you'll be doing. Here's what the chosen candidates must be willing to do, via the site:
Learn all you can about beer!
Try new things
Write blog entries, take photos and video, Tweet, Vine, Instagram, Facebook, or all of the above
Travel to domestic and international locations to meet brewers and attend beer festivals
Be on camera and share your story with WOB fans across the country
Have an AWESOME time trying AMAZING BEER in ENVY WORTHY locations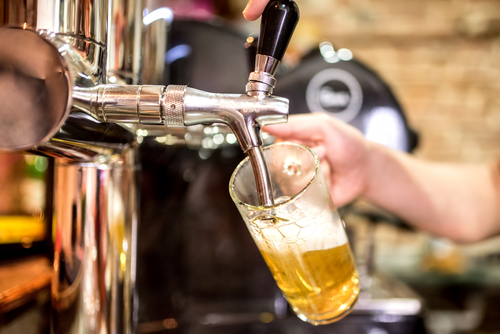 The company's obviously looking for "social media nuts" who are outgoing and can "keep up a conversation," because there's going to be a lot of exploring and meeting going on. But who isn't outgoing after a few rounds at a beer festival? I rarely go outside, but I totally killed it after drinking three giant bears at a Rennaisance Faire, and so can you!
Here's how to apply: Either show up at one of the taverns in person (moving your application to the top of the list) and audition in front of "a panel" or send in an application with a one-minute video filled to the brim with reasons of why you, and only you, should be the beer intern to end all beer interns. Callbacks will be held during the first week of April and the real fun begins on April 25, when I imagine World of Beer either shows up at your house, blindfolds you and drives you to a surprise location in a van (fun!), or throws a giant party with beer (more likely).
Either way, it sounds like it'll be a summer to remember. Or not remember at all. (At least you'll have some photos to show for it.)