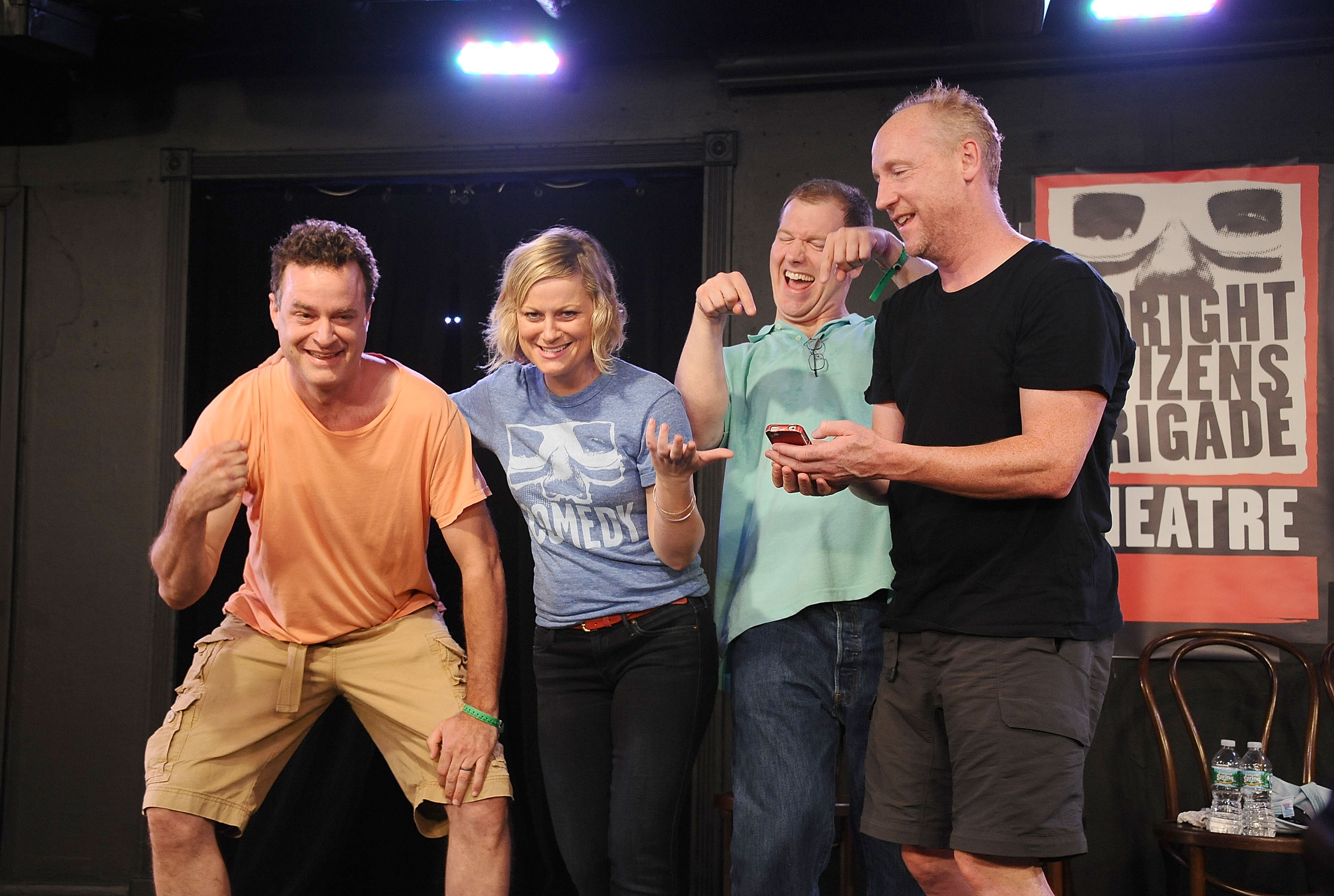 Long-form improv as we know it today was heavily influenced and popularized by the Upright Citizens Brigade theatre and its founders Amy Poehler, Matt Besser, Matt Walsh, and Ian Roberts — oft regarded as the UCB Four. It's fair to say that we may still be stuck in a world full of short-form improv à la Who's Line Is It Anyway? if it weren't for these folks. The four brought the improvisational lessons and skills they mastered in Chicago — under the tutelage of their teachers, Del Close and Charna Halpern (regarded as the grandmother and grandfather of long-form improv) — to New York, where many a comedic voice became smitten with the troupe.
Their shows gained popularity in the stand-up centric town of New York, eventually finding their way to Los Angeles for obvious reasons. UCB has left a lasting impression on not only improv, but comedy as a whole. It's an impression that continues to grow exponentially, as an impressive alum can be found in every crevice of the comedy world (notables: Aziz Ansari, Ed Helms, Aubrey Plaza, Charlyne Yi, Thomas Middleditch, Zach Woods, Sasheer Zamata, Ilana Glazer, Abbi Jacobson, and a bunch of other people you've probably heard of). What follows are early accounts from UCB's founders and current performers on the theatre's roots and how it became the place to see and learn improv.
Chicago: 1990
We saw this guy in his living room playing guitar and yelled, "Let's go steal his guitar!" McKay ran into the house and wrestled the guy to the ground and beat him up and kicked him to the ground and ran out the door. And we're like, "Let's get the fuck out of here!" Of course, it was a plan, but the audience was just like, "What the fuck is going on? What's happening here?"
MATT BESSER: I didn't even know what the concept of improv comedy was. I went to go see this thing called Improv Olympic with Chris Farley and Tim Meadows, all these funny people, and I couldn't understand how it worked. It seemed magical. This kind of improv pretty much only existed in Chicago.
MATT WALSH: Improv, from my experience, was primarily a Chicago phenomenon. Del Close had set up shop in Chicago and he was the guru of long form.
BESSER: I went to this place called The Rocks in Chicago and I saw Matt Walsh on stage doing some bit. I saw many people on stage. I saw Andy Dick on stage. I did not gravitate towards Andy Dick [laughs]. I gravitated towards Matt Walsh. And I said, "Hey, man. Let's do some sketches together." The funny thing is he said no the first time.
HORATIO SANZ (UCB, Saturday Night Live): Matt [Besser] and Matt [Walsh] were doing a comedy show, so Matt and Matt did a bit then [Adam] McKay and I went on one week and joined them. And we had so much fun that that was it. The next week we became a group.
IAN ROBERTS: [Matt] Besser and [Adam] McKay asked if I wanted to start a sketch group with them, and so I showed up at some cafe in Wicker Park. Only one guy showed up, so we canceled the meeting. I showed up a second time, and a couple guys showed up.