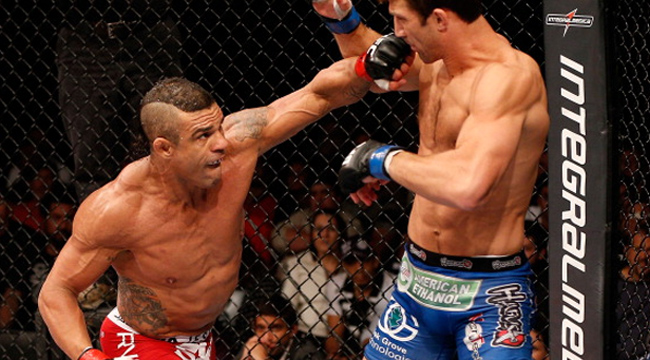 If you're a hardcore mixed martial arts fan, chances are you know a little bit more about steroids than you'd like to. Fighters test positive for an A-Z of illegal substances on a fairly regular basis, and if you wanna figure out which ones are lying when they do their "Why, I Never!" routine, you'd better be up to date with the specifics of different kinds of steroids and drug testing procedures.
As a fan who lived through the ridiculous Testosterone Replacement Therapy era of the sport (where fighters who supplied a doctor's note were allowed to inject testosterone, WTF F'ing F), I've read my fair share of information regarding what a normal male's testosterone levels and testosterone to epitestosterone levels should be. Apparently, so has Chris Weidman, who is fighting Vitor Belfort for the UFC middleweight championship this Saturday at UFC 187. Both men were randomly drug tested twice leading up to the fight by the NSAC, and here's what Weidman had to say about the results (via Bloody Elbow):
"Seriously? So I'm 30 and he's what, 38? Screw the T-E levels, how does he go from 12 ng/ml to 5 ng/ml? That's crazy. I'm not worried, I will still have to beat him anyway. It's just funny and quite the discovery." Chris said during UFC's media day.
The test results are available for all to see: Belfort had 12ng/mL of testosterone and a 1.7 T:E ratio for the first test and 5ng/mL 1.5 T:E for the second. Weidman had 3.7ng/mL .13 T:E and 3.7ng/mL .092 T:E.
What the f*ck does that mean? The simplest way to understand the results above are that higher numbers mean higher levels of testosterone. The legal limit for T:E is 6, but a normal level is 1. Considering Vitor Belfort claimed he had hypogonadism and couldn't produce testosterone when he went on his TRT-fueled title run, his healthy numbers are somewhat suspicious. Especially next to Chris Weidman, whose numbers are low but make sense since he's been depleting his levels training like a maniac for this title defense.
Unfortunately, all of these levels say nothing definitive — the commission used urine instead of blood, which is notoriously all over the place and hard to draw conclusions from. Both men passed their tests, so that's all there is to it. Now it's time for the two of them to step into the cage. Just don't be surprised if Belfort shows up looking a little more jacked than Weidman.