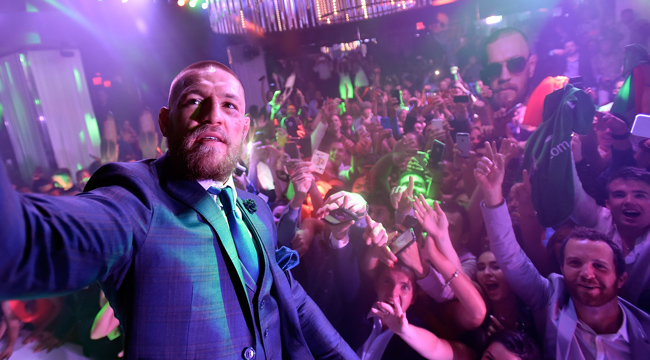 Superstars tend to flock together, and that goes for the biggest names in the UFC as well. Recently we learned that Ronda Rousey was in a knitting club with Kat Dennings, and then there's Conor McGregor who made friends with soccer legend Cristiano Ronaldo. And now through Ronaldo, he's making even more friends … like Jennifer Lopez. In a recent interview with The Irish Independent, McGregor's coach John Kavanagh recounts how McGregor decided to simply "tag along" with Ronaldo to Lopez's birthday party despite not being invited.
But when you're Conor McGregor, even J-Lo's birthday bash ends up becoming The McGregor Show.
"We go in and J-Lo catches his eye and comes running over like a schoolgirl 'Oh! Conor McGregor! Thank you for coming. Let's dance!'" Kavanagh said. "She drags him to the dance floor and they start dancing and I'm like 'Oh, here we go, just another crazy story.' Ronaldo is there. He comes over, tells me that he reads everything (I write) and follows me on Instagram. I'm thinking wait until I tell my dad about this!"

Ronaldo's appreciation for Kavanagh's coaching philosophies didn't end there. By the end the soccer star was putting the MMA coach into playful headlocks. He said "Yeah, it was like a drunk party, I'll tell you this. But it was very enjoyable."
"[Ronaldo] kept coming over, and then he would drift away, and then I'd be in another part (of the room) and he'd come over again. And it got to the stage where [UFC fighter and McGregor teammate] Orlagh was like 'Here's this sports megastar harassing you!'"
So you can add Jennifer Lopez to the musical stars clearly on Team McGregor. The Irish fighter could make one hell of a music festival with all his friends. Just last month he was spotted out with Drake, Bono, and Katy Perry. He had Sinead O'Connor sing him out to the cage at UFC 189. Maybe McGregor is interviewing candidates for UFC 205 at Madison Square Garden?