There's no shortage of digs Conor McGregor's opponents have found to throw at the larger-than-life Irishman, but one that may still have a ring of truth to it is that he lacks the cardio to go hard for five rounds. Ironically, part of that perception comes from McGregor finishing almost all of his fights in the first round. The other part is due to his loss to Nate Diaz in their first meeting. In that fight McGregor seemed to punch himself out before getting tagged by Diaz and submitted shortly after.
Conor redoubled his training efforts and managed to defeat Nate in their rematch over five rounds, but many still think he doesn't have the gas tank to truly go to war for twenty five minutes. As far as his UFC 205 opponent Eddie Alvarez is concerned, McGregor is a great fighter for exactly eight minutes. But the cardio work McGregor put in to beat Nate Diaz back in August didn't stop after his win.
"Obviously in the first, Diaz fight I couldn't last two rounds," McGregor admitted to the UFC's Megan Olivi. "My lactic acid filled and I couldn't clear it. After the contest, I was unsure what was going on and I was blaming absolutely everything. So [F.A.S.T.] was the program I went through. Cardiovascular based, scientifically monitored program."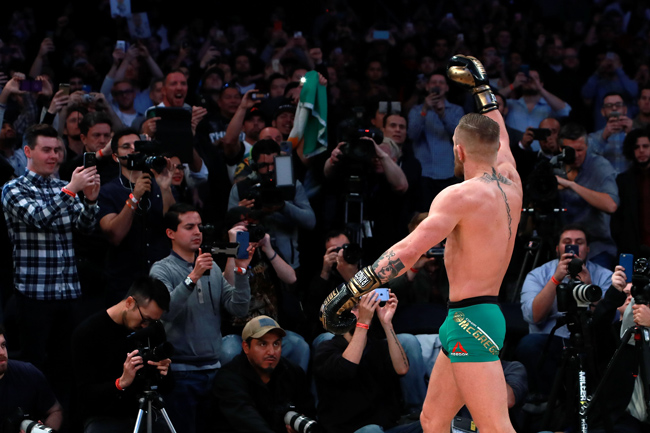 "I learned about over training. I used to work work work and then I'd work myself into a brick wall. So this training, monitoring the heart rate, monitoring all the lactate test results, I was able to train at certain zones and not over train. It kept me training and it kept me climbing up and up and up. Now I'm rolling in, my body fat is going down, my VO2max is coming up. I'm lean. I'm faster. I'm longer on the program. So now I look forward to showing phase two."
The only question, in Conor's mind, is if he'll get to show off his next-level cardio against Eddie Alvarez.
"Part of me hopes that he can last, because I'm sprinting in round five," McGregor continued. "I'm literally balls to the wall in round five. And there's fresh bodies coming in. There people coming in fresh halfway through my training and I'm still pushing harder than anyone in the fifth and final round. So part of me wants to show that to the fans, to everyone."
"I just don't think he has it in him. He's too easily hit. You can smack him from anywhere. I have everything on him. Reach. Height. Everything. So I don't see him getting out of the first round. If he does, great, I'll take my hat to his toughness, he's a tough dude. He can get in and fight and he's been doing it a long time. But tough is not enough to go against me."