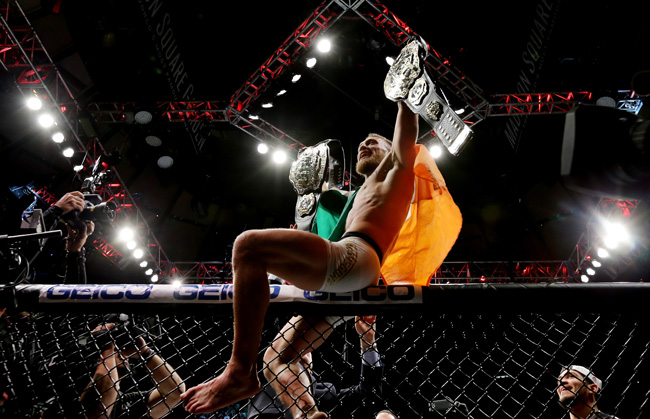 Conor McGregor made history over the weekend, defeating Eddie Alvarez to become the first fighter to hold two belts simultaneously. And when you make winning two look as easy as Conor McGregor does, of course the conversation starts turning towards three. With McGregor now in possession of the UFC's 145 and 155 pound belts, many are wondering if Tyron Woodley's welterweight title is next.
The brash Irishman has already gotten a taste of what it's like to hold the 170 pound belt. After a production screw up left McGregor without two belts to hoist to the screaming masses at Madison Square Garden, Tyron Woodley's welterweight belt ended up being used as a placeholder.
"What was that about?" McGregor said incredulously at the post fight press conference. "I was literally losing my head in there … so I'm happy that they went and got one. Maybe that's a sign of things to come."
McGregor and Woodley had several run ins on fight week that culminated in security separating their camps after the UFC 205 weight ins. "You're like a woman with that phone, you f**king bitch!" McGregor spat at Woodley in footage from the incident.
For his part, Woodley seems interested if a bit bewildered that McGregor may have the audacity to challenge him to a fight.
"If he wants to fight, we can sign it right now," he said after his majority draw fight with Stephen 'Wonderboy' Thompson. "I'm good on the fight! I just don't think it's a good idea for him to fight me?"
It may not be, but that's never stopped McGregor before.