Conor McGregor has followed through on his bold claims yet again, taking the lightweight belt off Eddie Alvarez with ease and becoming the first fighter in UFC history to hold two belts at once. It was a powerful moment that will go down in Madison Square Garden history, but at the UFC 205 post-event press conference, reporters were already more interested in learning what was next for the Notorious one.
McGregor had promised he'd make a big announcement after the fight, and what he said will definitely impact his future and that of the UFC.
"One announcement, I'm gonna be a daddy early next year," he revealed. "I'm crapping my jocks, I'm not gonna lie. I don't even know what way to take it, it's kinda messing with my head because I don't want to be bringing a child into this. I don't want no celebrity type show, I hate all that. I don't want my family to be like that. So that's kind of a little thing in my head. So I'm just gonna have this baby, take a little time, and see what way I feel after that."
That may sound like McGregor is planning on disappearing for the foreseeable future (he later said the baby was due in May). But McGregor made it clear that he was ready to fight again … if the UFC was willing to cut him in on the company. This isn't the first time he's talked about getting some major equity in the fight promotion. And just like with the two titles, he seriously plans on getting what he wants.
"There's not a f**king thing wrong with me, so I can keep going all day. But I'm aware of my worth, and now I've got a family. Now I've got a kid on the way. So I'm coming for mine now if you want me back."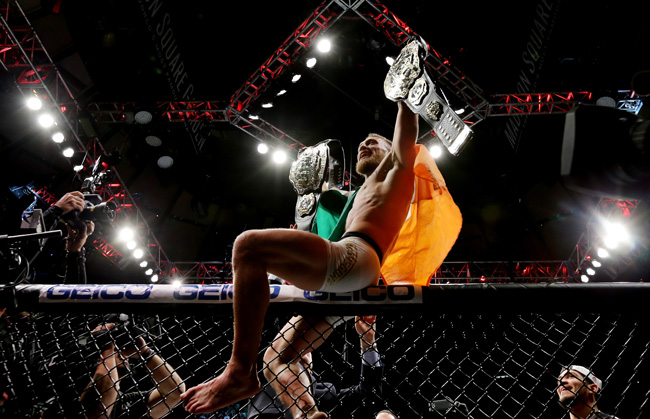 "They gotta come talk to me now. Cuz no one's come talk to me since the sale has happened. As a businessman I've been approached like 'Hello' and that type of stuff, but I've earned something. I mean, who owns the company now. People have shares in the company, celebrities. Conan O'Brien owns the UFC nowadays, so where's my share? Where's my equity? If I'm the one that's bringing this, they've gotta come talk to me now."
"I've got both belts, a chunk of money, a little family on the way. You want me to stick around, you want me to keep doing what I'm doing, let's talk. But I want the ownership now. I want equal share. I want what I earned."
McGregor said there were plenty of options as to what could be next, and didn't shut down the idea of going up to 170 and challenging for the welterweight belt next. But he refused to seriously engage on the idea of future
"I've got a million other hurdles before I even consider any of this," he concluded. "Whoever runs this whole s**t has to come to me and give me the real slice, because that's what I've earned. I've earned this. Biggest gate. Biggest everything."
So it looks like we'll have to wait and see whether new UFC owner Ari Emanuel is able to work out a deal with McGregor. If he isn't, this might be the last we see of the brash Irishman for the next year or two.