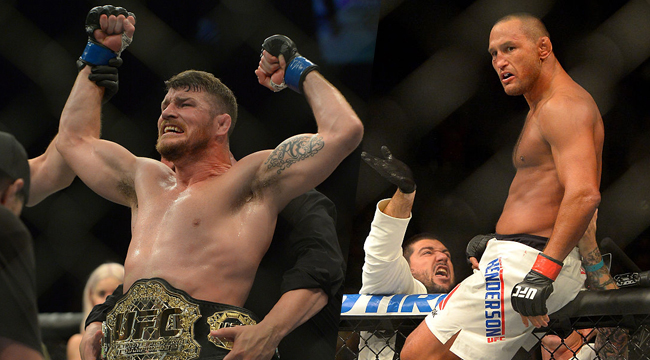 Say what you will about the "worthiness" of Dan Henderson's shot at Michael Bisping's middleweight belt, the UFC is doing MMA fans a favor by making this rematch — the storyline is almost too good to be true and the stakes couldn't be higher. A 45-year-old Dan Henderson, 4-6 since rejoining the UFC, is going to finally retire, win or lose, after fighting Michael Bisping, the man who he famously knocked out, for the UFC middleweight title. This is a man, a legend, a dual weight Pride champion, Strikeforce champion and the winner of the UFC 17 tournament who has one shot to get the one belt that has evaded him.
The date for the rematch has been set — October 8 at UFC 204 — and as expected, trash talk is flying. Now, the Bisping camp has reminded the world of another part of Hendo's legacy —his past Testosterone Replacement Therapy. In a post for Champions titled Bisping's Ignorance Just Motivates Me to Punch Him in the Face Harder at UFC 204 , Henderson reflected on his final fight against Bisping and gives every armchair athletic commissioner a lesson on TRT:
Mike makes himself look ignorant and naive about the whole situation of why I was on TRT in the first place. Yes, I was on TRT for a number of years, but only after a doctor's recommendation and approval from the athletic commission. It was never a secret. It was always monitored. In fact, before USADA, I always monitored myself every training camp just in case there was any question if I was taking too much and was over the normal range. So I was always within the limits they set. I wasn't on a high dosage and it barely affected me when the rules changed and I stopped.
The MMA community has been divided on Testosterone Replacement Therapy, and if we want the eyeball test, its relatively recent banning has coincided with Hendo losing far more than winning, but if it were a therapy allowed by the commission, how can it be anything other than a footnote? There probably shouldn't even be an asterisk.
So even in the age of USADA, the TRT issue comes up to haunt Hendo once again. It's certainly an interesting angle on the Bisping/Hendo feud, considering Hendo viciously destroyed Bisping before he received the therapy. Consider it just another fine addition to what could be the most dramatic goodbye from an athlete in MMA history.
(Via Champions)