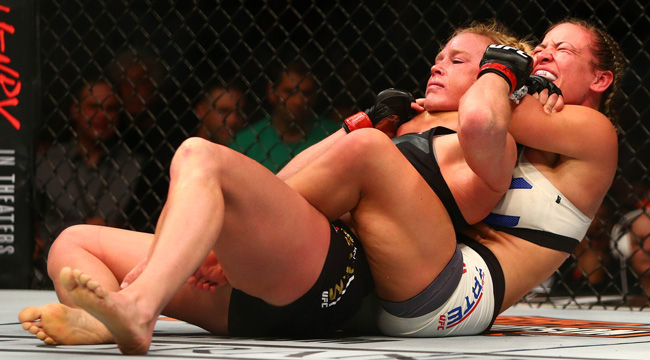 Most oddsmakers had Holly Holm as the clear favorite over Miesha Tate at UFC 196. And for a majority of that fight, the oddsmakers looked like geniuses as Holm kept Tate at bay with roundhouse kicks and jabs. But in the fifth round, Holm made a crucial mistake — an overhand right missed the mark and Tate took her down. The rest as they say is history, as Tate ultimately finished Holm off with a rear naked choke hold.
On Tuesday, UFC president Dana White took dead aim at Holm's manager, Lenny Fresquez, and blamed him for the loss.
"The sad part about that is, listen, he's an old boxing guy who thinks he's smart, and he's not," White said during an appearance on ESPN's Russillo & Kanell. "It's one of those things. I feel bad about it. I feel bad for Holly. I don't know if Holly really knows what she lost. I think she has so much faith in the people that surround her, she feels like, 'Well, they got me this far.'
White added that Holm didn't attend a meeting with some UFC personnel ahead of the fight. Instead Fresquez and the rest of Holm's team took care of it. Who knows what this meeting entailed or what, if anything, Holm could have added. It's very possible she just doesn't care about the details and overall production of the fight. And that's certainly her prerogative. As Dana White astutely observed, she's gotten this far with them. A victory over Ronda Rousey and winning the bantamweight belt is nothing to scoff at.
So, what's this really about? Why is Dana White hammering Holly Holm's team so hard?
If you recall back in December, White and Fresquez kinda went at it in the media, disagreeing over Holly Holm's next fight after the Ronda Rousey victory. Fresquez wanted Holm in the ring as soon as possible. When told about this, White sarcastically responded, "We're real concerned with his opinion."
Yeah, these two don't get along. That's the most obvious explanation for White's comments.