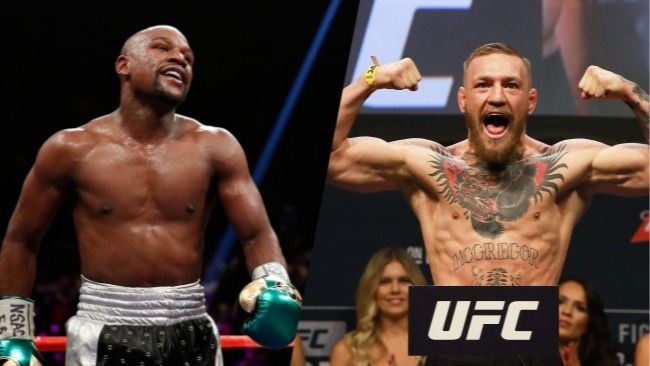 Floyd Mayweather and Conor McGregor have a lot in common. They're both superstar prizefighters with an interest in trash talk and a love for the finer things in life. One thing the two men do not have in common: A way to sort out the purse for a much hyped (and likely impossible) Mayweather/McGregor superfight.
Mayweather popped by ESPN's First Take for takes both first and additional on Wednesday. The appearance allowed the retired boxer to provide his own counter offer to McGregor's $100 million proposal for a bout between the two. As you might suspect, Mayweather's return volley is not asking the Irishman if he'd be okay with $99.9 million. He also made the claim that this bout was sunk in negotiations the last time it was attempted.
"We tried to make the Conor McGregor fight," Mayweather said. "They know what my number is. My number is a guaranteed $100 million. That was my number.

"We are willing to give him $15 million and then we can talk about splitting the percentage — the back end — on the pay-per-view. But of course, we're the 'A side.' How can a guy talk about making 20 or 30 million if he has never made 8 or 9 million in a fight."
Even with McGregor's boxing licence and both sides putting a dollar figure on things, it's not unreasonable to look at this potential matchup with skepticism. Heck, with McGregor still positioned as the UFC's golden god (negotiations always pending), this might not be all that different than Paul Heyman musing about a WWE run for McGregor. It doesn't seem likely, but it's fun to think about.
Likelihood of a fight or no, Mayweather took aim at both McGregor and the UFC itself.
"You guys keep hearing all these different rumors about different fighters want to face Floyd Mayweather," said Mayweather. "Everybody keeps talking about Conor McGregor. He's blowing smoke up everybody's a–. Dana White, the UFC — let's make it happen. Bring him over to the boxing world, and I'll show him what it's like."
Mayweather's comments did not go unnoticed by McGregor. The UFC Lightweight Champion took to Twitter with an illustration and a reference to Orlando Magic vet C.J. Watson. Watson is alleged to have slept with Jose Harris, the mother of Mayweather's three children. This probably won't be the last we hear of this feud in 2017. The chances of an actual fight in 2017 seem a little more remote.
(Via ESPN)