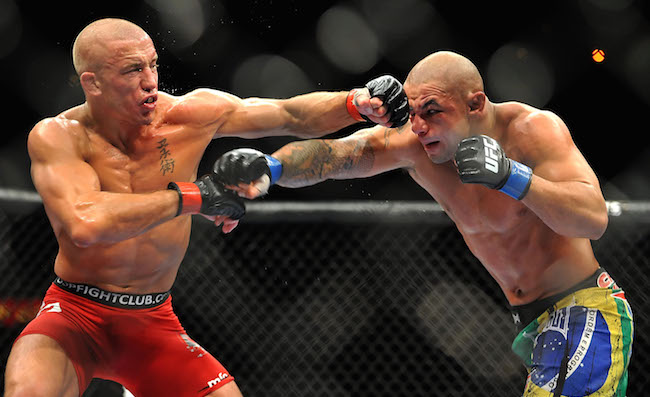 MMA labor advocate and master of dental chair selfies Georges St-Pierre will be a hot commodity whenever he does elect to fight again. It doesn't matter if it is inside an Octagon, with a rival promotion or aboard the International Space Station. People want to see GSP fight again whenever/wherever possible and with the UFC hemorrhaging attractions due to injury, the prospect of a comeback fight probably seems extra sexy to the new UFC brass. If such a thing does go ahead, St-Pierre's head coach has the ideal opponent in mind.
ESPN's 5ive Rounds with Brett Okamoto had St-Pierre's coach Firas Zahabi on the podcast and the Tristar luminary shared that he doesn't think GSP should be aiming for his old welterweight belt. He's got a different weight class and title in mind. Michael Bisping, come on down!
"I would love the Bisping fight to be honest with you," said Zahabi on something that was once pushed by Bisping for UFC 206. "I feel the welterweight division doesn't have a supremely confident champion yet. Tyron Woodley is a great champion, but he's on his first defense. We need someone to build a history like Georges did, to have a super fight."
Zahabi is putting a premium on star power with this imagined tilt which is something Conor McGregor has more than showed the benefits of. We can't disagree. Sports are showbiz and in Zahabi's view Bisping is the opponent that makes it the added draw.
"With Bisping, it would be for the middleweight title That would make it epic," he said. "Georges needs to come back for a mega fight, super fight. Something five rounds, something historical. Not just another contender."
Fighting at middleweight against a casual-friendly titleholder certainly would bring additional dramatic intrigue for GSP, but let's not undersell the value of both Tyron Woodley and Stephen "Wonderboy" Thompson as entertaining fighters that could have tons to gain from beating a legend. Not that Zahabi expects St-Pierre to lose when he comes back.
'I still think Georges is the best pound-for-pound fighter in the world," shared Zahabi. "He trains regularly so I still see him in action and the guy is a monster. I hope Georges and the UFC, his management team at CAA, they book him again. He's such an incredible talent sitting by the wayside. It's crazy to me. I think it's a matter of time. I'm hopeful at least."
Any feelings on who the ideal GSP comeback opponent should be? Play matchmaker in the comments.
(Via Five Rounds)