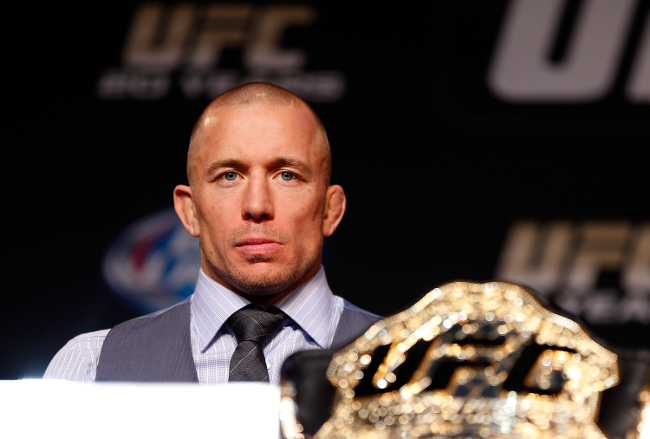 In a shocking announcement this afternoon, former UFC welterweight champion Georges St-Pierre dropped the bombshell that his contract with the UFC had been terminated. That means no fight at UFC 206, no rematch with Nick Diaz, and definitely no superfight with Anderson Silva in December. Once again, it seems that the UFC's tight pockets have once again screwed us all out of a good time. Once again.
But lo, there is hope. With St-Pierre now a free agent, there are actually a number of intriguing (if somewhat less lucrative) options for the former kingpin to pursue in promotions like Bellator, ONE, and even Rizin. So rather than lament the loss of another UFC great from the promotion's ranks, we've decided to highlight a few of GSP's more viable alternatives to kickstart his post-UFC comeback.

Andrey Koreshkov 
Look, we know it's probably not a great start when the first candidate we mention is a guy that 90% of MMA fans haven't heard of, but the fact remains that Russian striker Andrey Koreshkov is arguably the most talented welterweight competing outside of the UFC today. He's fresh off a dominant win over former UFC lightweight champion Ben Henderson in April and is set to make his second title defense against Douglas Lima at Bellator 164 next month. Should he defeat Lima, it would establish a pretty obvious narrative of "the UFC's best welterweight vs. Bellator's best welterweight" that be pretty easy to push on even the most casual of MMA fans.
And really, it doesn't even matter who you put St-Pierre against at first. All Bellator has to do is slap his name on a card alongside Rory MacDonald — a fellow Canuck and training partner of GSP's whom the promotion acquired earlier this year — and it could sell out any Canadian venue it wanted to in a matter of minutes.
Ben Askren 
Then again, the only fighter who holds a victory over Koreshkov in professional competition (and a decisive one at that) is Ben Askren, the former Bellator welterweight champion and current ONE FC welterweight champion. Considered by many to be the greatest wrestler competing in the sport today, Askren vs. GSP has always been something of a sleeper superfight amongst MMA hardcores, if that makes sense, and has been continuously fueled by the former's endless trash-talking of "Rush" dating back to his reign as UFC champion.
It might not be the most entertaining fight to make, but it is one that would answer the kind of technical grappling-based questions that tens, maybe even DOZENS of MMA fans have been debating for years now, and isn't that what this sport is all about?

Chael Sonnen 
When it comes to selling a fight, you can't do much better than the reflection of perfection, the man with the biggest arms, the greatest charms, and the man who will do a lot of harm, Chael P. Sonnen. Now that he's "mostly clean" and signed to a nice new contract over at Bellator, Sonnen vs. GSP at middleweight seems like the obvious match to make once the former finishes beating the brakes off Tito Ortiz in January.
From a promotional standpoint, The Canadian Hero vs. The American Gangster would be an easier sell than LSD at a Bob Weir concert. From a matchmaking standpoint, it would certainly be compelling to see how St-Pierre would handle a much larger man in Sonnen with the wrestling pedigree to back it up. And from Scott Coker's standpoint, it would be the chance to shove two of the UFC's greatest stars right down their fat f*cking faces while reaping all the rewards. It would be a high on par with taking LSD at a Bob Weir concert, to quote an infamous, universally-respected writer whose name currently escapes me.
BARUTO
Let's face it: You're going to find slim pickings when searching for any elite-level fighter outside of the UFC, Bellator, or ONE. Luckily, Japanese upstart promotion Rizin has quietly been establishing itself as a Mecca for former MMA greats through its first two events, and better yet, has signed a man who wouldn't know what "slim pickings" were if it was explained to him by Neil deGrasse Tyson with a Powerpoint presentation at his disposal: former sumo wrestler turned MMA fighter Kaido Hoovelson, aka BARUTO.
Currently 2-0 in mixed martial arts competition, Baruto has already scored wins over kickboxing great Peter Aerts and PRIDE monster Kazuyuki Fujita and … you know what, by this point you've obviously figured out that I'm being facetious in order to get a laugh, so I'll stop wasting your time. The point is, you could match up St-Pierre against ANY of Rizin's top stars (Fedor Emelianenko, Wanderlei Silva, etc) and get a fight that would not only do gangbusters in Japan, but result in no less than fifty notable gifs for us to use in perpetuity.
Nevermind the fact that the possibly Yakuza-backed promoters over at Rizin are the only people who could actually afford to pay St-Pierre what he's been demanding, but I dare you to look me dead in the eyes and say that you wouldn't pay top dollar to see GSP vs. Charles "Krazy Horse" Bennett in an octagon, ring, parking lot, or rented out motel room where Bennett is currently residing TONIGHT if you had the chance.
That's what I thought.