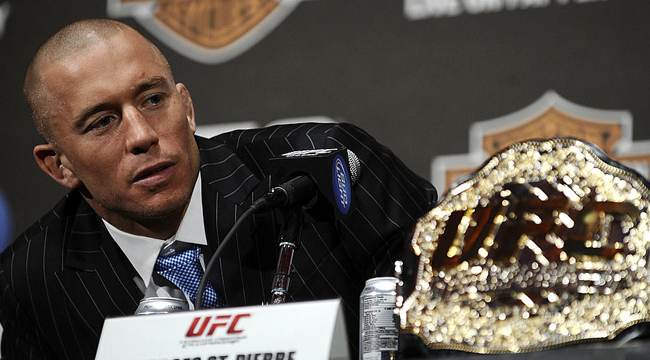 Georges St-Pierre's return has been hinted at for months leading up to the former welterweight champ publicly stating that he wants to get back into the Octagon after three years away. Unfortunately for fans, and seemingly for the UFC, the powers-that-be simply don't want GSP to fight for them. Dana White has gone on a besmirching spree of GSP, saying he "doesn't want to fight" and questioning the 25-2 GOAT's heart. It's a weird situation that led to GSP announcing that he's now a free agent after he terminated his contract due to "inactivity."
The UFC has said that GSP is still under an exclusive contract, but one of GSP's lawyers, Jim Quinn of powerful-sounding New York firm Weil, Gotshal and Manges, made it clear to ESPN that his client and the lineal welterweight champion of the world is indeed a free agent.
"Our position is the contract is terminated," Quinn said. "I suppose they could take legal steps against that or they could offer a new contract. They have a variety of options on their side."

"The UFC waited until the 11th-and-a-half hour to come back with bare bones information, that floated one fighter and nothing else," Hochstadt said. "No specifics at all in terms of fight date, venue, number of rounds. All we got, at the 11th hour, was a proposal for somebody. And as Georges said, we don't know if [Lawler is] ready and able to fight. All we know is he just pulled out of a fight.

"We were working through all the issues in play and had been squaring them away. One of them, no surprise, was the UFC has a Reebok deal that came in long after Georges' contract. We were working through those things, but ultimately, you've got to schedule a fight for your fighter. The UFC knows how to schedule fights. This is what they do every day. Send a bout agreement with all the specifics. They didn't do that here. Why they chose not to do that, I don't know."
This is a confusing situation that simply doesn't make business sense. Dana White used to praise GSP. They both made a ton of money together, so why is this happening? White told MMA Mania the following in 2011:
"Let me put it to you this way: Georges St. Pierre is, by far, the biggest pay-per-view star in mixed martial arts. By far. By far. The biggest pay-per-view star. Big. By far the biggest pay-per-view star in MMA. So, for what it's worth, for people who want to say he's this or that."
So why has it come to this? Just for Reebok?
(Via ESPN)