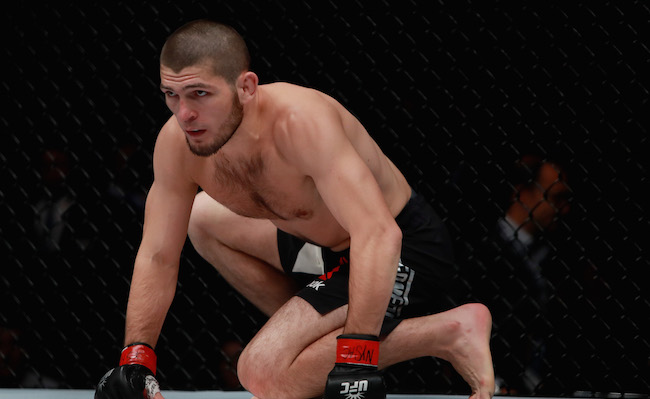 Undefeated lightweight Khabib Nurmagomedov is very happy about the prospect of making Conor McGregor very sad. In fact, his current plans for the lightweight division could bum the UFC brass out too.
Nurmagomedov has formidable #2 contender Tony Ferguson on the horizon at UFC 209, more on that in a sec, but the Russian dynamo shared with ESPN his plans beyond that. First up, graduate from a UFC 209 interim belt to take McGregor's title and then something hilariously diabolical.
"After I finish [Ferguson], then Conor," said Nurmagomedov. "And after I finish Conor, UFC will maybe want to make rematch. But I say, 'No, calm down. You have to stand in line.'"
Considering Conor's comfortability with holding divisions hostage, making the Irish fighter wait would be a fitting middle finger to the UFC's cash cow with the gift of gab. Mind you, it doesn't take "Mystic Mac" to predict that other fighters would happily take the big money that would come from stepping into the Octagon with McGregor, belt or no belt. Outside of bouncing to another weight division, it's hard to imagine Nurmagomedov's employer being wild about this scenario either.
To get consideration for a fight with Conor McGregor, Nurmagomedov still has to defeat Ferguson at UFC 209. Ferguson hasn't lost in UFC competition since 2012, but in a chat with Fox Sports, Nurmagomedov didn't seem to concerned about that. Heck, he pointed to a piece of UFC lore that intended to emulate at their March 4 tilt.
"If you watch when I fight dos Anjos, Michael Johnson, Darrel Horcher, these guys are my opponents but he's a little bit different than other guys. I want to break his face because I want to teach him respect," Nurmagomedov said about the fight with Ferguson. "When I fought with Michael Johnson, when I took his arm for the kimura, I can break it but I go very slowly, be careful because I don't want to give him injury. Because I understand (the) fight was finished. I need only to go a little bit slowly and he tapped.

"If Tony Ferguson gives me this arm, I'm going to break his arm like Frank Mir-(Antonio Rodrigo) Nogueira."
So, uh, don't give Khabib Nurmagomedov your arm or the arms of your loved ones if you've pissed him off. Please keep this in mind.
(Via ESPN & Fox Sports)