FightNight_SaintTropez Thomas Mozny (SLK) pic.twitter.com/niNoqcQeFT

— Jolassanda (@Jolassanda) August 4, 2016
Getting punched sucks. That's an entirely professional observation, mixed in with some scientific fact. So when you get hit so perfectly in a professional match that your mouthpiece goes flying, it's a pretty good indicator that a bomb just landed on your chin. That also sucks. Of course, professional fighters can usually fight through a slobber knocker, and that's exactly what Thomas Mozny did at K-1 Fight Night: Saint Tropez. He was decked so hard his mouthpiece ran from his mouth like a frightened amateur, but what happened next made it one magical mouthpiece.
As we can see by the initial impact, Thomas Vanneste's left hook sends Mozny's mouthpiece flying out in front of his torso.
Mozny follows being hit by throwing a strike of his own — a left kick to Vanneste's body — which perfectly juggles his floating mouthpiece back up into the air, where he plucks it from its descent, all while the fight rages on.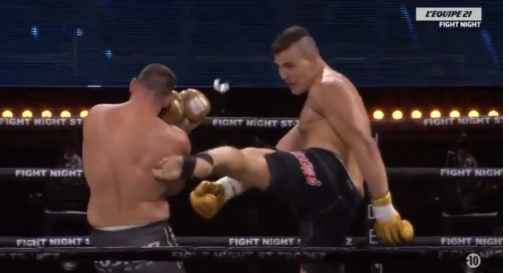 The only thing left for Mozny to do is take a bow to the crowd, then place his mouthpiece back in his mouth like a boss. The young heavyweight would go on to win by a decision, but we all know he won the moment that mouthpiece landed in his glove.