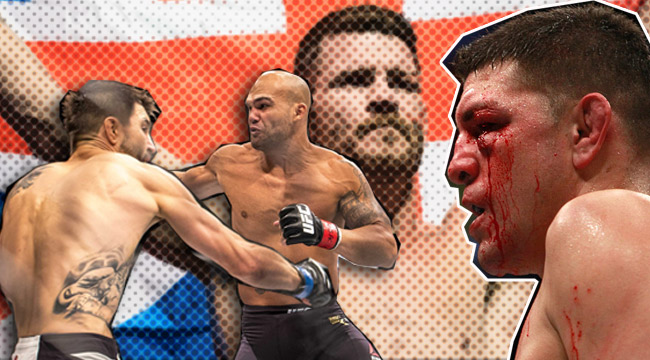 Sometimes you don't know what you've got until it's gone, except, in the case of Nick Diaz, you should be completely aware that you're witnessing greatness in and out of the cage. No one is more quotable, no one is more interesting, and few people bring it harder than Nick Diaz. Half of the memes in MMA history were created thanks to the Diazes, and the last time we saw nick, he was doing this:
Now, Nick is free. His 18-month suspension for marijuana metabolites has been lifted. It's time to do some matchmaking — who should Nick Diaz have his return fight against? The usual Uproxx MMA crew was all over the place, and our special guests were just as diverse. The one surprising thing — rematches were a constant.
Granted, all of these entries were written before Robbie Lawler lost his belt, but that might just make the Lawler rematch more likely (unless Nick gets the Woodley fight that Tyron so desperately wants).
Jessica: Nick Diaz is back, baby! There's an interesting three-way scuffle when it comes to who Diaz should fight. There's the guys he should be fighting, which are guys hovering around the top 15, since he hasn't won since 2011. Then there's the fights Nick thinks he should get, which are the big money fights. Then there's the fights that would just be rad as heck and that's what I care about, because they don't care about rankings.
With much consideration, and since Lyoto Machida is likely going on suspension as Nick is coming off, I gotta say that Diaz versus Wonderman Thompson is the best potential matchup. Nick once said he plays as Ryu in Street Fighter since "he's most like me". Well, Thompson is a karate man, too, so this might be the best chance we'll ever have of Ryu versus Ken in the UFC.
Jason: The only person who could make a Nick Diaz fight boring is Daniel Cormier. Even though I'd love for Nick to take a fight at 205 (I believe in his weight gain!), I think the realistic fight here is Matt Brown. I would very much be down for a Matt Brown/Nick Diaz fight considering it makes sense within the welterweight division rankings, and it would just be fire. I think Jessica is onto something with Wonderboy, but if we're going to the top 2 in the division, screw it — give him a title shot. Lawler/Diaz 2 is not only a big fight, but the storyline of Lawler avenging his loss in his late career resurgence would be cool. That's predicated on Lawler beating Woodley, though. And if Nick wants to go up to 185, then give him Bisping. That's a fight I've wanted to see for years. We need to get over his record and just give Diaz all the big fights. Come on.