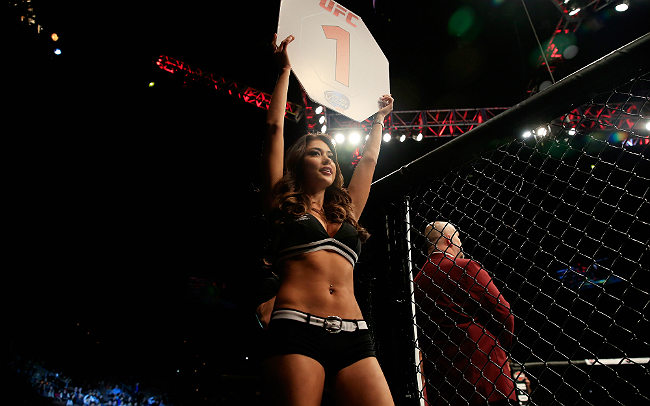 Ronda Rousey hasn't been throwing a lot of heat at her UFC 184 opponent Cat Zingano, which is understandable considering Zingano is a universally respected competitor who lost her husband to suicide last year. A less sympathetic target for trash talk? UFC Octagon Girl™ Arianny Celeste.
The two have been on uneasy terms since 2013 when Ronda appeared in Maxim's Hot 100 issue along with the accompanying quote: "It would have been really funny if I'd beaten Arianny Celeste. Like, 'Ha-ha, it's your job to show your tits and I do that better than you!' Maybe next year. She's only getting older, and I'm reaching my prime."
There's something just not right about Arianny having to take smack in Maxim magazine. That's supposed to be a safe space for professional hot girls like her, Ronda. And you violated that.
The animosity was stoked up once again when Ronda said that fighters "should get paid more than the rings girls." Not really much of an insult to Arianny… until the MMA media turned questions about her pay into one of the big stories of the week. Celeste made various other comments supporting fighters and mentioning the non-UFC work she does to make ends meet, but it was her response to MMA Junkie Radio that really gained traction:
"I'm tired of the bullying, and I'm not going to let it happen to me or any of the other Octagon Girls. … It blows my mind that someone who doesn't even know me continuously picks on me. … I see her as a big bully."
Which just pissed Rousey right off. After her open workout, she had this to say:
"What did I say that I was a bully? I said that the fighters should get paid more than the ring girls. That doesn't make me a bully, that makes me f*cking right.

"I'm sorry, but she wouldn't have a job if it wasn't for the fighters. She wouldn't. Do you think her walking in circles around the two guys or two girls out there like, fighting for their lives is worth more? You think she works harder than they do? I didn't say that she needed a pay cut. I said either the ring card girls are paid too much or the fighters aren't paid enough."

"For her to take that personally – you know what would have been the best thing for her to say? [Valley Girl Voice] 'Oh my god! You know? These fighters work so hard. And I wouldn't have a job if it wasn't for them and I just admire them so much. Yeah, I definitely think that they should get paid more than anybody in the arena tonight.'
"There you go, a PR lesson for her."
The real PR lesson here is the internet will take everything someone says and turn the dickitude up to 11 for fun and drama. No need to turn this last Ronda Rousey quote up, though:
"I got a lot of respect for Brittney Palmer. She went and became a ring card girl to pay her way through art school and become a renowned artist," Rousey said. "And her being ring card girl helps her promote her art. If you're working at Hooters because you're trying to pay your way through medical school, then f*ckin' work it girl. I respect the hustle. But don't think you're hot sh*t just because you work at Hooters. Use it to further yourself in life; don't think that you're awesome just because you do that. I'm sorry, but I'm not impressed with the job in itself."
It's like The Dude said, Ronda. "You're not wrong. You're just an asshole."