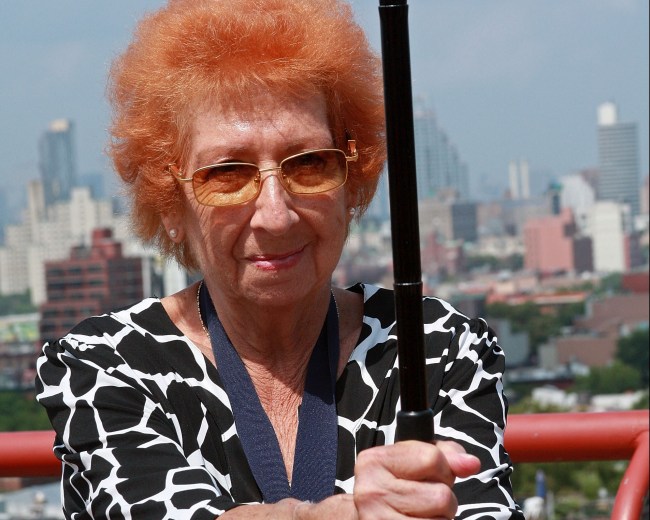 Ask anyone on the staff of the U.S. Judo organization and they'll tell you that if it wasn't for Rena "Rusty" Kanokogi, there might not be a judo industry for women to compete in. Rena had to battle bureaucratic enemies with the same amount of vigor she applied to her opponents on the judo mat. But Rena was born to scrap, and when she wasn't hip-tossing opponents, she was pushing the women's agenda in the hopes of making judo an olympic sport. Were it not for Rena, Ronda Rousey would have never been able to ply her skills at the 2008 Summer Olympics, an event that helped propel Rousey into the stratosphere of mixed martial arts. And if it wasn't for that, who knows when we'd see Ronda in a cage taking limbs as trophies?
Rena Kanokogi, who passed away in 2009 at age 74, was born in Brooklyn by the name Rena Glickman, and with a bayonet strapped to her leg, she led a street gang of females called The Apaches through the tattered remnants of Coney Island and Luna Park. They were tough, and looking for trouble, but on the streets of New York, Rena found something else. A man she met on Flatbush Avenue had taken up the practice of judo, a martial art he had picked up while in the military. That man taught Rena some maneuvers, and the New York rebel began to see the activity as an outlet, and a way out of her gang lifestyle.
Rena spent countless nights training at that dojo, and in 1959, she decided to put her skills to the test at the Y.M.C.A. championships in Utica, New York. Before her bout, Rena — who had already cut her hair short to resemble a man — taped down her breasts and competed in the male division. She won her bout, but when an official placed a medal around her neck during the award ceremony, he noticed something was different about Rena. Taking her aside to an office, he asked her if she was a female. She admitted to the lie, and was stripped of her medal.
"Had I said no,"she told the New York Times, "I don't think women's judo would have been in the Olympics. It instilled a feeling in me that no woman should have to go through this again."
In 1962, Rena decided to further her studies in the art of Judo by traveling to Tokyo. It was there that she would meet her future husband, and when she returned several years later to the states, she was considered one of the best judoka in the world. The problem was, there was no competitions to test her skills. Rena sought to change that.
Working tirelessly, Rena wrote letters to and lobbied every sporting committee she could get her hands on, including Olympic committees. Some groups were beginning to sway, but with her patience thinning, Rena financed her own women's judo world championships at Madison Square Garden in 1980 by mortgaging her home. Her hard work and advocacy were paying off, and at the 1984 Olympics in Los Angeles, judo was made an exhibition sport. By 1988, though, it had finally earned its place as an Olympic medal sport. Rena coached the women's team that year.
Corinne Shigemoto, the COO of U.S. Judo, who also trained under Rena in the '80s and '90s, remembers her fondly.
"She was aggressive," Shigemoto told Uproxx Sports. "She never gave up. She always pushed us, always fought for us no matter what. (She was) very passionate about what she did."
Rena's efforts did not go unnoticed. In 2008, she received the Order of the Rising Sun from the Japanese government, one of the highest honors a foreigner can receive. In 2009, she received a gold medal from the Y.M.C.A., the same medal that she was stripped of when she was found to be a female. By 2009, though, "Rusty" had no fight left in her. She passed away at 74 due to complications from her battle with cancer, and left this earth as a hero to female athletes.
"She put us on the map," Shigemoto said about Rena's contributions to women's judo. "I can remember walking through the lobby and if there was a reporter there covering judo, she would be over there. She would just invite herself over and promote women's judo and the U.S. female athletes. She never waited for them to approach her, she was always pushing … because she knew that that would and could turn into something bigger. (Without her) we would be behind. Years behind."
What about Ronda Rousey? Would she exist if it weren't for Rena?
"She started this for women way back when I first started many, many years ago; we were just an afterthought," Shigemoto said. "So, in a roundabout way, I think (Ronda) would have gotten there, but I think it would have just taken longer."
Like many things in this world, though, some memories turn to ash more effectively than others. When asked how Rena "Rusty" Kanokogi is remembered these days within the current crop of female judokas, she gave a bittersweet response.
"The athletes of my generation, (remember her) absolutely. In a good way, she was an in-your-face type of person, and she was always around. Unfortunately with her gone, her presence is not there. For some of those athletes that are coming up, that we are not around, unfortunately, that's lost."