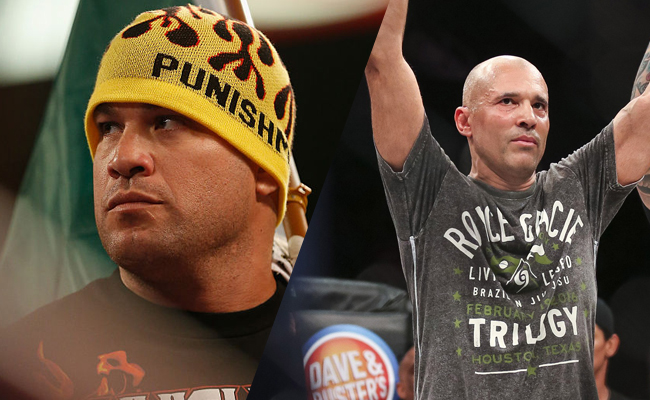 Tito Ortiz has one fight left on his Bellator contract, and he wants to go out with the biggest fight possible. So, he's got his eye on another legend who's been active recently — Royce Gracie. This would pit the 41-year-old Ortiz against 49-year-old Royce Gracie. While Gracie looked fresh in his stoppage win against Ken Shamrock earlier this year, would he really be able to hold his own against the younger and bigger Tito?
The logistics don't seem to matter to Tito Ortiz, who while speaking to Sirius XM, laid out the plans for the end of his career:
"This is the last fight on my contract, it's the last fight that I want to compete. I'm 41 years old. I was supposed to be retired and done with this business at 40. Nineteen years I think is good enough for me. So let's go out with a bang. Let's go out with one of the biggest names in the world of mixed martial arts.

"Royce Gracie is here, he's competing. He just stopped Ken Shamrock super quick. I think that would be a fun fight. I got caught with a submission by a black belt, Liam McGeary. Royce Gracie's a black belt. Can he catch me? That's a question. We're both old pioneers of the sport, legends of the sport. I think the names would sell. Let's give the fans something exciting."
Or we can get Tito versus Kimbo Slice, which I think would be the much more interesting fight. Either way, I would watch this. I don't know why I'd be so into Tito vs. Royce, but I'm not saying no if it ends up happening.
(Via MMA Fighting)