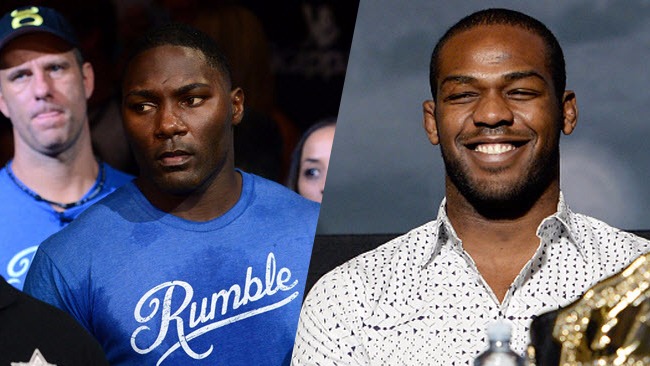 After quickly and viciously dispatching top ranked contender Glover Teixeira via tooth-shattering KO at UFC 202 last weekend, it seemed as if Anthony "Rumble" Johnson had definitively punched his ticket to another shot at light heavyweight champion Daniel Cormier next. The two last met back in May of 2015 at UFC 187 — you know, after Jon Jones was forced to drop out because of that whole hit-and-run thing — with Cormier managing to weather Rumble's early storm and eventually wear him down en route to a third round submission win.
With Jones having managed to once again screw himself over indefinitely, Rumble vs. DC II is basically the only sensical title matchup that the UFC could book, but Dana White, ever the misanthrope, actually has different plan in mind. During an appearance on the UFC Unfiltered podcast yesterday, White stated his interest to book Johnson vs. Jones in a title eliminator match to see who truly deserves the next crack at Cormier.
"You know what, man. I'm in a weird place," White said. "I saw that fight and it was a great fight, but I've still got to talk to Joe Silva and see what he thinks. I'm thinking that maybe we do Anthony Johnson versus Jon Jones to see who gets to fight Daniel Cormier."
You might be asking yourself how this fight could possibly make sense given that Jones is currently serving a temporary suspension after testing positive for a pair of banned substances, but the truth is that Jones' suspension might be coming to an end sooner than expected in light of new developments surrounding his case — mainly, that over-the-counter Cialis might have triggered his false positive.
"I've not talked to Jon, but the guy has got 13 lives, man," White continued. "It's looking good for him. He's got to deal with Nevada right now, and this thing that went down and I can't say a lot about it because it's not my place. We will see how this thing plays out, but it's looking good for him."
It might be looking good for Jones, but unfortunately, both Cormier and Johnson have recently come out against the idea of having to fight Jones, with the latter outright refusing to fight him next and the latter telling him to "get back in line." Given how poorly White's decision to keep Donald Cerrone at welterweight against his will is going over, perhaps it's time that he took a step back and allowed Joe Silva to do his job.