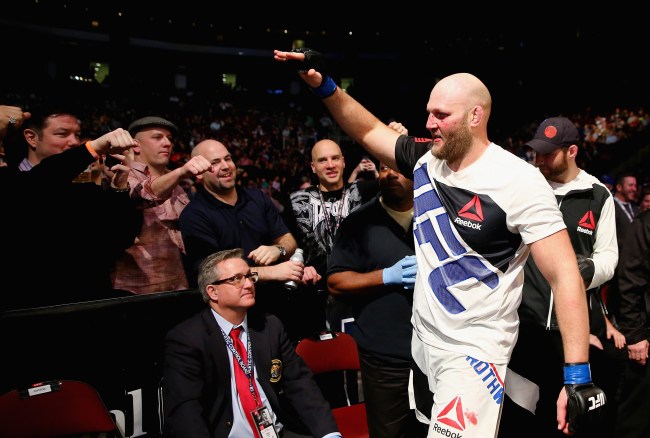 Hey fight fans! We've had a bit of a layoff from fights in general and UFC events in particular, but thankfully octagonal-based cage action is back. Croatia is hosting a bunch of heavyweight action, as four of the six main card bouts are in that division.
The fights kick off bright and early at 10:30 AM ET on Fight Pass with prelim action featuring Rob Whiteford and Lucas Martins in featherweight action, but more importantly, a bona fide APE FIGHT as heavyweights Jared "The Killa Gorilla" Cannonier takes on Cyril "Silverback" Asker. The prelims move to Fox Sports 1 starting at noon. There's some solid action here, like Mairbek Taisumov welcoming Damir Hadzovic to the UFC in lightweight action, plus Ian Entwistle and Alejandro Perez getting into a bantamweight scrap and Zak Cummings squaring off against Nicolas Dalby at 170 pounds.
The main card is also on FS1, and that starts at a nice and early 2 PM ET. Strawweights kick things off as Maryna Moroz welcomes Cristina Stanciu, then after a light heavyweight bout between Igor Pokrajac and Jan Blachowicz, things possibly get hot, but definitely heavy. The final four fights on the card are all at heavyweight, ending with a main event that's got title shot implications as former champ Junior Dos Santos takes on Ben Rothwell. Now let's take a look at who's gonna win all these fights!
2016 Important Results:
Jessica: 55-43-2 (56 percent)
Burnsy: 50-36-1 (58 percent)
Ryan: 5-1 (83 percent)
Jason: 14-10 (58 percent)
Jackman: 7-5 (58 percent)
Enrique: 7-5 (58 percent)
Jamie: 10-8 (56 percent)
Justin: 13-4 (76 percent)
Marty: 10-11 (48 percent)
Jared: 13-11 (54 percent)
Parker: 3-4 (43 percent)
Dr. Vet: 31-16-2 (65 percent)
A Note from Suzanne Davis: Dr. Vet is away for the week, so I, Suzanne Davis, am taking over picking duties. This week, I'm lazily returning to the well and making fight picks based on Scrabble tile score. These scores only take tile value into consideration and do not include any kind of triple/double word/letter score bonuses.
Hey Scrabble, Words with Friends said you were dumb. Prove them wrong!
(P.S. I have a very sick old doggy right now. Y'all send some nice wishes her way.)
Welterweight – Bojan "Serbian Steel" Velickovic vs Alessio "Manzo" Di Chiricio
Jessica: Fun fake fact – Velickovic is Serbian of "Horseman." Alternate joke – Velickovic is Serbian for "Gles." You decide which is best and pretend I went with the other one. On the other side of the cage, Di Chiricio fights out of Hung Mun Studio in Italy, and competed at Fight Exclusive Night 9: Go For It, which is a dumb event name, but it's the kind of dumb event name I can get behind. I'm going with Di Chiricio to win by third round TKO.
Burnsy: I have never been more certain that an event will be hilariously underwhelming than I am right now. Just getting that out of the way. That said, SERBIAN STEEL is a fun nickname to shout, so let's give it up for BOJAN taking the victory here.
Suzanne: Alessio 7 + Di 3 + Chirico 14 = 24
Bojan 14 + Velickovic 24 = 38
Winner: Bojan Velickovic
Heavyweight – Cyril "Silverback" Akser vs Jared "The Killa Gorilla" Cannonier
Jessica: HOLD ONTO YOUR BUTTS! WE GOT SOME BEEF BOYZ IN ACTION, Y'ALL! Asker Out To Dinner has a win over Ruan "Fangzzzz" Potts back in Africa, and before Cannonier lost to Shawn Jordan, he was beating up tons of fat dudes in Alaska. This is a tough call, since I don't think either dude is actually good, but I'm going with Cannonier to knock out Asker in the second.
Burnsy: I've gotta give the edge here to the Killa Gorilla for the fact that he also has cannon in his last name, which is pretty rad. It's a much manlier name than Cyril, says the boy named Ashley.
Suzanne: Jared 13 + Cannonier 11 = 24
Cyril 10 + Asker 9 = 19
Jared Cannonier
Featherweight – Robert "The Hammer" Whiteford vs Lucas "Mineiro" Martins
Jessica: Hey, guys I recognize, I think! I got a little weirded out when I saw that Martins lost to Darren Elkins on October 25, 2014 and Whiteford lost to him on October 24, 2015. I'm taking Whiteford to send Martins packing with a decision loss here.
Burnsy: Gonna roll with the Hammer here because Martins won't be able to touch it. Get it? It's an MC Hammer joke in 2016, because I'm timely like that, you sons of bitches.
Suzanne: Rob 5 + Whiteford 19 = 24
Lucas 7 + Martins 9 = 16
Winner: Rob Whiteford
Bantamweight – Filip "Nitro" Pejic vs Damian "Webster" Stasiak
Jessica: I gotta go with Damian because I'm assuming he's related to Stan Stasiak, which is all I'm looking for out of a fighter to cheer on. Stasiak wins by decision.
Burnsy: Filip Pejic is a really fun name to say, like FEELEEP PAYJEEEEEEEEEEEEEEEEEEK. Also, Nitro is way better than Webster. What's Stasiak's deal, is he gonna run and hide behind George Papadopolis when he loses? Go home, dictionary boy.
Suzanne: Filip 10 + Pejic 16 = 26
Damian 9 + Stasiak 11 = 20
Winner: Filip Pejic
Lighweight – Mairbek "Beckan" Taisumov vs Damir "The Bosnian Bomber" Hadzovic
Jessica: Poor, poor Damir. Taisumov is gonna do very mean and violent things to his Headzovic. Mairbek wins by second round KO.
Burnsy: Yeah, I'm gonna pick Beckan here because I assume that a guy who calls himself the Bosnian Bomber will be picked up by Interpol before he even enters the arena.
Suzanne: Mairbek 15 + Taisumov 13 = 28
Damir 8 + Hadzovic 26 = 31
Winner: Damir Hadzovic
Bantamweight – Ian "Enty" Entwistle vs Alejandro "Diablito" Perez
Jessica: Blurgh, I'm taking Entwistle because I just like the idea of a whistle that can summon tree people. Ian wins a decision.
Burnsy: And I'm taking Diablito because that's a fun name that I'll be chanting to keep myself awake at this point in the event.
Suzanne: Ian 3 + Entwistle 12 = 15
Alejandro 17 + Perez 16 = 33
Winner: Alejandro Perez
Welterweight – Nicholas "Sharpshooter" Dalby vs Zak Cummings
Jessica: Oh man, this fight is a thing. This is one of those bouts where I look at what each guy has done recently, realize they've fought on cards I remember and enjoyed, but nothing about their fights have stuck in my head. I'll go with Dalby to take a decision, and hopefully I can remember something about this fight in 3 months.
Burnsy: I'm going to pick Cummings to win based on the assumption that Sharpshooter will try to win by using an actual sharpshooter and Cummings will kick him in the head repeatedly.
Suzanne: Nicolas 9 + Dalby 11 = 20
Zak 16 + Cummings 15 = 31
Winner: Zak Cummings
Strawweight – Maryna "Iron Lady" Moroz vs Cristina "Barbie" Stanciu
Jessica: This should be a good scrap between two probably submission-based fighters, I think? I'm giving the slight edge to Moroz here, and say she snags a third round submission.
Burnsy: I'm a Barbie girl living in a Barbie world. Wait, is Stanciu that Ukrainian woman who spent a ton of money to look like Barbie? Yeah, I'll pick that crazy broad.
Suzanne: Maryna 11 + Moroz 16 = 27
Cristina 10 + Stanciu 9 = 19
Winner: Maryna Moroz
Light Heavyweight – Igor "The Duke" Pokrajac vs Jan Blachowicz
Jessica: Igor's last legit UFC win (I'm not counting that BS decision over Maldonado) was in 2011. Jan is on a 2-fight skid, but he managed to knock out human fire hydrant Ilir Latifi in 2014, which is insane if you really think about it. I'm taking Blachowicz to win by second round TKO.
Burnsy: This is a fart of a fight. I'll take The Duke, because that sounds funny. Taking a duke. LOL.
Suzanne: Igor 5 + Pokrajac 23 = 39
Jan 10 + Blachowicz 31 = 41
Winner: Jan Blachowicz
Heavyweight – Timothy Johnson vs Marcin "Tybur" Tybura
Jessica: Tybura's only loss is apparently due to injury. Big Time Timmy John lost to Jared Rosholt, who is STRAIGHT TRASH, HOMIE. I cannot pick for TJ until he wins at least four in a row. Tybura wins by third round submission.
Burnsy: Timothy Johnson sounds like a toddler who is dressed all fancy-like for Easter Sunday. Get out of here, toddler, this is a man's (and woman's) sport. Tybur beats Johnson. Heh.
Suzanne: Timothy 15 + Johnson 17 = 32
Marcin 10 + Tybura 11 = 21
Winner: Timothy Johnson (32-21)
Heavyweight – Curtis "Razor" Blaydes vs Francis "The Predator" Zavier Ngannou
Jessica: We got a dude named Blaydes fighting in eastern Europe? Aw shit, vampire attack time! I don't know a single thing about either dude, even thought I apparently saw Ngannou's last fight in person. WELP! I'm taking Blaydes by second round KO here because duh of course I am.
Burnsy: Come on, Razor Blaydes is such a ridiculously wonderful name that I'm gonna call Danger, I mean Brian Grubbs, right now and tell him all about it. RAZOR BLAYDES WINS.
Suzanne: Francis 12 + Ngannou 8 = 20
Curtis 8 + Blaydes 13 = 21
Winner: Curtis Blaydes (21-20)
Heavyweight – Derrick 'The Black Beast" Lewis vs Gabriel "Napao" Gonzaga
Jessica: We are finally at the point of the evening where I can remember at least one fight from each person without consulting their record. I really like Gonzaga, even if I sometimes want to type Gabe Gonzales because I'm dumb. Unfortunately for Napao, Lewis hits really dang hard, and Gonzaga just doesn't have the face to withstand that power. Lewis wins by first round KO.
Burnsy: I saw Gonzaga at SeaWorld once. Haven't mentioned that in a long time. But Lewis is my man, and I'm really hoping that he's working on his #skills so he can develop into a powerful contender and single-handedly fix this dumpster of a division. Well, not single-handedly…
Suzanne: Derrick 14 + Lewis 8 = 22
Gabriel 10 + Gonzaga 18 = 28
Winner: Gabriel Gonzaga (28-22)
Heavyweight – "Big" Ben Rothwell vs Junior "Cigano" Dos Santos
Jessica: There was a time that I thought JDS was stuck in limbo, being capable of beating every top contender, but never getting another title shot after the two enormous beatings he took from Cain. That's changed, not with Cain losing, but due to Junior losing to Overeem. I think those beatings have taken a big toll on Cigano, and Rothwell is primed to take full advantage.
Ben's got solid wrestling, good power and is super durable. I don't think he snares another gogo choke, since I don't see JDS shooting for takedowns, but I think Rothwell accumulates damage and finishes the fight in the third. Big Ben wins by third round KO. MUAHAHAHAHAHA!
Burnsy: BIG BEN GONNA SPLATTER CIGANO'S FACE A BUNCH AND GET A TITLE SHOT! And then Big Ben wins the title and returns the heavyweights to face-pummeling glory. One round main events that end with us crying because someone's face is destroyed. THOSE WILL BE THE DAYS!
Suzanne: Ben 5 + Rothwell 14 = 19
Junior 13 + Dos 4 + Santos 6 = 23
Winner: Junior Dos Santos (23-19)
Performance of the Night
Jessica: Taisumov, Lewis
Burnsy: Blaydes, Layser, Blayser, Pokrajac
Fight of the Night
Jessica: Moroz vs Stanciu
Burnsy: Blaydes vs Ngannou