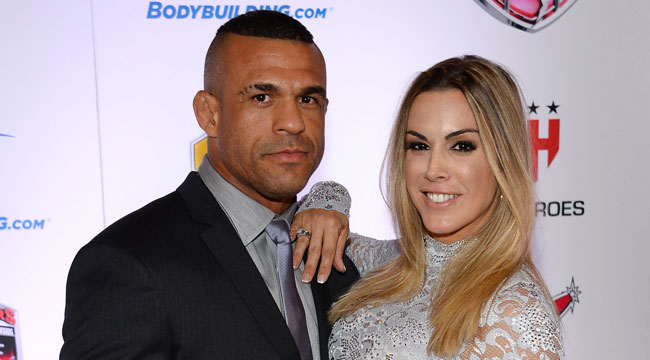 To say the UFC's uniform deal with Reebok has had a rocky launch would be a bit of an understatement. It's been nothing but controversy after controversy coated with a thick frosting of incompetence. The biggest complaint about the deal is how it effectively killed off sponsorships, barring fighters from selling space on their clothing and in-cage banner displays.
That really hurt the bottom line of every fighter in the organization, to the point where many have quietly and not so quietly declared they're barely making a minimum wage working for the UFC. And then earlier this week, soccer superstar Ronaldo's sports marketing agency 9ine announced they would no longer work with the league, saying the Reebok deal "is unfair" and "directly hurts all athletes from the organization."
9ine is no chump company with loose ties to the UFC; it represents (or rather represented) former champs like Anderson Silva, Junior Dos Santos, and Vitor Belfort. Belfort's wife and manager Joana Prado commented on the situation, saying Vitor "lost millions" because of the uniform deal. Via Bloody Elbow:
"As a business woman, I understand why 9ine cut ties with the UFC. Vitor has lost millions for years because of the new sponsorship policy. Thank God he is an athlete whose reach goes beyond the cage and he has other businesses. Fighting has become a hobby, but he was harmed much like the other fighters with this new business model. We have a great relationship with Ronaldo (9ine's owner) and all the 9ine crew. We wish them success."
It's unsurprising that Belfort was hit hard by the Reebok deal. He used to show up on fight week decked out like a NASCAR driver, wrapped head to toe in sponsorships. He's also still a major star in Brazil, partially because his prestigious fight career carries back all the way to 1996, but also because his wife Joana was one of the top models in the country. She is also known as Feiticeira, and for years, she hosted a game show where…
"incorrectly answered questions resulted in being humiliated by Feiticeira. Examples include waxing his legs or shaving his head. For correct answers, contestants were granted a wish from Feiticeira, such as staying with her alone or playing love games with her (but no sex)."
To make things more interesting, the game show contestants were all teenagers. Here's how that looked (NSFW due to thong and glitter butt):
So, if the Reebok sponsorship deal is knocking this Brazilian power couple's earning power down to the point where fighting for the UFC is more of a "hobby" for Vitor than a living, you know other fighters are hurting way worse.
(via Bloody Elbow)