We've all gotten over The LEGO Movie being snubbed by the Academy by now, right? Good. There's a lot of competition in the "Best Picture" category of this year's Oscars. Is the Academy going to hand out the award to the patriotic film, the civil rights film, the biopic, the film that took way longer to shoot than the other films, or the Michael Keaton film? My money's on Birdman. No, wait — American Sniper or, maybe Boyhood. No, definitely Birdman.
There will certainly be much more to talk come Monday morning. In the meantime though, here are a few nuggets of trivia you might not know about this year's nominees.
American Sniper
Bradley Cooper went into beast mode for training. Playing the part of Chris Kyle not only meant perfecting his West Texas accent and training with Navy SEAL sniper Kevin Lacz, but bulking up to Kyle's physique as well. The actor put on nearly 40 pounds of muscle by eating a 6,000 calorie a day diet and working out for up to four hours several days a week. By the time filming began, Cooper could deadlift 425 pounds — something that he did on camera, despite filmmakers advising he use dummy weights.
Bradley Cooper wanted Chris Pratt to play the lead. Bradley Cooper first learned about Chris Kyle's story in 2011 through a friend, and after negotiating with Warner Bros. it was decided that his newly formed production company, 22nd & Indiana, would produce the movie. Cooper didn't envision himself as the lead, however, and told The Hollywood Reporter that when he first met with Chris Kyle about the project he had a different actor in mind.
"At that time, I didn't really think, honestly, that I was right to play Chris, but it was the only way that I was gonna get the movie produced. Chris Pratt was the guy in my mind — always — to play him. But I didn't tell anybody that!"
Yeah, Burt Macklin was nearly in American Sniper.
Whiplash
Miles Teller didn't joke around with his drumming. Teller wasn't a stranger to the drum kit before signing on for the movie, and had been playing since he was 15. To refine his stick skills, Nate Lang gave Teller four hour-long lessons in jazz drumming three days a week prior to filming. During certain scenes, the director wouldn't yell cut and allow Teller to keep drumming until he had exhausted himself. This resulted in the actor developing blisters that would leave blood on the sticks and drum heads.
J.K. Simmons and Miles Teller got a little violent. In a scene that had Miles Teller tackling J.K. Simmons, Teller sacked the actor so hard that Simmons suffered two cracked ribs. For the slapping scene, Teller and Simmons first practiced only miming a slap, but decided to go for authenticity and lay down a real five fingers to the face slap for the take that made it into the movie. Simmons told Esquire, that wasn't something he had a problem doing.
"Fletcher was fun to play," he says. "All that anger, it felt good to get it out. Even if it did involve slapping Miles Teller repeatedly. But seriously, who doesn't want to slap a 27-year-old movie star?"
Boyhood
Richard Linklater had a backup plan in case of death. Linklater tapped into his longtime collaborator, Ethan Hawke, to play the character of Mason Sr. because they had both grown up children of divorce with Texas fathers who worked in the insurance business. He also knew that he could count on the actor in case tragedy struck him while directing. He and Hawke an agreement that if he died over the 12-year course of shooting the movie Ethan Hawke would take over as director to complete the film.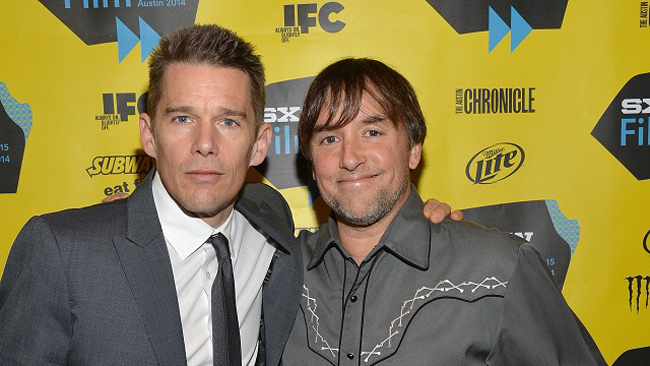 Richard Linklater's daughter asked to be killed off. Linklater cast his daughter, Lorelei Linklater, because as a child she was always singing and asking to be in one of his movies. The director explained that casting her nearly backfired when she became tired of the project and asked to be killed off.
"About year three or four, the Harry Potter years, she requested I kill her off. I said, 'Nah, that's just too dramatic. This film, it's not that dramatic. No, you can't quit.' And as she got older, she realized she was getting paid a little every year. What teenager can't use that SAG minimum? I was like, 'That's actually a lot of money. Thank you, union.' Then she's like, 'When are we shooting?' Not that she wanted to work hard."
The Grand Budapest Hotel
The entire cast and crew stayed in the hotel that inspired the Grand Budapest. Wes Anderson explained that the city of Budapest was too large, that he wanted a "spa town" and Görlitz, a small town in eastern Germany had everything he needed, including an abandoned shopping center that was used to create the elaborate interior of the Grand Budapest. The entire cast and film crew stayed in the Hotel Börse, which was used as inspiration for the Grand Budapest's exterior shots.
The Republic of Zubrowka takes its name from a brand of vodka. Anderson took the name for his fictional location from a Polish brand of vodka called Zubrowka. While the Republic of Zubrowka may not be an actual place, Anderson told NPR, that Görlitz was the perfect spot for the imaginary place.
"Half of it is in Germany and the other half is in Poland. It's on the border and it's about 20 minutes from [the] Czech Republic, so in a way it's really right where our story would be if there was such a place."
The Imitation Game
Benedict Cumberbatch wore dentures based on Alan Turing's teeth. Both Benedict Cumberbatch and Alex Lawther, who played a younger Alan Turing, wore dentures that were molded to be identical replicas of Alan Turing's own false teeth.
The New York Times reprinted the original crossword puzzle used for recruiting code crackers. The original crossword puzzle that was used in World War II to recruit code breakers at Bletchley Park ran in The Daily Telegraph in 1942. In November of last year, The New York Times reprinted the puzzle offering those who solved it and mailed in their entries a chance to win a trip to London for a tour of the Bletchley Park facilities.
Selma
The film almost had an entirely different cast with Lenny Kravitz and Hugh Jackman. When Selma was in the hands of director Lee Daniels its cast was almost completely different from director Ava DuVernay's version. Daniels' cast included Liam Neeson portraying Lyndon Johnson, Hugh Jackman as Sheriff Jim Clark, Robert De Niro as infamous governor George Wallace, and Cedric the Entertainer and Lenny Kravitz as activists Ralph Abernathy and Andrew Young. David Oyelowo who played MLK was the only actor that made the cut when Ava DuVernay took over.
Ava DuVernay not only reshaped the entire cast, but reportedly rewrote a great deal of Paul Webb's original script, despite not receiving a screenwriting credit.
The film was a bit of déjà vu for several of the actors. Selma was the second film that David Oyelowo, Oprah Winfrey, and Cuba Gooding Jr. worked on together, the first being Lee Daniels' The Butler. It was also the second time that actress Carmen Ejogo has played Coretta Scott King. Ejobo first played Mrs. King in the 2001 film, Boycott.
The Theory Of Everything
Stephen Hawking had nothing but praise for Eddie Redmayne's portrayal of him. Making a biopic about a still living person is always a bit of a tightrope walk, what if the subject of the movie thinks it sucks? Stephen Hawking posted on his Facebook wall that while watching Eddie Redmayne's performance he felt like he was watching himself at times.
Eddie Redmayne's preparation to play Stephen Hawking bordered on unhealthy. Redmayne only spent around three hours with the physicist before filming, but went through rigorous physical training to play the part. In addition to losing 15 pounds and regularly training with a dancer to better learn control of his body, Redmayne met with ALS patients and kept a tracking chart of the order of in which Hawking's muscles declined. Redmayne also said that he would stand in front of the mirror for hours and practice various facial contortions, as well as remain motionless and hunched over between takes until a doctor advised him it was bad for his spine.
Birdman
Michael Keaton and Edward Norton kept a tally of how often the other actors screwed up. Because the shooting would often involve long takes with actors sometimes performing up to 15 pages of dialogue at a time, Keaton and Norton kept track of how many flubs their fellow cast members made. Emma Stone took top honors for making the most mistakes, while Zack Galifianakis made the fewest.
Birdman has numerous ties to Batman. For starters, in the press conference scene in Riggan's dressing room he mentions that he hasn't played Birdman since 1992 — the last year that Keaton played Batman. The actor also said that while this was the most challenging movie he'd ever done he was able to draw from the he claustrophobia of wearing the Batman suit in the 1989.
"The imagery is so strong and powerful," he says. "Once I saw that, I went, 'Oh, I'm going to work this thing, man. I'm going to work the angles of the suit, the shadows of the suit, the frightening-ness of it, the sexiness of it, I'm going to work the hell out of that.'"