Every generation has their own heartthrobs, and the crop that bewitched '90s teens were some of the best. Between ABC's TGIF lineup, more movies being released, and magazines like Tiger Beat and YM being more popular than ever, celebrity crushes reached a fever pitch. Many of these teen idols managed to parlay their early fame into lasting careers, like Johnny Depp, Leonardo DiCaprio, Kate Winslet, Drew Barrymore, and Joseph Gordon-Levitt.
However, some are defined by the decade. They may still be around Hollywood or even experiencing a bit of a career resurgence, but the '90s were definitely their careers' golden decade thus far. Everyone has their favorite '90s crush, and this is not an exhaustive list, so get a little nostalgic in the comment section about who made your young heart go pitter-patter.
Jonathan Taylor Thomas
Jonathan Taylor Thomas, affectionately know as JTT to millions of screaming tweens, is the quintessential '90s child star. Something about the way he rocked the flannel and bowl cut look that typified the decade was like catnip to young girls everywhere. Transitioning from his start on the wildly popular sitcom, Home Improvement, he went on to star in movies like The Lion King, Man of the House, Tom and Huck, Wild America, and I'll Be Home For Christmas.
Thomas has left acting behind for the most part. He had guest stints on Smallville and Veronica Mars, and occasionally pops up on his former television dad Tim Allen's sitcom Last Man Standing, but his focus has been on education instead of lasting fame, studying at Harvard and Saint Andrews University before graduating from Columbia in 2010. Whether he returns to acting full-time remains to be seen, but there is definitely a generation that would welcome him back.
Winona Ryder
Admittedly, Winona Ryder is in a different league than everyone else on this list. She was the epitome of '90s grunge cool, becoming an icon through movies like Mermaids, Edward Scissorhands, Reality Bites, and Girl Interrupted. She was even nominated for an Academy Award twice (in 1994 for The Age of Innocence, and again in 1995 for Little Women). However, any '90s list without Ryder is simply incomplete, so she gets a mention here.
After her infamous shoplifting debacle, Ryder went on an acting hiatus from 2001 until 2006. She started appearing in small films again before really gaining notice until 2010's awards darling Black Swan. Since then, she has appeared in films like Star Trek, The Dilemma, and The Iceman. She's set to star alongside Oscar Isaac in the upcoming HBO miniseries, Show Me a Hero, and also has a role in the upcoming Netflix series, Montauk. Here's hoping she's back to stay. #WinoForever
Devon Sawa
Devon Sawa may not have been in as many movies as some on this list, but he made an impression nonetheless. When he danced with Christina Ricci in Casper, preteen hearts fluttered away to a higher realm of squee. Whether you loved him in Now and Then, Wild America, Idle Hands, or Final Destination, you were definitely into his floppy hair and approachable bad boy vibe.
After starring in Eminem's "Stan" music video, Sawa's career dropped off a bit, thanks to drugs and the typical pitfalls of early stardom. He appeared in Slackers and Spider-Man: The Animated Series, before getting a big role in The CW's Nikita.
Jennifer Love Hewitt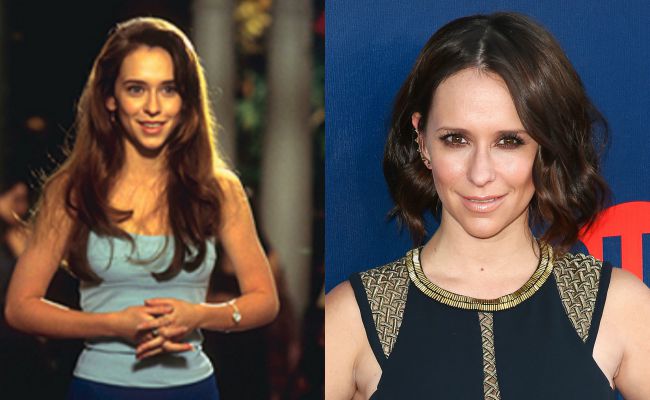 Jennifer Love Hewitt is the ultimate '90s girl next door. Thanks to Party of Five, I Know What You Did Last Summer, and Can't Hardly Wait, Love Hewitt was a teen queen of the first order. Easily one of the most lusted-after women on television at the time, she managed to turn her early success into a steady television career beyond the '90s, as well. A few Maxim cover shoots certainly didn't hurt things, either.