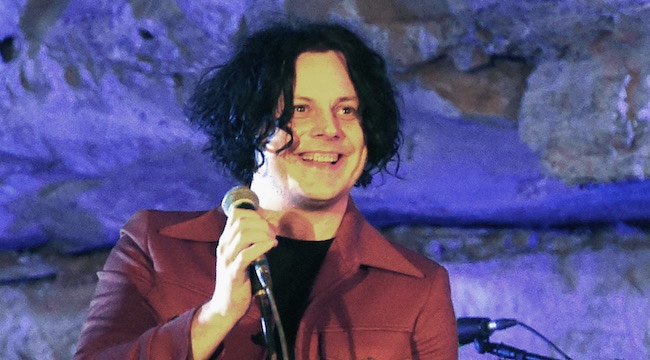 Save some glorious atonal moments in 2001's Wet Hot American Summer, Bradley Cooper hasn't really been known for his vocal chops prior to this year. So when it was announced that he would be playing a singer in the fourth-ever version of A Star is Born — fifth, if you count the blueprint that is 1932's What Price Hollywood? — some surely wondered if he could have pulled it off.
One of those people was Bradley Cooper himself, who, when he decided to make it his directorial debut, first considered an "actual musician." One of those bona fide crooners, reportedly, was Jack White.
The news comes from a long Variety profile of Lady Gaga, which buried this particular lede that was dug up by The A. V. Club. In the piece, the writer-director says he met with a mystery musician before Gaga had come on. Alas, Warner Bros. "wouldn't make the movie with him." According to an unidentified source, though, that certain someone was formerly one-half of The White Stripes.

Gaga is getting a flurry of Oscar talk, but this ain't her first rodeo; she's already a Golden Globe winner for her stint on American Horror Story: Hotel. That makes her a more established acting talent than White, though both have played "themselves" in Muppet movies (he was in 2011's The Muppets, she was in Muppets Most Wanted). Then again, White — who was memorably stiff and awkward in 2003's Cold Mountain — did play a karate-loving Elvis Presley in the classic parody music biopic Walk Hard: The Dewey Cox Story, so who's the real thespian?
Another tidbit buried in the Variety piece (again dug up by The A.V. Club) has it that there was almost a different downer ending. (Here's a SPOILER warning to the few who haven't yet seen A Star is Born, nor any other iteration of same.) In Cooper's version, our alcoholic hero hangs himself in his garage. Originally, however, they were going with the one that ends the 1937 and 1954 versions, with him swimming out to sea, never to return.
That being said, Cooper did almost go with a riff on the capper to the 1976 Streisand-Kristofferson number, with Cooper's Jackson Maine crashing his motorcycle, compared to Kristofferson's convertible (while blasting Streisand on the eight-track).
So, yes, just remind yourself that the Cooper/Gaga A Star is Born could have been even sadder than it is already.
(Via Variety and The A.V. Club)