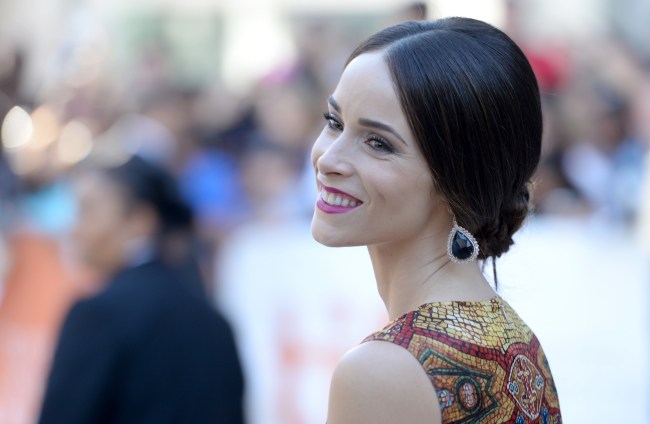 Abigail Spencer is the actress probably best known for portraying Amantha Holden on Sundance TV's Rectify. You may have also seen her on Suits, Mad Men and True Detective (Season 2). Additionally, you may have seen her in films like Cowboys & Aliens and This Is Where I Leave You. Rectify returns for its third season on Thursday, July 9.
Abigail was nice enough to take a few minutes out of her busy schedule recently to answer a few questions from us.
1. You walk into a bar. What do you order from the bartender?
​A skinny margarita or a Soho mule (also known as Moscow mule).
2. Who's your favorite person to follow on Twitter and/or Instagram?
My little brother Sterling Spencer.
3. What's currently waiting for you on your DVR/TiVO?
​True Detective. Suits.​
4. It's your last meal — what are you going out with?
​Well, I'd have to be in France. I'd start with a soy latte and then a fresh French buttered croissant with a glass of fresh squeezed orange juice. Then, I'd have to go and walk around Paris a little to make room for the cheeseburger and french fries I would devour from Marcel with a side of Italian puttanesca (which means garbage) with shaved Parmesan and a Roquette salad from that little Italian place I fell in love with in the Latin Quarter. With lots and lots and lots of Provence Whispering Angel Rosé!​
5. What websites do you visit on a regular basis?
​The Man Repeller. Huffington Post. Vogue.​ Amazon Prime. HBO Go.
​​6. What's the most frequently played song on your mobile device?
​"Alright" — Kendrick Lamar, "Elastic Heart" — Sia and "Our Love is Easy" — Melody Gardot tie right now.​
7. The first face that comes to mind when you think "punchable?"
​Like punchable good? Good punchable? Or punchable bad. Bad punchable. There is a difference!​
8. What's the last thing you googled?
"​Kids travel guide to New York City.​"
9. Dogs or cats?
​Dogs for me. Cats for my roommates.​
10. Best concert of your life was…?
​Mumford and Sons, Old Crow Medicine Show​ and Edward Sharpe in Austin, Texas at SXSW in 2012. AND The Lumineers at a small show in Santa Barbra before they were famous.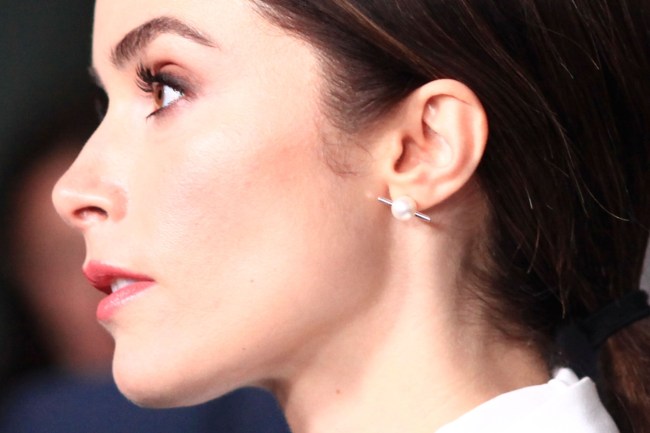 11. What book are you most likely to give as a gift?
​All My Friends Are Dead or The War of Art.​
12. What's the nicest thing anyone has ever done for you?
​I had no money, was a live-in nanny and cleaning​ toilets at my acting teacher's studio, and I got an anonymous check in the mail for $400 with a note that said, "I felt I was supposed to send this to you," which was exactly what I needed. I fell to the floor crying. I didn't understand. I still don't know who it came from… I was 21 when that happened to me. And I had an angel. So I try to pass that on. Invisible angels.
13. South Park or Family Guy?
​South Park.​
14. You have an entire day to do whatever you want. What would you do?
​Eat. And watch movies with boys. Go to a dance class. Go into the recording studio and play music. Create. Write. And read. And eat some more. And walk to the beach and swim in the ocean. And nap.​ And then learn something new.
15. What movie can you not resist watching if it's on?
​Breakfast at Tiffany's. ​
16. The sports team or teams you're most passionate about?
​Do Kelly Slater and Rob Machado count? Surfers are my trading cards.
17. Where did you eat the best meal of your life?
​Oh my gosh. I feel like I eat the best meal of my life every week. But probably just recently in France.​ Every meal in France was the best meal of my life. Where we stayed in Terre Blanche in Provence was undeniable. Or this morning when I ate the Joan's on Third… scrambled eggs and crispy bacon.
18. The last movie you saw in a theater?
​Montage of Heck. The Kurt Cobain documentary.​ Twice.
19. Who was your first celebrity crush?
​Ralph Macchio, The Karate Kid.​ Or Mark Occhilupo, the famous Australian surfer.
20. What would you cook if Nic Cage was coming to your house for dinner?
​That is so random. Um. Well, I'd probably ask my boyfriend to cook some sort of steak or fish amazingness because he is a WAY better cook than I am, with steamed veggies and a sweet potato on the side. Nic watches what he eats, right? I wouldn't want to get in the way of his program.​ And I would like to create a safe atmosphere to enjoy all of his secrets.
PREVIOUSLY: Natalie Martinez