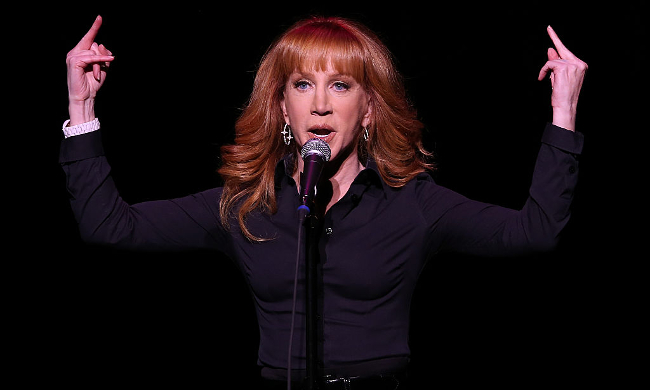 As a stand-up comic, Kathy Griffin has made a name for herself by dancing on the ashes of her Hollywood relationships. Now, she is using her blunt honesty to earn herself another, more unlikely role: spokesperson for equality and fairness in Hollywood. In June, the Academy of Motion Picture Arts and Sciences responded to months (on top of, let's face it, years and even decades) of criticism that included the #OscarsSoWhite campaign by inviting a record 683 new members, 46 percent of whom are women and 41 percent of whom are people of color. A huge step toward inclusivity, sure, but now people like Griffin are arguing that it comes at the expense of other Academy members.
In a recent interview with Deadline, Anderson Cooper's New Year's Eve sidekick explained that traveling and performing across the country has allowed her to meet "real women" of all ages, who "don't look like what's being represented on television." She continued her campaign for normal representation at an "Ageism in Hollywood" panel on Friday, after 67-year-old actress JoBeth Williams (Hart of Dixie) pointed out that the Academy's new inclusion is still ageist, because, "We should have opened the door to more members, but not given the older members the boot."
According to Deadline, Lesley Ann Warren (the unforgettable Miss Scarlet in Clue) challenged "the boot" claim, before Griffin chimed in with the subtlety of a hurricane: "I call bullsh*t on that." The Academy's stipulation for so-called older members is that they can retain their voting rights as long as they've worked once in the last 10 years, but Griffin is calling shenanigans because Hollywood's active ageism prevents older men and women from working as much. The solution, the other panelists declared, is that they need writers to create more roles for older actors, as Griffin claimed that studios seem to be light on parts for women of a certain age.
"I had a meeting with a studio head recently," Griffin said, "and he named one show on their slate with a woman over 40. And I said, 'You're not done, dude.'"
Perhaps the idea of ageism seems preposterous to some, but let's not forget that Helen Mirren has also recently railed against it, calling it "F*cking outrageous," and Hollywood responded by telling her she can't drive anymore.