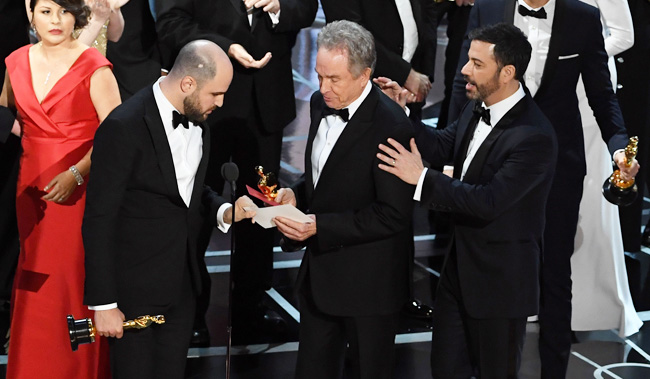 We've gotten every point of view possible for Sunday's incredibly embarrassing Best Picture mishap at the 2017 Oscars. It was a shocking moment that will go down in television history and people still can't seem to wrap their heads around what happened. The official story has become clear, with PricewaterhouseCoopers taking the blame for the wrong envelope ending up in the hands of Warren Beatty. After this became clear, the Academy released an official apology late on Monday to explain the events and apologize to those affected:
We apologize to the entire cast and crew of La La Land and Moonlight whose experience was profoundly altered by this error. We salute the tremendous grace they displayed under the circumstances. To all involved — including our presenters Warren Beatty and Faye Dunaway, the filmmakers, and our fans watching worldwide — we apologize.
The Academy also adds that PwC has been their choice for the past 83 years and this flub is definitely an anomaly for the Oscars and the results for each award:
PwC has taken full responsibility for the breaches of established protocols that took place during the ceremony. We have spent last night and today investigating the circumstances, and will determine what actions are appropriate going forward. We are unwaveringly committed to upholding the integrity of the Oscars and the Academy of Motion Picture Arts and Sciences.
No word on if the Academy will seek out a new group to handle the awards results next year, but you can be sure some changes will happen. Maybe a no cell phones backstage rule, at least for the people in charge of the envelopes. You can read the full apology here.
(Via The Academy)