It's always a risky venture taking established characters from one medium and updating them for a new audience. As was the case in 1991, when Paramount Pictures released The Addams Family (which available on Digital HD), a big-screen comedy based on the comics of Charles Addams. Keeping true to the spirit of the comics, as well as the 1960s TV show, the film celebrated the wealthy eccentricities of a family that delighted in the macabre, all while being blissfully unaware of their frightening demeanor. It was such a hit, they released a sequel in 1993, Addams Family Values, which had the original cast returning. With star Anjelica Huston celebrating her 65th birthday this week, here's a look at what the cast has been up to since then.
Anjelica Huston — Morticia Addams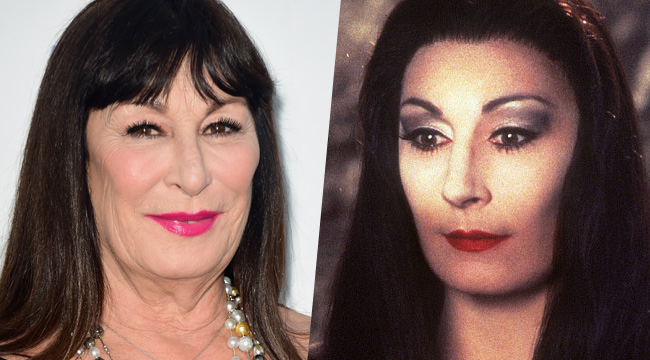 Born of Hollywood royalty — her father was director John Huston — Anjelica Huston started to make a name for herself as an actor in the early 1980s, co-starring in films like The Postman Always Rings Twice and Prizzi's Honor, the latter winning her an Oscar for Best Supporting Actress in 1985. After her delightful performance as Addams family matriarch Morticia, she'd continue to work alongside A-list Hollywood directors, including the matriarch of another wealthy, eccentric family in Wes Anderson's 2001 film The Royal Tenenbaums.
She moved behind the camera in the mid-1990s, and put out a handful of feature films as a director, and received a star on the Hollywood Walk of Fame in 2010. After spending her career concentrating on movies, she began transitioning to the small screen, popping up on the hit show Smash and Amazon's acclaimed original series Transparent. She's also a noted activist, heading a 2007 letter-writing campaign for the Human Rights Action Center to secure the release of Nobel Peace Prize winner Aung San Suu Kyi, and she was named PETA's Person of the Year in 2012. Right now she's doing voice work for the animated feature Arctic Justice: Thunder Squad, due out in 2018.

Christina Ricci — Wednesday Addams
While critics and audiences first took notice of Christina Ricci in 1990's Mermaids, she quickly became the breakout star of Addams Family as the morbid daughter Wednesday. After a handful of successful movies aimed at younger audiences, including a big-screen adaptation of Casper, she managed to successfully transition from child star to adult actress. By the late '90s, she was working with filmmakers as noteworthy and diverse as Ang Lee, Vincent Gallo, and John Waters.
Like Huston (and the late Raul Julia), she's very active in humanitarian causes, including serving on the national board of VOX: Voices for Planned Parenthood, and as the national spokesperson for RAINN. In 2006, she publicly stated that she didn't feel in control of her career, but continued to star in movies ranging from Monster to Black Snake Moan and Speed Racer. She played Lizzie Borden in the Lifetime made-for-TV movie Lizzie Borden Took an Axe, which became the limited series The Lizzie Borden Chronicles. She's currently taken on another famous historical figure, playing Zelda Sayre Fitzgerald on Amazon's Z: The Beginning of Everything.
Raul Julia — Gomez Addams
A native of Puerto Rico, Julia developed an interest in acting at an early age, moving to New York City in 1964 to achieve his dream. He was cast in his first play, The Cuban Thing, in 1968, after auditioning four times for the role. Soon after, he became a regular on Sesame Street, playing Raul the Fix-It Man, while continuing to act on stage, as well as bit parts in movies. By 1982, he had landed his first starring role as Valentin in 1982's Kiss of the Spider-Woman. When he was offered the part of Gomez Addams for the Addams Family movie, he was drawn to the character's exaggerated irreverence, noting that "even his depressions are wonderful."
He'd reprise the role of Gomez for the sequel, Addams Family Values in 1993, and his last big-screen role would be as big-bad M Bison in the Street Fighter movie the following year. He chose the role to help bring him closer to his children, who were fans of the video game. However, after checking himself into a New York hospital one night after abdominal pains, he suffered a stroke in his sleep and passed away. Street Fighter was released just days after his untimely death, and was dedicated to his memory.
Aside from his acting legacy, both on stage and screen, Julia is also remembered for his humanitarian work. He co-founded Visiones Luminosas a workshop designed to help young writers break into the world of screenwriting, and spent 17 years as the spokesman for the grassroots initiative The Hunger Project.

Jimmy Workman — Pugsley Addams
Jimmy Workman is best known for the role of Pugsley Addams from both Addams Family movies and two episodes of Saturday Night Live in 1991 and 1993, respectively. After bit parts in movies like Black Sheep and As Good as It Gets (where he's credited as 'Sean from the bakery'), his last film credit is listed as playing Matt Parker in 2004's The Biggest Fan. He's since retired from acting. 
Workman also comes from a showbiz family, his older sister Shanelle Workman has had long-running roles on daytime soap operas like The Bold and the Beautiful and One Life to Live, and his younger sister Ariel Winter plays Alex on Modern Family. The headlines in recent years regarding Winter's long-running custody battles involved allegations of physical and emotional abuse. The case was finally settled last year.
Christopher Lloyd — Uncle Fester
Christopher Lloyd had already stolen our hearts as Emmett "Doc" Brown in all three Back to the Future movies by the time he donned the bald cap and eyeliner to play quirky Uncle Fester in The Addams Family. Since then, Lloyd's resume has been full of TV, film, and animated voice work, including roles in Chuck, Law & Order: Criminal Intent, and It's Always Sunny In Philadelphia. He's even resurrected the role of "Doc" Brown regularly since the early '90s, most recently in a string of Back to the Future-themed video games, including the upcoming Lego: Dimensions, as well as Johnny Depp's Funny or Die parody The Art of the Deal: The Movie. 
He's currently got several movies set to be released, including the Zach Braff-directed Going In Style, and as a weed-dealing grandpa in Boundaries. Despite his work schedule, Lloyd admits he'd still be willing to take on the role of 'Doc' Brown once again for a fourth Back to the Future movie.

Dan Hedaya — Tully Alford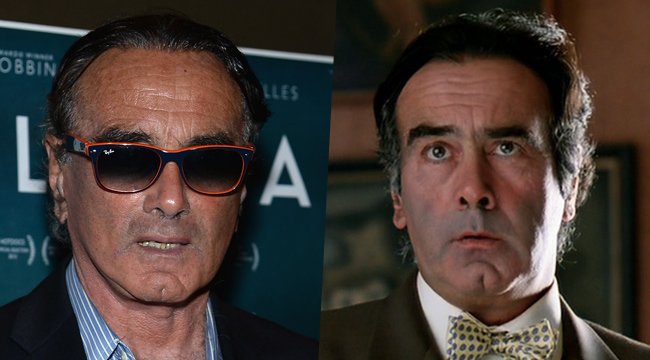 A beloved character actor with a towering list of credits to his name, Hedaya has been acting since the mid-'70s. Prone to smug, wise-cracking villains, he played to his type in The Addams Family, playing family lawyer Tully Alford who schemes to cheat the family out of their vast fortune.
He's since appeared as a supporting character in The Usual Suspects, Clueless, and Mulholland Drive. More recently, he's appeared on the small screen in shows like The Mindy Project and the police drama Blue Bloods. He'll be appearing alongside James Franco in the upcoming Black Dog, Red Dog, a biopic of writer Stephen Dobyns, which focuses on his transition from journalism to poetry.
Carel Struycken — Lurch
The Netherlands-born actor got his first role in a 1972 Tarzan short, billed as a "big, ugly Polynesian fella." The seven-foot-tall actor, the result of acromegaly, has become one of the most recognizable 'that guys' in oddball roles, including Mr. Homn in Star Trek: The Next Generation, the Arquillian in Men in Black, and a demon in the supernatural teen drama Charmed.
He currently resides in Los Angeles where he enjoys photography in-between his acting and his public appearances. And yes, he's set to return to his role as the mysterious Giant in David Lynch's upcoming Twin Peaks revival.
John Franklin — Cousin It
Donning the head-to-floor wig to play Cousin It was John Franklin, who made his on-screen debut as Isaac in 1984's Children of the Corn. Suffering from a growth hormone deficiency, Franklin often played offbeat supporting characters with roles in Tammy and the T-Rex and Star Trek: Voyager. He even returned to the Children of the Corn franchise in 1999 with Isaac's Return.
After 9/11, Franklin wanted to leave a "greater legacy than just being Cousin It," and he became an English teacher at Golden Valley High School. He has since retired from teaching and returned to showbiz, most recently with the web series Hell's Kitty.
Christopher Hart — Thing
A trained magician since the age of 16, Christopher Hart played the disembodied hand known only as Thing. His roles have all capitalized on his mastery of sleight-of-hand, including the Angel episode "I Fall to Pieces" and the horror movie Idle Hands, playing disembodied hands in both. He also appeared with Addams Family co-star Christopher Lloyd in the anthology TV movie Quicksilver Highway. He and Carel Struycken are the only two actors to appear in both Addams Family movies, AND the direct-to-video third installment, Addams Family Reunion.
He currently lives in Burbank, and regularly performs his magic, including a recent spot on the CW's Masters of Illusion.

MC Hammer – Soundtrack
A year after the smash success of his single "U Can't Touch This," MC Hammer (born Stanley Kirk Burrell) lent his talent to creating the Addams Family theme song and music video to help promote the movie. After becoming a chart-topping success, Hammer had amassed a considerable fortune, and even had such widespread appeal he had his own Saturday morning cartoon show, Hammerman. However, his popularity waned by the mid-'90s after trying to redefine his sound and move away from exclusively pop-friendly hip-hop.
It was rumored that he'd become down-and-out, spending his fortune on unnecessary luxuries and an excessive personal staff before filing for bankruptcy in 1996. He continued to release albums regularly, including several compilation and greatest hits records, and even donated some of the proceeds of his eighth album, Active Duty, released in the fall 2001, to various 9/11 charities. After reaffirming his Christian faith in 1997, he started the pastoral program MC Hammer and Friends on the Trinity Broadcasting Network. Hammer has maintained an interest in technology, and became an early user of social media, including his very active Twitter account, which he uses to discuss a range of topics including sports, music, politics, science, and religion — often over the course of a single day.