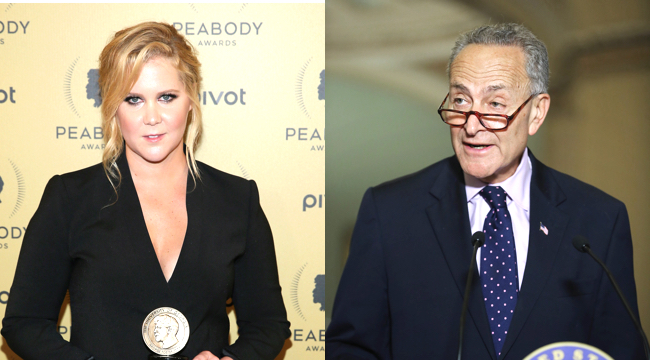 After last month's tragic theater shooting at a Lafayette, La. screening of Trainwreck, Amy Schumer and others reacted. As the film's star and writer, Amy tweeted, "My heart is broken and all my thoughts and prayers are with everyone in Louisiana."
In the days following the massacre, authorities revealed how shooter John Russell Houser obtained his gun legally. A fan of Amy's has since written an open letter, which asked her to honor Lafayette victims Mayci Breaux and Jillian Johnson by speaking out in favor of gun control. Amy corrected a misspelling (which is now fixed in the open letter) of one of the victim's names. Amy also promised she was "on it."

She wasn't kidding. This morning, Amy appeared alongside her cousin, New York Senator Chuck Schumer, at a press conference. The two Schumers discussed a three-prong plan "that would make it harder for violent criminals and the mentally ill to obtain guns." Senator Schumer's plan would also promise monetary incentives for states that follow new background check procedures. Penalties would occur for states who neglect to follow the legislation, and the plan calls for a focus on mental health funding. Amy spoke out with much emotion:
"I'm not sure why this man chose my movie to end those two lives and injure nine others, but it was very personal for me. We always find out how the shooter got their gun and it's always something that never should have happened in the first place."
Senator Schumer thanked Amy for her courage in speaking out against unspeakable violence.
"I have a lot of press conferences but I almost never get this much attention."
Amy doesn't know if lawmakers will take her presence seriously in this matter: "I have no idea, but I hope so." She also expects backlash for speaking out, saying she's received "death threats" for her comedy, so she expects the same for speaking out on gun violence. She also told the assembled media, "Critics scoff and say there's no way to stop crazy people from doing crazy things, but they're wrong."
(via Deadline, Yahoo & Colin Daileda on Twitter)