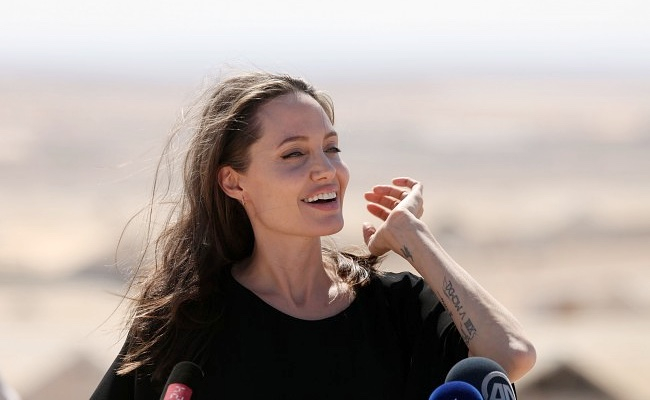 It's been a few months since Angelina Jolie and Brad Pitt announced their divorce amidst a flurry of concerning rumors about both sides and much being made of what was best for the power couple's six children. Both actors have kept a low profile since the news broke, with Pitt only emerging for mandatory press appearances and Jolie taking care of the children while continuing to carry out her envoy work for the UN. Besides a New York Times op-ed for Jolie and a Golden Globes appearance for Pitt, it's been all quiet on the divorce commentary front.
While in Cambodia to attend the premiere of her new movie though, Jolie finally opened up about how she is doing since the split. According to Variety, Jolie responded to a question about how she is coping by saying
"My focus is my children, our children … and my focus is finding this way through. And as I said, we are and forever will be a family. And so that is how I'm coping. I'm coping with finding a way through to make sure this somehow makes us stronger and closer."
She continued,
"Right now, I'm going through a moment where there's just, everybody's in my room. Two hamsters and two dogs and two children at the moment. It's wonderful. But, usually I just wake up trying to figure out who's going to get the dog out, who's going to start the pancakes and did anybody brush their teeth."
Jolie focused mostly on her children, which she has always been publicly devoted to and focused on more than anything else. In recent years she has been happy to parent her and Brad's six children and continue her work with the UN rather than add more projects to her IMDb page. Of her children growing up, she shared,
"In five years' time, I would like to be traveling around the world visiting my children, hoping that they're just happy and doing really interesting things, I imagine, in many different parts of the world. And I'll be supporting them.

Everything I do, my hope, is that I represent something, and I represent the right things to my children and I give them the right sense of what they're capable of, and the world as it should be seen — not through the prism of Hollywood or through a certain kind of life, but really take them into the world where they have a really good sense of the come-round of people."
The film, First They Killed My Father, is based on the book of the same name and chronicles the atrocities of the Khmer Rouge regime in Cambodia and will air on Netflix at some point in 2017. There will be other premieres as the year goes on, as well as a Netflix-organized press tour in which Jolie will surely be asked similar questions about her personal life. Since she knows Cambodia well — it is where she filmed the first Lara Croft film — it makes sense that the actress would take advantage of being in a country where she feels comfortable and happy to talk about this sensitive topic for the first time.
(via Variety)