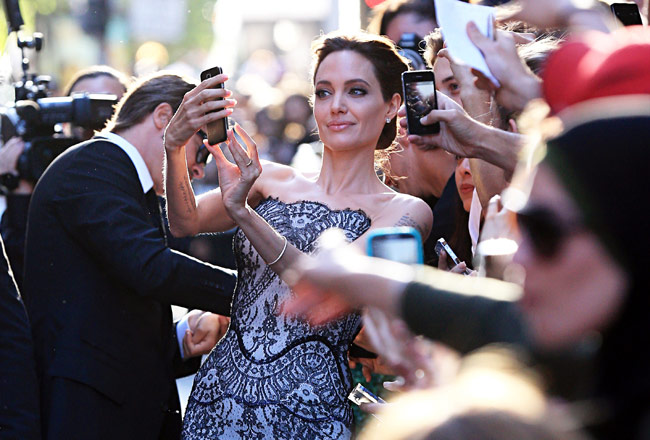 Angelina Jolie has expressed an interest in eventually retiring from acting to direct movies full time, and she's already directed two films (Unbroken and In The Land Of Blood And Honey). And Marvel has a habit of taking risks with their director choices (former Troma director James Gunn for Guardians Of The Galaxy and Zathura director Jon Favreau for Iron Man, for example). So would Marvel's desire to find a female director for their first female-led superhero movie in the Marvel Cinematic Universe convince them to take a risk on two-time director Angelina Jolie? Maybe. Maybe not. There's a question mark in the headline for a reason.
Bleeding Cool pointed us to a sidebar from OK! Magazine (who are just okay, not great), in which the celebrity glossy doesn't seem to realize they are casually tossing out a huge piece of geek news: Angelina Jolie was offered $20 million to direct Captain Marvel.
Captain Marvel, centering on super-heroine Carol Danvers, is set to become the first female-centric film from the comic studio, so it makes sense that execs want a woman behind the camera too: Angelina Jolie! An insider reveals that bosses at Disney-owned Marvel were so impressed with Unbroken that they're offering Angie $20 million for the gig. "Having a female director is a priority for them," explains the source, adding that Angie is thrilled by the offer. "She never thought she'd be in such huge demand as a director, and to be courted by Marvel after the Sony fiasco is a huge pat on the back."
We only know a few things about the Captain Marvel movie so far. We know it's opening July 6th, 2018. We know it's the Carol Danvers version of the character, and it'll take place both on Earth and in space. Finally, we know one blogger who'd be willing to direct it for, like, a Burger King bag filled with twenties and a Clark bar.