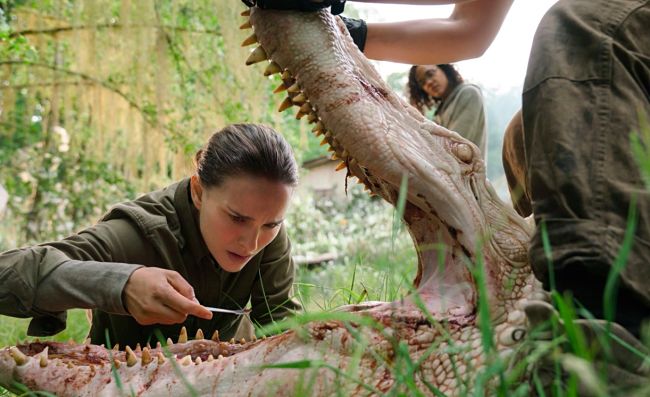 Annihilation, writer and director Alex Garland's follow-up to the Oscar-nominated Ex Machina, is being hailed as a "new sci-fi classic" and "one hell of a mindf*ck" (that's a good thing). But with a week to go until the film comes out, that's not what people are talking about. Annihilation is in the midst of a "whitewashing" controversy, one based on the heritage on the main character.
Natalie Portman is white. The Biologist (her book "name") / Lena (her movie name) is not. But we don't know this until the second novel in author Jeff VanderMeer's Southern Reach Trilogy, Authority, when he writes, "The biologist's hair had been long and dark brown, almost black, before they'd shaved it off. She had dark, thick eyebrows, a slight, slightly off-center nose (broken once, falling on rocks), and high cheekbones that spoke to the strong Asian heritage on one side of her family." In Annihilation, which is told from the perspective of The Biologist, we don't learn about her heritage. And when Garland was writing the screenplay, he intentionally only read the first book. (In fact, he adapted Annihilation before the sequels were even published.)
"The characters in the novel I read and adapted were not given names or ethnicities," Garland explained. "I cast the film reacting only to the actors I met in the casting process, or actors I had worked with before. There was no studio pressure to cast white. The casting choices were entirely mine." He continued, "As a middle-aged white man, I can believe I might at times be guilty of unconscious racism, in the way that potentially we all are. But there was nothing cynical or conspiratorial about the way I cast this movie."
Garland's comments come after the Media Action Network for Asian Americans criticized him for "not being true and honest to the characters in the book. He exploits the story but fails to take advantage of the true identities of each character." American Indians in Film and Television founder Sonny Skyhawk also denounced Annihilation, saying, "Just when you finish objecting to one white-washed casting, another one pops up." Meanwhile, Portman, whose character is center-square in this maelstrom, had no idea her character was whitewashed until someone told her… during an interview.
"I'm hearing that for the first time. That does sound problematic, but I'm hearing it here first," the actress told Yahoo! Entertainment. "We need more representation of Asians on film, of Hispanics on film, of blacks on film, women — and particularly women of color — Native Americans. I mean, we just don't have enough representation… I hope that begins to change, because I think everyone is becoming more conscious of it, which hopefully will make change."
The same is true of all-male nominees. Anyway, Annihilation, which also stars Jennifer Jason Leigh, Gina Rodriguez, Tessa Thompson, and Oscar Isaac, opens on February 23. According to Garland, he has "zero plans" for a sequel.
(Via IndieWire and Yahoo! Entertainment)