Last night, Entertainment Tonight interviewed the cast of Avengers: Age of Ultron and aired a few seconds of footage, which they (of course) slapped a distracting logo onto and talked over everything. At least a few good things made it through. They once again confirmed the potential Bruce/Natasha hookup. We also saw a brief glimpse of Quicksilver punching Captain America in the face:
This harkens back to the interview we mentioned yesterday, wherein Chris Evans said, " Let's not forget that I can get punched by a human and get knocked down."
More importantly, though, he and Mark Ruffalo can use interviews as an opportunity to poke fun at how jacked Chris Hemsworth is.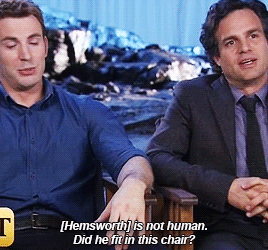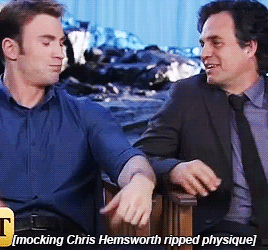 Via CBM and Brain Confetti