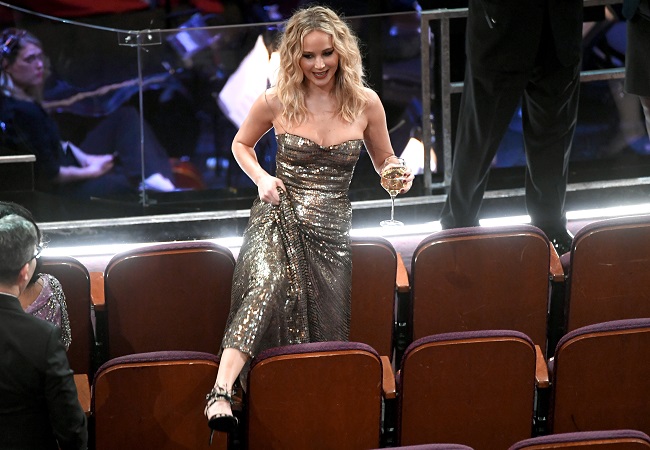 The 2018 Oscars were awarded Sunday night (full list of winners here), and Twitter was in top form making snarky comments and growing more inebriated as the night wore on. As is our usual custom, we're going to highlight some of the funnier comments and moments.
Due to the gaffe at last year's Academy Awards, people were checking their envelopes:
Guillermo del Toro got to check more than one envelope. He won the Academy Award for Best Director and Best Picture for his merman sex romp (this might be the wrong genre description but we're rolling with it) The Shape of Water:
Some on Twitter envisioned alternate reality versions of his acceptance speech:
The Shape of Water was, predictably, the subject of many jokes:
And somebody referenced (without attribution) comedian Mike Mendez's frequently-stolen joke about the movie:
But Grinding Nemo wasn't the only subject of jokes. Plenty of shade was thrown at other people, like Kevin Spacey and Ryan Seacrest.
Plenty of jokes were made regarding fashion choices, like Rita Moreno awesomely resurrecting her 1962 Academy Awards dress for 2018.
Jordan Peele won the Best Original Screenplay Oscar, and even he was gobsmacked:
Kumail Nanjiani was gracious about The Big Sick not getting the win:
And Twitter loved Peele's win:
Sufjan Stevens took a break from wearing hats wrong to give a performance:
And people were having strong feelings about plenty of things:
Allison Janney won for Best Supporting Actress, which required some hard choices.
Frances McDormand's Best Actress win provided us with a GIF that will come in handy for so many situations.
Gary Oldman won his first Best Actor Oscar for something.
People pointed out what was missing from the In Memoriam:
And then there was the HOT DOG CANNON.
What a time to be alive. What else could the future possibly hold?