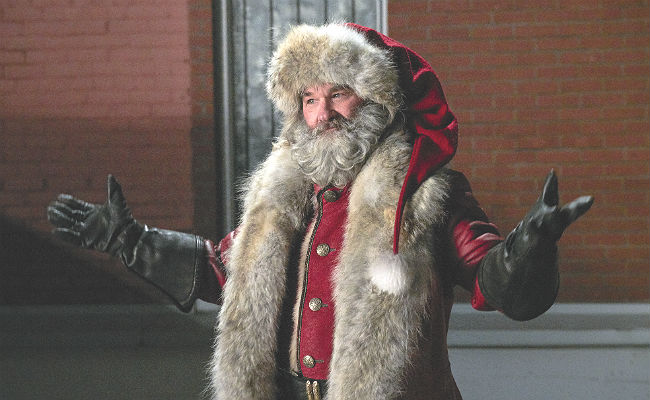 There are many names for Santa Claus and even more versions of the jolly old saint on the big screen. For decades, Hollywood's been making films about Kris Kringle, a benevolent figure gifting presents and spreading cheer. Some films imagine him as an elderly man with a fluffy white beard and a love of sweets. Others reanimate him as a tough, no-nonsense type in charge of saving Christmas, a holiday action hero if you will. The form may vary, but the spirit of Santa stays the same.
Still, we live in a culture that demands we rank and quantify everything, and even Kris Kringle isn't safe from that. It turns out, some Santas are just better than others, and we're here to do the hard work of sifting through holiday reels to find the best (and worst) versions of Father Christmas. Here they are, in order from naughty to nice.
10. Jeff Gillen – A Christmas Story
A Christmas Story is a classic, but the star of the film isn't Jolly Old Saint Nick, and that's probably a good thing. Our only glimpse of the man in red comes when Ralphie (Peter Billingsley) and his brother head to the mall for that all-important rite of the season: taking a seat on Santa's lap. Unfortunately for Ralphie, he's rushed through the happy tradition by a pair of nasty elves and Kris Kringle himself, played by a cherry-nosed Jeff Gillen. Not only is Gillen's Santa a crude, rude man bemoaning the smell of tapioca and the long hours he's forced to work, he also harbors an obvious disdain for children. The guy practically assaults Ralphie by shoving him down a slide with the heel of his boot. Any Santa that threatens children with physical harm gets put on the naughty list.
9. Artie Lange – Gimbels Santa in Elf
Will Ferrell's holiday comedy sported two Santas though only one felt like an accurate portrayal of the good-natured gift-giver. Unfortunately for Artie Lange who plays the imposter, a Gimbels Santa with a bogus beard and a thick accent, Ferrell's Buddy the Elf can smell a fake from a mile away. (He can also smell the stench of beef and cheese.) Identity theft is no joke, and when Buddy confronts Gimbels Santa, the two brawl in front of a room full of horrified children, but as terrible an actor as Gimbels Santa is, you've got to feel for the guy. How was he supposed to know a bona fide elf from the North Pole would show up to his day job accusing him of sitting on a throne of lies and ripping off his fake facial hair?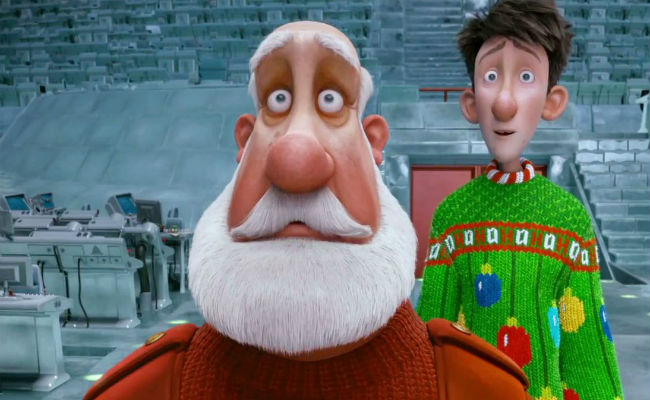 8. Jim Broadbent – Arthur Christmas
No one wants to imagine Santa Claus, the man responsible for the happiness of millions of children each year, as a bumbling, ego-driven father reluctant to retire and let his son take over the family business but that's exactly the kind of Papa Noel Jim Broadbent plays in the animated comedy Arthur Christmas. There's a lot to love about Broadbent's Santa — his cheery British accent, his clumsiness, his ultimate love for his family — but the guy makes enough mistakes that we're left questioning who gave him the reins in the first place.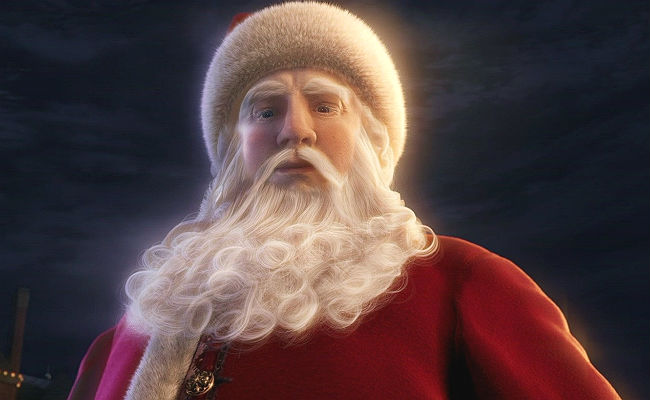 7. Tom Hanks – The Polar Express
Everyone knows that Tom Hanks is America's sweetheart (sorry Julia Roberts), so seeing him voice nearly every character in one of the most visually-stunning Christmas movies in cinema's history is a real treat. His work as the conductor of the Polar Express, a magical train ferrying lucky boys and girls to the North Pole on Christmas Eve, normally receives most of the praise, but Hanks gives us a damn good Father Christmas in the film too. Towering over his helper elves with a flowing white beard, a glint in his eye and a reserved, all-knowing air, Hanks' Santa feels like the kind of benevolent being that would actually keep a naughty or nice list, rather than simply feigning one.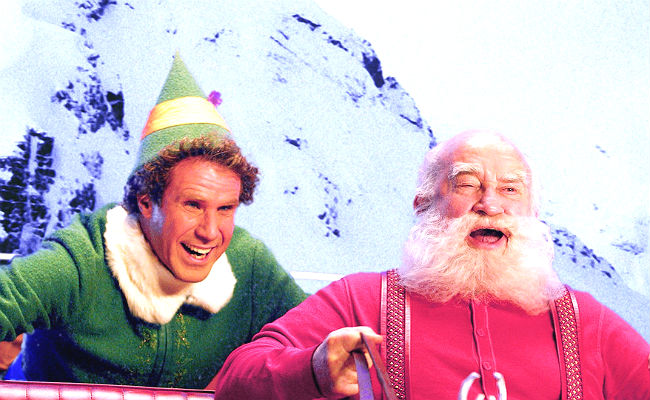 6. Edward Asner – Elf
Elf, Will Ferrell's comedy about an adult man who believes himself to be one of Santa's helpers only to discover he's the son of a grumpy old book publisher, focuses more on Santa's support staff. Yet that doesn't mean Hollywood legend Ed Asner doesn't turn-up and turn-out in the role of Kris Kringle. Not only is this the kind of Claus that good-naturedly puts up with a clueless human amongst his ranks, bungling Christmas toys and putting him behind schedule, Asner's Santa is also one that can think on the fly. When his sleigh crashes in Central Park, he recruits Ferrell's Buddy to craft a DIY solution to saving Christmas. With a scraggly beard, a bald head, and a raspy voice, Asner's version of Santa Claus is a bit more worn. He's seen things, been around the block a few thousand times. He could also double as that old neighbor that yells at kids to get off the lawn and complains about millennials killing industries, which just adds a bit of old-school charm to Jolly Saint Nick.
5. Alec Baldwin – Rise of The Guardians
Alec Baldwin gives the traditional view of Santa Claus as a jolly, overweight old man spreading cheer to children around the world the big middle finger in the animated Rise of the Guardians. Instead, Baldwin's Claus is a tatted-up beef-head, a guy with more muscles than jelly, with a Russian accent and a wild streak. The man's so cool, he's not even called Claus, he goes by North, a wintry superhero moniker that feels more suited to his sword-brandishing style of justice and his taste for danger. He's the Jason Statham of Santa Clauses, and he deserves your respect.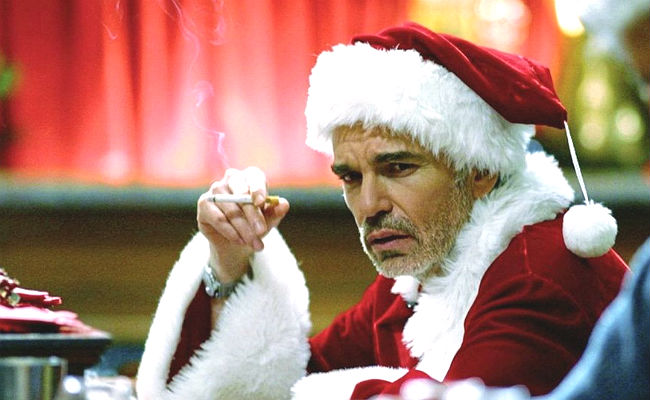 4. Billy Bob Thornton – Bad Santa
Speaking of badass Santas, Billy Bob Thornton plays on in the black comedy film Bad Santa. Well, his character's more "bad" than badass but Thornton's turn as Willie Soke, a mall Santa who dons the red suit so he can later rob the department stores that hire him is, in a word, iconic. Not only is Thornton oddly good at playing these rough-and-tumble types (men who drink too much, chain-smoke, and bang anything that moves), he also nails that hard-to-toe line of complete a**hole and a big softie.
3. Tim Allen – The Santa Clause
Any kid who grew up in the '90s probably has Tim Allen to thank for their ideal of the man in red. The sitcom star played Scott Calvin in the holiday flick, a divorced toy salesman who accidentally kills the real Santa Claus on Christmas eve and is forced to take on his duties with help from his son Charlie. Allen's his normal wise-cracking self as Calvin, a guy who begins to grow a beard, put on a belly, and crave sugar as Christmas draws near. Yet once he stops griping about his new job, he's surprisingly well-suited for the role. Allen made all of us believe our own dads might one day become Santa Claus — if they could get over the whole murder part — which is reason enough for him to be on this list.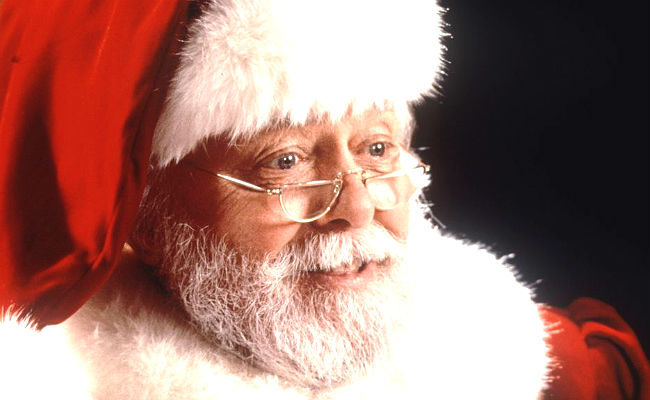 2. Richard Attenborough – Miracle on 34th Street
Another reason to believe '90s kids were truly blessed is this Christmas gem. Sure, Miracle on 34th street has been remade dozens of times by now, but the 1994 version stands out mostly because of Richard Attenborough, who's long been hailed as the best movie Santa of all time. He more than earns that title in this film, playing a charming, mischievous, kind-hearted version of Kris Kringle, inspiring children and adults alike to believe in the spirit of Christmas. He's the right age, the right temperament, and he's got the perfect amount of cherub in his cheeks to man the role.
1. Kurt Russell – The Christmas Chronicles
We know this choice might ruffle some feathers. After all, Kurt Russell's turn as Santa Claus is still fairly new. His Netflix movie The Christmas Chronicles, only landed last month. Yet we refuse to let tradition and nostalgia stand in the way of crowning the greatest movie Santa of all time and doing it with the kind of integrity and disregard for popular opinion expected of the journalism community. Russell puts in a tour-de-force as Papa Noel in this over-the-top caper that has car chases and jailhouse jam sessions. With a perfectly coifed mane, a manic twinkle in his eye, and a definite wild side, Russell's Claus feels like the next chapter in the evolution of the holiday folklore hero. You better watch out, Kurt Kringle is comin' to town.