Sunday evening's Golden Globes didn't set televisions ablaze, but that doesn't mean fashion slacked off for the evening. Quite the contrary. From across the television and film worlds, stars came together in the most superficial way imaginable. Dresses worth thousands of dollars splashed down the red carpet with diamonds borrowed for the evening like Cinderella's coach. Of course, fans and haters make a sport out of fashion, and we can join in for sheer fun. Fashion is always subjective, but ranking the "best" and "worst" dresses may make you feel better about those yoga pants. Shall we begin?
Best: Kirsten Dunst didn't win an award for her role in Fargo (although many felt she deserved one). Dunst can take small comfort in knowing she wore one of the most flattering ensembles of the night. Her not-so-little black Valentino dress balanced a classic style with a classy flash of skin. This look is pure contemporary glamour.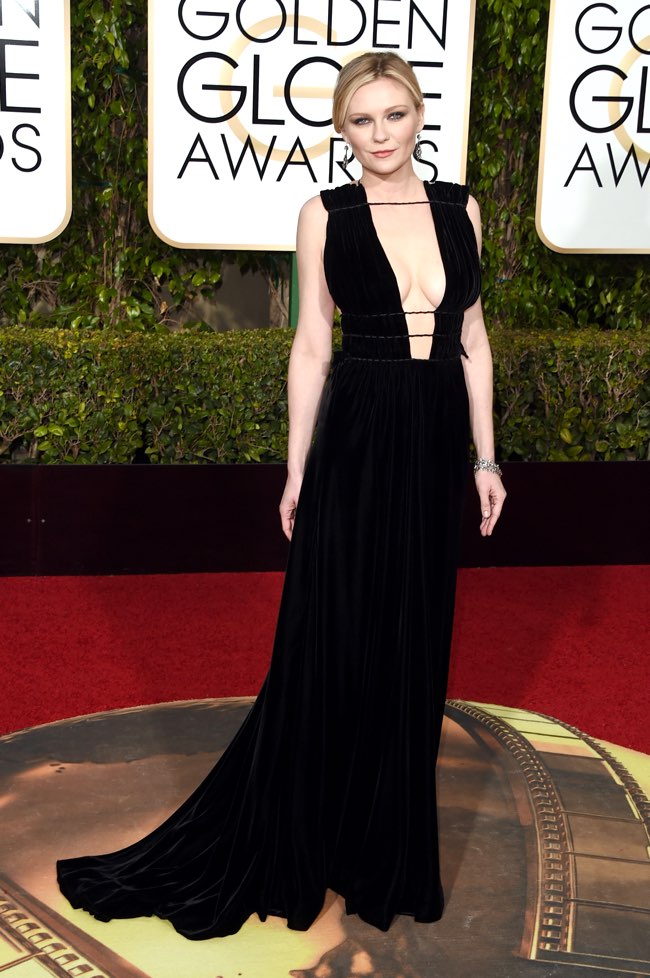 Worst: Emilia Clarke also wore a black Valentino gown with less successful results. Where is your Mother of Dragons now, dear friends? She's lost within many miles of fabric plus a sheer, curtain-filled cape on top. Pilgrim chic did the Golden Globes, and the results were baffling. Those dragons would set this dress on fire if they had the chance.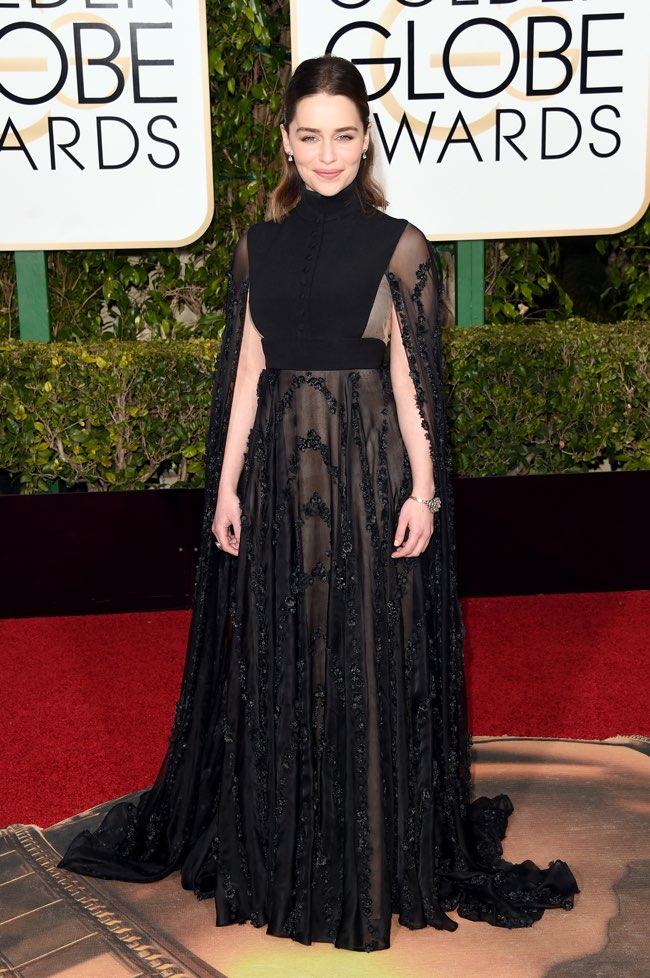 Best: Brie Larson won the Best Actress in a Drama award for her role in Room. She also scored an infinite number of points in this glittering, gold number from the Calvin Klein Collection. The modified halter top showed off her impressive abs to maximum effect.
Worst: Cate Blanchett provides a cold shower with this baby pink monstrosity, which resembles Three's Company-era styling from Mrs. Roper's closet. Blanchett usually brings the fashion, but this Givenchy dress resembles an unappealing nightgown.
Best: Emmy Rossum looked stunning in this red Armani Privé gown, which she styled perfectly with loose dark hair and a simple diamond necklace. Somehow, she pulled off bright scarlet without looking like a walking Valentine's Day card. The dress is perfectly tailored, and the slight fishtail adds the right dramatic edge.
Worst: Kate Bosworth asked for all of the beads in this custom-made Dolce & Gabbana dress. The designer didn't know when to stop, and the full effect carries the weight of a thousand disco balls. One saving grace is the simple silhouette, but shininess still prevails. This may have been all right for a gala setting but not an awards show.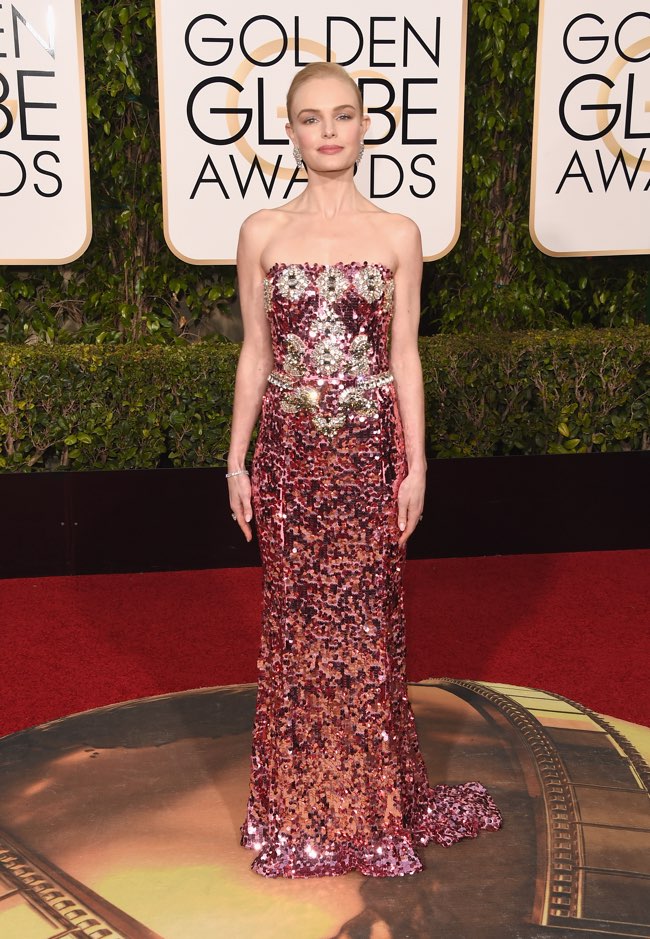 Best: Taraji P. Henson looked magnificent in a body-hugging white Stella McCartney column dress with a drapey tail. White fabric carries the danger of looking too bridal, but the details on this dress are anything but traditional. Smokey makeup and an offbeat purse add some much needed oomph.
Worst: Heidi Klum is a supermodel with the power of several stylists on hand, yet she always manages to dress awkwardly at awards shows. This Marchesa dress is no exception, and I'm starting to wonder if Klum is trolling the awards show crowd. How does someone who judges fashion miss the mark so consistently? Fringe madness, I say.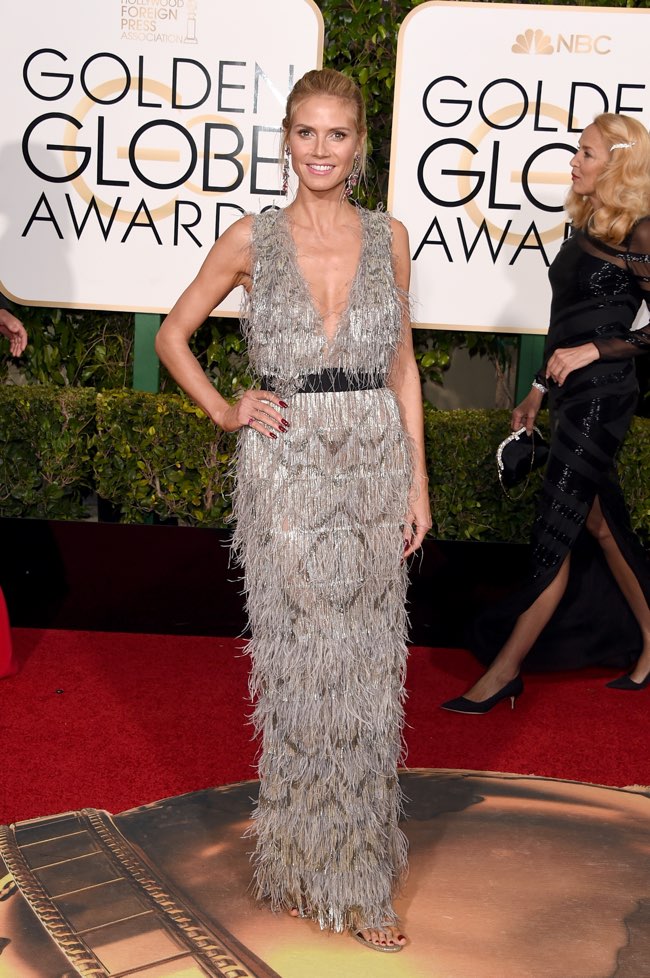 Best: Olivia Wilde's currently at work on the throwback Vinyl HBO show, and this dress takes us back in time, too. Wilde's wine-colored, sequin covered dress from Michael Kors Collection was one of the best of the evening. This dress is very sexy without going overboard. Wilde's million-dollar smile doesn't hurt the effect at all.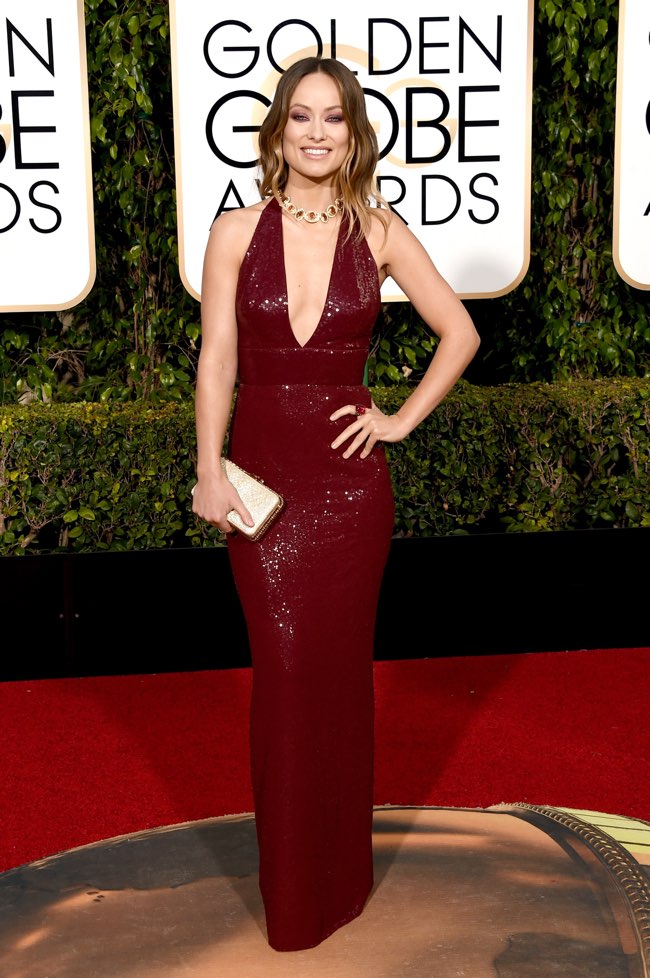 Worst: Regina King's gold, caped, and sequined Krikor Jabotian gown was an exercise in packing too much into one outfit. Without the cape, the dress may have stood on its own, but we'll never know. As it stands, the overpowering pattern of the dress volleys into the stratosphere with the ill-considered, excess fabric of doom.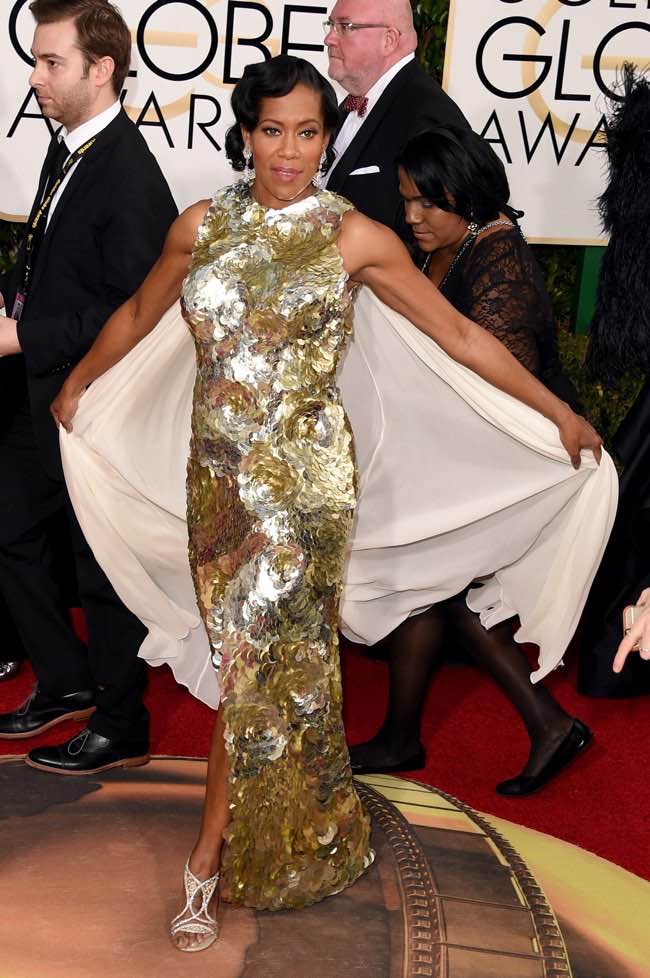 Best: Jennifer Lopez swerves between gorgeous and garish fashion, but no one has ever accused her of being boring. Lopez often favors sheer, risk-taking dresses, but this mustard colored Giambattista Valli is somehow as sultry as its predecessors without revealing much skin. Lopez is also an ageless vampire. Everything here is perfection.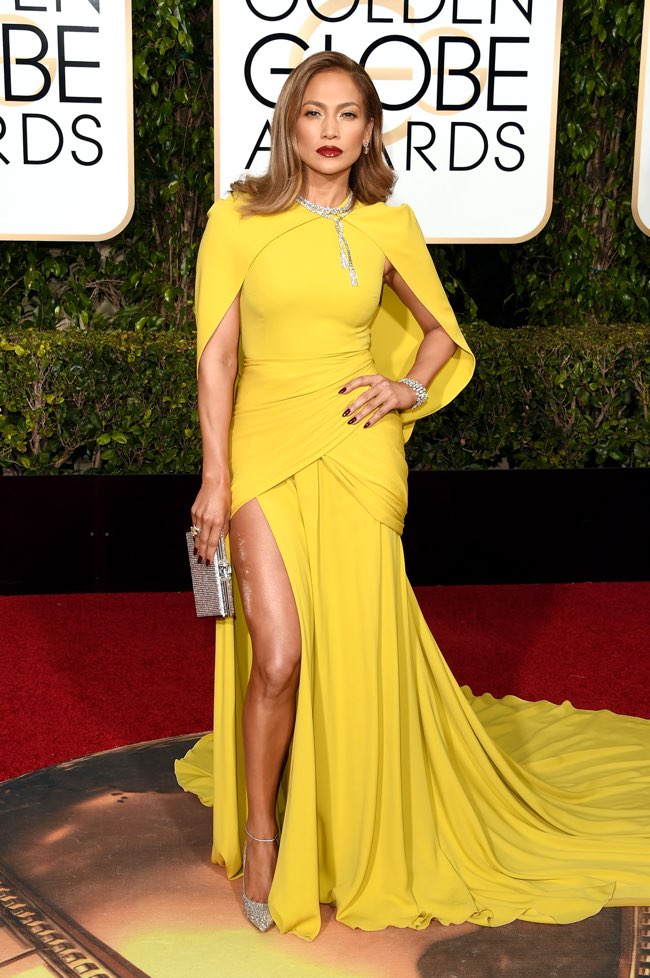 Worst: Katy Perry went to prom the Globes in this confusing pink Prada dress. Granted, she looks good, for it's difficult for Perry to not look like a va-va-voom queen. This dress, though informal, would have worked if it was tailored better. We can hardly expect Perry to cover up, but a better fit would have made this dress an offbeat success (even with the poufy hair).
Best: Lady Gaga prided herself on bad fashion for many years, but her recent career transformation into serious jazz musician (and semi-serious actress) led her to this somber dress. Fortunately, this Tom Ford number has an offbeat silhouette with flared, fancy hips. Gaga's makeup is a bit washed out, and she may have benefited more from a bolder brush stroke.
Worst: Jennifer Lawrence makes a lot of money wearing Dior dresses on the red carpet. She must not mind how their offerings have grown progressively more dull over the past few years. This red dress can't decide whether it's formal or funky, and it can't accomplish both goals. Man, this fashion house truly aches without John Galliano's touch.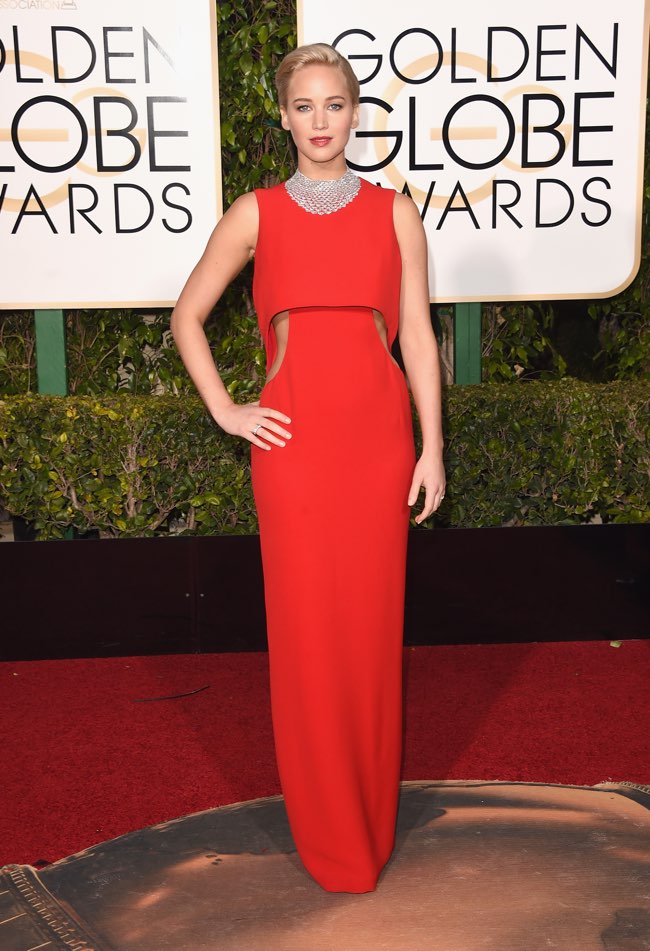 Best: Kate Winslet's royal blue Ralph Lauren number stood in underrated glory. This well-styled dress is so polished that Winslet deserves more than a Globe (which she won for her Steve Jobs performance). There's a reason why Ralph Lauren dresses are usually favored on the red carpet. The designs are generally simple but almost always effective.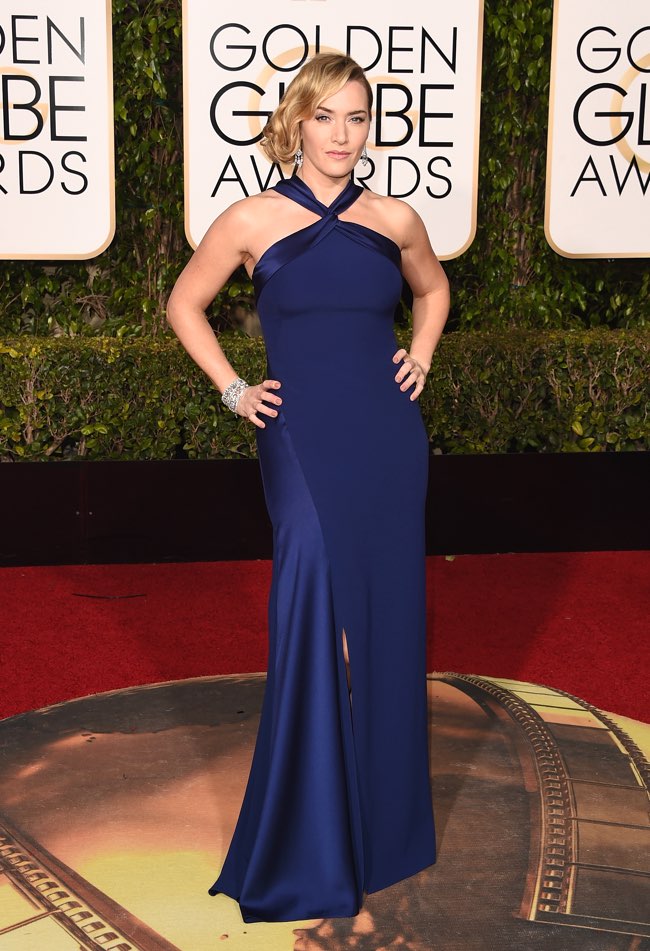 Worst: Jada Pinkett Smith wore a jade (?) Versace dress with too much fabric. The gown would have looked wonderful without faux-cape details. Instead, we're seeing a jewel-toned toga with enough material to dwarf Smith's petite frame. This dress would have been superb as a simple strapless dress.
Best: Kate Hudson — yes, I said it — looked intensely beautiful in a nude tube top and fitted skirt by Michael Kors. The choker collar saves the ensemble from appearing too casual, although this look never would have flown at the Oscars. Hudson works hard for her physique, and she's in the business of selling exercise clothes, so she's showing off the bod. Regardless of her intentions, this was a winning look.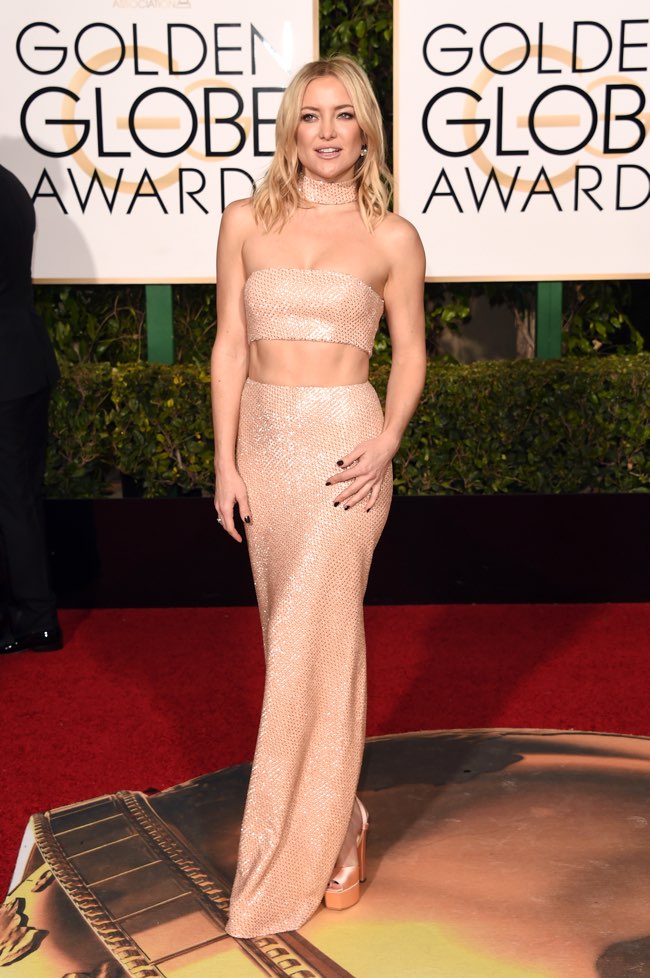 Worst: Jane Fonda rarely scores well in the fashion department, but this Saint Laurent Paris takes the cake by actually looking like a cake. The only positive about this gown is that, yeah, the upper part of the outfit may be made of icing. You can't call this theory wrong without a taste test.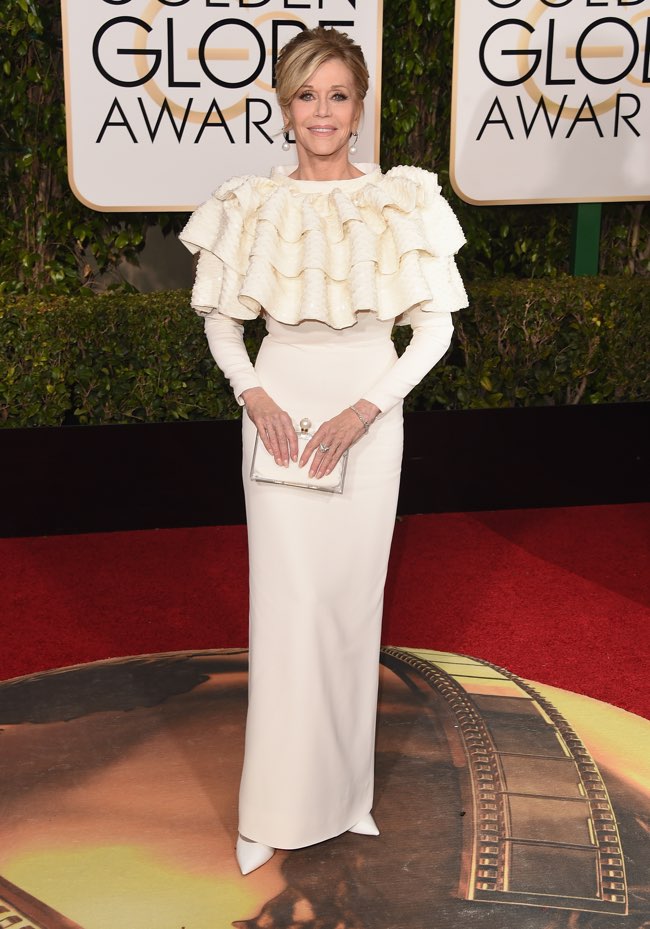 Now Watch: Why The Golden Globes Should Be Your Favorite Awards Show