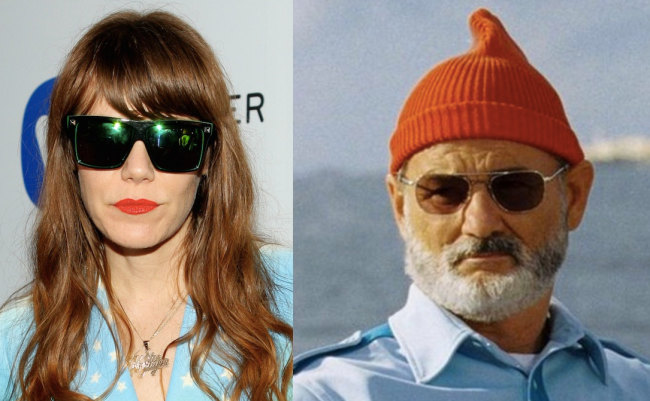 Our own Vince Mancini called the new movie Rock the Kasbah "mystifying" and a "whatsit." That's about how I felt after reading its star, Bill Murray, is reportedly dating Jenny Lewis, the former Rilo Kiley leader who released one of 2014's best albums. Or in the words of Page Six, Lewis is Murray's "current younger love interest," which sounds demeaning. It should say she's Murray's "badass maybe girlfriend." I'd also accept "Troop Beverly Hills actress."
Spotted arriving to meet Murray and jumping onstage, too, was former child actress Jenny Lewis, 39. "Jenny is Bill's special friend," a source said. Flame-haired Lewis, who's been linked to singer Johnathan Rice, was also at a Hamptons screening of the film, and the pair was seen together after at the Huntting Inn. She'll appear in Murray's upcoming holiday special and popped up in a faux rock doc to promote Rock the Kasbah. Her rep said, "No comment." (Via Page Six)
There's about a 5 percent chance of this being real (give or take 5 percent), but I want it to be true. Rilo's first full-length album came out the same year as The Royal Tenenbaums (and Osmosis Jones!). Murray and Lewis could talk about that, and he'd ask her what it was like being in a single episode of The Golden Girls, and she'd demand he reveal what he's saying at the end of Lost in Translation. This is how celebrity couples talk to each other, as imagined by someone who's loved Lewis and Murray since he was a teen.
Then they'd do the Frug.
UPDATE: Predictably, there's now a denial.
(Via Page Six)