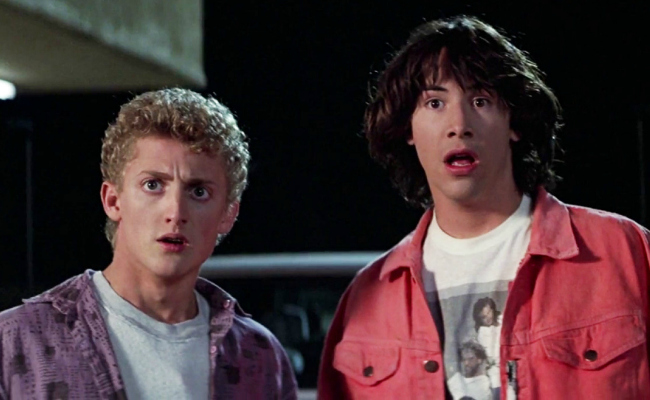 It's been 27 years since Bill & Ted's Bogus Journey, but the hope for a third Bill & Ted film has been kept alive in the hearts of fans. Starting with Bill & Ted's Excellent Adventure, the dimwitted but good-hearted heroes took a ride through space and time and earned a spot among cult classics. There has been a lot of starts and stops regarding a third film, but the creative minds behind it are all on board, including stars Keanu Reeves and Alex Winters.
In a new interview with Digital Spy, Ed Solomon, the cowriter of both Bill & Ted films, gave fans some new details of what the third film, currently titled Bill & Ted Face The Music, would look like.
"This is not, 'Hey let's all cash-in on the Bill & Ted thing for money' – this is the opposite. This is, 'We love these characters, they've been with us for our whole lives' – Chris and me, and Alex and Keanu – and we wanted to visit them again as middle-aged men. We thought it would be really fun, and funny, and sweet.

"We really think there's another movie to be done that is the opposite of cynical, that is actually made with love. [It'll be] made with love and affection for the characters, and affection for the fans of Bill & Ted. All of us really want to give the people who love Bill & Ted, and people who haven't even discovered Bill & Ted yet, a movie that is worthy of their affection. And we're trying!"

Solomon also explained that the film would touch on the loss of Bill & Ted's mentor Rufus, played by the late comedy legend George Carlin.
"There's actually a scene – one of my favorite scenes in the whole movie – where middle-aged, 50-year-old Bill and Ted return to the Circle K and see their teen selves and Rufus, and actually interact with their teenage selves, played by their actual teenage selves.

"They return to that scene at the Circle K when Bill and Ted first meet themselves, only now they're watching their younger selves and looking at the exuberance and joy that they had at that time in their lives. And they see Rufus, they see George Carlin."
Well, this all sounds wonderful, so what's the hold up? According to Solomon, funding is proving to be an issue.
"We are having issues raising money for it, getting it financed, because what we get all the time – all the time – is people wanting to reboot it. It's 'Let's do Bill & Ted with new teenagers', but what we wanna do is the story of Bill and Ted as middle-aged men, and tell what we think could be a really funny, and actually really moving, story about their lives and where they are now – their families, their kids…"
Solomon also said that the original film didn't have a wide release or significant box office gross, and that it grew to be a beloved comedy overtime, which is another red flag to investors. Here's hoping someone sees the light soon and the Wyld Stallions will get another chance to rock again.
(Via Digital Spy)