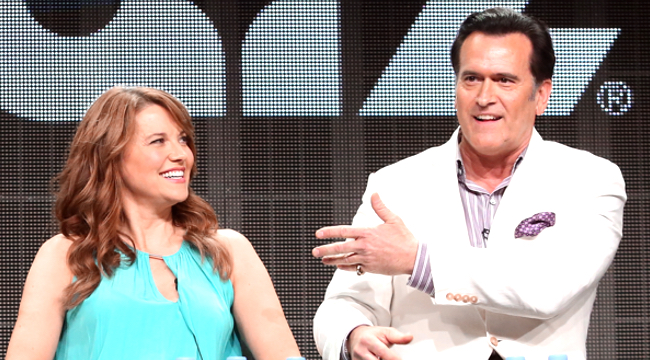 Bruce Campbell and Lucy Lawless appeared at Saturday's Television Critic Association meeting to promote their Starz series, Ash Vs. Evil Dead. Lawless will play Rudy, a mysterious character "who is myopic in her quest to hunt down the source of the recent evil outbreaks." Rudy will antagonize Bruce, who will already be back in full swing against the forces of evil. Ash will stay busy, and fans of the franchise will receive five fresh hours of blood-soaked mayhem at the hands of showrunner Craig DiGregorio. And that may not be all.
Speaking at the panel (and hot on the San Diego Comic-Con trail), Campbell and Sam Raimi both pushed hard for more Evil Dead films. Not just one or two of them. They want the whole, nine-yard boomstick:
"This series will force us to make more movies," Campbell said, probably wearing that same cocky grin you're currently imagining in your head right now. "That's only 10 hours of programming; we need eight more movies." Raimi agreed with the Campbellian show of bravado, saying he'd be on board to make another Evil Dead film as long as his longtime friend and collaborator was in front of the camera. Until then, though, fans of blood and boomsticks will have to content themselves with the 10 half-hour episodes on Ash Vs. Evil Dead currently set to start airing on October 31 (although the pair also hinted, possibly jokingly, that a renewal announcement might already be in the works).
Lawless got a word in as well. She fielded questions about the rumored Xena reboot. Lawless issued a reminder that she, uh, started that bit of gossip herself. Lawless hopes she can take up the armor again in the future, but she's trying to bring the internet back to reality.
Ash Vs. Evil Dead premieres on October 31, the day after Discovery America's Exorcism: Live!. Television's upcoming Halloween season is shaping up to be a good one.
(via AV Club)