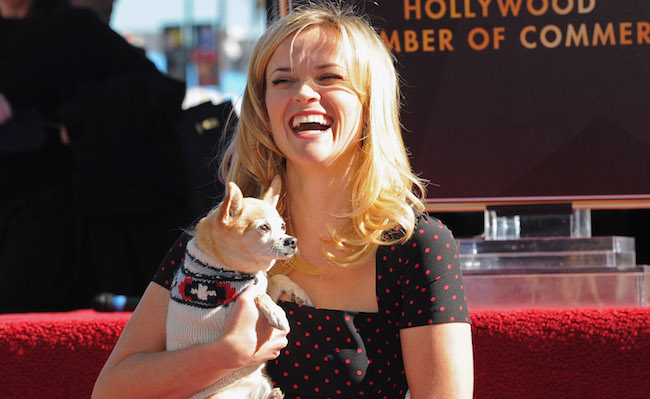 Moonie, the ultra-cute chihuahua better known as "Bruiser Woods" in the Legally Blonde films, has died at age 18. (You're allowed to shed a tear or two over it. This is a safe place.)
Moonie's big screen co-star Reese Witherspoon shared her heartbreak over the pup's passing on Instagram with a cheery picture of the pair and an outpouring of feelings in the accompanying caption. A busted heart emoji was deployed too because this is the sort of thing you'd use it for.
"With a sad heart, I have to let all the #LegallyBlonde fans know that Bruiser Woods (also known as Moonie) passed away yesterday. He was a sweet little Chihuahua who was very loved. I will never forget all the days we spent together … I'm sure his tail is wagging in the sky."
Witherspoon expressed her feelings of compassion for Moonie's trainer Sue Chip over the loss. Chip also penned her own tribute to the beloved pooch on Instagram. She described Moonie as "one of the greatest little dogs" while using a picture from Witherspoon's 2010 Hollywood Walk of Fame ceremony.
Here's what Witherspoon had to say at that Walk of Fame ceremony when giving some shine to her furry Legally Blonde scene stealer:
"My very, very famous costar Bruiser: I mean, he came all the way out of his kennel," she said. "He's a very busy working dog and he managed to show up today."
Thanks for the memories Bruiser/Moonie. If Legally Blonde 3 ever does happen, we expect a tiny tribute to be snuck into the film.
(Via TMZ)