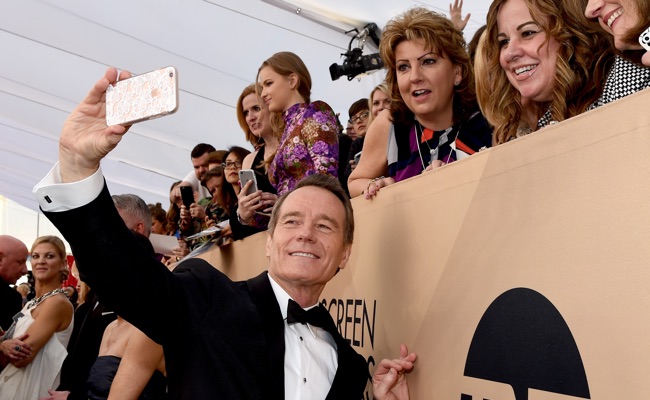 Bryan Cranston is, by all standards, an acting chameleon. He's finally (maybe) starting to shake his Walter White image after embracing the inevitable and not worrying about being globally typecast. That's the danger in playing iconic roles, but Cranston will soon deliver even more stunning performances, which will leave Breaking Bad in the desert dust. He's not faring poorly so far with an unbelievable transformation as Lyndon B. Johnson. Cranston also has designs on a Marvel villain, and he knows exactly which one will fare best.
At Saturday evening's Screen Actors Guild awards, Cranston supported his Trumbo nomination for Outstanding Performance by a Male Actor in a Leading Role. Leonardo DiCaprio took the award for his riveting turn with a saucy bear in The Revenant. If Cranston's feeling robbed, he can take comfort in what happened earlier that evening.
In this red carpet moment, E!'s Giuliana Rancic surprises Cranston with an old clip from his 1980s Baywatch cameo. Cranston bursts into laughter before whipping out a handkerchief and weeping. He wipes his eyes while saying, "I don't understand how that could have been overlooked for the Emmys or the SAG Awards." The response was so visceral (his eyes are bloodshot) that it's hard to believe Cranston was acting, but yes, he's that good.
Lest anyone think that Cranston was moved to genuine tears, he chose to confess his Baywatch inspiration: "I believe my secret for that character is he had diarrhea." This guy, such a trip.
When Cranston received his SAG nomination in November, he gamely tweeted how he was "so joyous – I'm beside myself."
(Via E! Online)