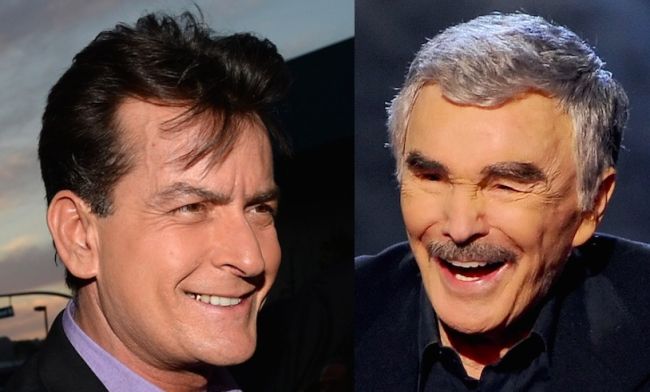 If you need mustache wax, Burt Reynolds is your guy. But don't come to him looking for compassion, especially if you're Charlie Sheen. The Boogie Nights star and Archer spirit animal was a guest on the British talk show Loose Women, where he was asked about Sheen's recent HIV diagnosis.
"His father's a very, very decent man and a dear friend of mine," Reynolds, 79, said of Martin Sheen on Tuesday, Dec. 8. "I feel bad for him. But Charlie, I don't feel bad for him. He's getting what he deserves. If you're going to misbehave like that, then they're going to get you." (Via)
Sheen revealed he was HIV-positive in November. Since then, the Two and a Half Men actor has been called a "criminal" who fooled around with "male/female performers," had his alleged sex contract leaked, riled up Jenny McCarthy, and Brett Rossi claimed that Sheen "wanted to kill my ex-husband." And now Burt Reynolds is telling him he "deserves" what he got. Now, I'm no big-city doctor, but I'm pretty sure that isn't how HIV works.
I'd expect better medical knowledge from Robert "Gator" McKlusky.
(Via Us Weekly)