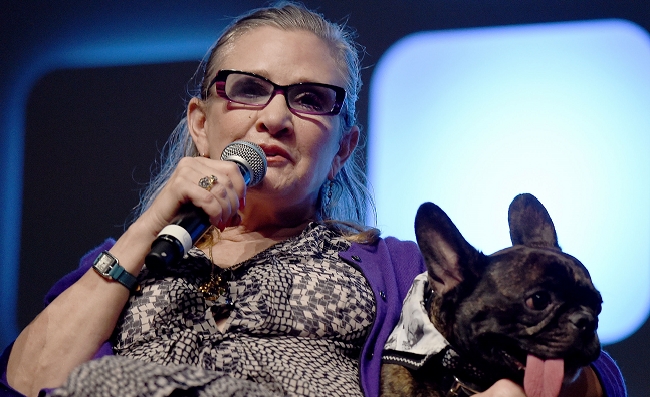 Every story about the late Carrie Fisher, like that time she slapped her co-star Oscar Isaac in the face 27 times, is at least a good story, but this is a great Carrie Fisher story. Her friend Heather Ross spoke on Phoenix's 94.9 Morning Mix radio show on Monday to discuss how the Star Wars actress stuck up for her after she was sexually assaulted by an "Oscar-winning producer."
"Carrie sent me a message online and she said, 'I just saw blank at Sony studios. I knew [the producer] would probably be there, so I went to his office and personally delivered a Tiffany's box wrapped with the white bow,'" Ross revealed. "It was a cow tongue from Jerry's Famous Deli with a note that said, 'If you ever touch my darling Heather or any other woman again, the next delivery will be something of yours in a much smaller box.' If you don't know what a cow tongue looks like, Google it." Please do not Google it. I will describe it, instead: a cow tongue looks like one of the pathetic Jerry worms from Rick and Morty. Also, a certain, very sensitive part of the male body.
(It does not look like Gary Fisher's adorably ever-present tongue.)
"That's who Carrie Fisher was," Ross added. "She put things out there and in your face." Like cow tongues. We should all have a Carrie Fisher in our lives.
(Via Mashable)