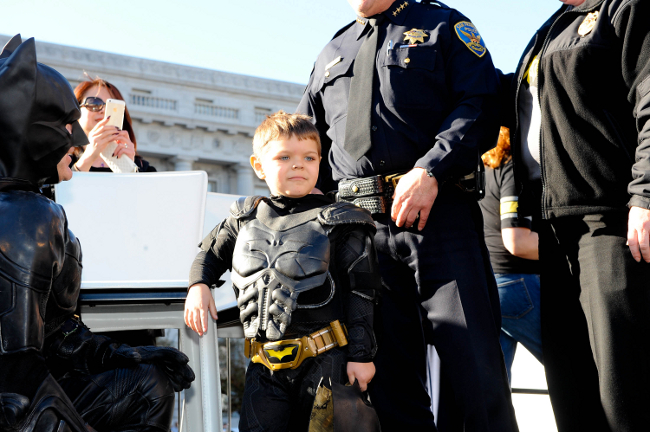 When Miles Scott first came to the world's attention, everyone embraced the young leukemia survivor's dream of donning Batman's cape and cowl. Batkid was born, and he became an instant internet success. Between saving San Francisco from the Riddler and becoming the subject of a documentary film, you'd think his status of awesomeness couldn't rise any higher.
Actually, you'd be wrong. Deadline reports legendary poster artist Drew Struzan came out of retirement to immortalize Batkid with this incredibly cool poster:
Struzan's artwork for film in the 1970s and '80s is the stuff of movie geek legend, and his breathtaking painted designs for the Star Wars and Indiana Jones films in particular sealed his place in the hearts of generations of fanboys and girls. Despite officially retiring from the poster game in 2008, Struzan is rumored to be coming back for the new Star Wars films. But first he created this original poster for director Dana Nachman's Batkid Begins, pro-bono. (Via Deadline)
Batkid Begins: The Wish Heard Around the World premieres at the Slamdance Film Festival later this month in Park City, Utah. Everything about all of this is absolutely wonderful, but if the filmmakers manage to offer festival attendees complimentary copies of this beauty, all would explode with amazingness. Like puppies and rainbows.
(Via Deadline)