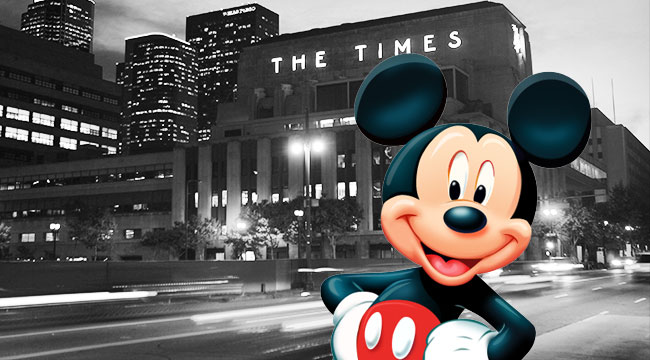 While Thor: Ragnarok blasted its way into theaters on Friday, the Los Angeles Times notably did not include a significant mention of it — or any other major holiday movies forthcoming from Disney — in its "annual Holiday Movie Sneaks section." Why? Because, according to a note published by the paper, the "Walt Disney Co. studios declined to offer The Times advance screenings, citing what it called unfair coverage of its business ties with Anaheim." In other words, because of a Times investigation unrelated to movie coverage, Disney was banning the paper's entertainment reporters outright.
On Tuesday, the New York Times revealed the company's days-long blackout of the Los Angeles Times has come to an end following "productive discussions" between the two parties. "We've had productive discussions with the newly installed leadership at The Los Angeles Times regarding our specific concerns," Disney explained in a statement, "and as a result, we've agreed to restore access to advance screenings for their film critics." Of course, what the company's statement failed to mention was that other outlets and organizations had already publicly refused to cover Disney films in advance until the ban was lifted.
The Washington Post entered the fray dramatically on Monday when pop culture writer Alyssa Rosenberg said she would not attend advanced screenings of Disney films until the Los Angeles Times ban was lifted. The A.V. Club's A.A. Dowd followed suit shortly thereafter, saying the popular website would cover Disney releases, but not in advance — thereby avoiding any and all advanced promotion of the films. Tuesday afternoon, the New York Times joined the boycott — along with many other newspapers and film critics organizations across the country. And, in a joint statement, the National Society of Film Critics, New York Film Critics Circle, the Los Angeles Film Critics Association, and the Boston Film Critics Association all announced that Disney films would not be eligible for year-end awards consideration so long as the ban remained in place.
Now that Disney has effectively ended its ban against Los Angeles Times reporters for advanced access to its upcoming film properties, perhaps the previously Disney-less Holiday Movie Sneaks can be made whole once more. Or, as New York Times culture reporter Dave Itzkoff succinctly put it on Twitter:
(Via New York Times)