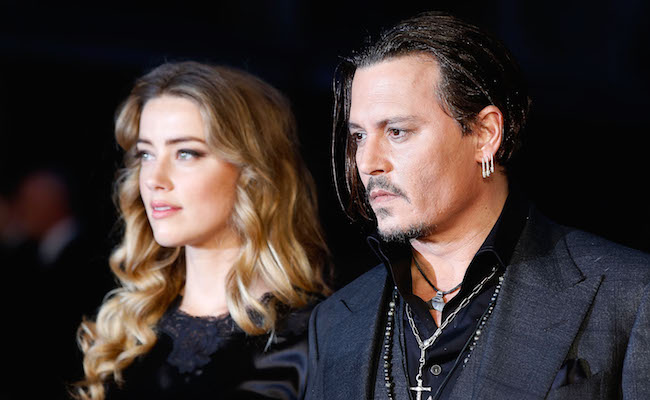 As one might expect, comedian Doug Stanhope's controversial essay "Johnny Depp Is Being Blackmailed by Amber Heard – Here's How I Know" for The Wrap was far from warmly received by the party it lays serious charges against. Heard, who recently split from Depp, has responded with legal action over the allegations unspooled by Stanhope.
The Hollywood Reporter reports that Heard is suing Stanhope for "for defamation and intentional infliction of emotional distress." Stanhope's piece alleged that Heard manipulated Depp (Stanhope's friend) for years and that the abuse claims against the actor are false. The version of events presented by Stanhope has been vehemently denied by Heard's camp and now legal action is being taken against Stanhope and "others who have not been named." If Heard is successful in her legal bid, any money awarded to her will be given to a domestic violence shelter.
"Stanhope is a close friend of Johnny Depp and, as part of a coordinated effort, wrote a highly defamatory article about Ms. Heard, filled with completely false, highly defamatory and very hurtful statements," says Heard's attorney Charles Harder. "Ms. Heard seeks the maximum possible jury award, and will donate 100% of the proceeds from the lawsuit to Chrysalis, a domestic violence shelter in Arizona, in an effort to counter the setback made to women by the defendants' defamatory article and related wrongful acts."
Heard's legal team has asked The Wrap to retract Stanhope's post, but that hasn't happened as of yet. On Monday, a lawyer for Heard informed The Wrap that they consider Stanhope's comments to be completely false and brand the post to be "typical celebrity muckraking for profit."
The Hollywood Reporter also notes that Heard's lawsuit against Stanhope includes discussion of the violence she says Depp inflicted upon her in their relationship.
"Depp has hit and kicked Heard on numerous occasions, has thrown objects at her, at one point nearly suffocated her to the point where she feared for her life," states the complaint. "Heard repeatedly returned to Depp, despite his verbal and physical mistreatment of her, hoping optimistically that the man she married would change his behavior. Each time Heard returned, however, within months, the cycle of substance abuse and violence repeated."
We will continue to follow this story as it develops.
(Via The Hollywood Reporter)