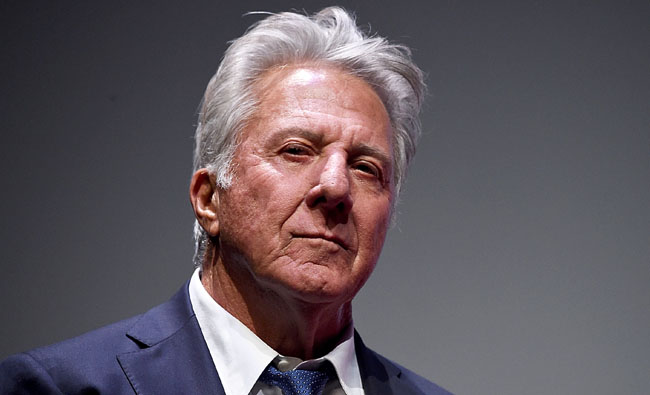 In the aftermath of the Harvey Weinstein sexual harassment and assault scandal, it's become a time of reckoning for anyone in the entertainment or media business who has ever made inappropriate language or unwanted sexual contact in the workplace; those with skeletons in their closet are pretty much living on borrowed time. Case in point, on Wednesday, Los Angeles-based writer Anna Graham Hunter penned a guest column for The Hollywood Reporter detailing how she was sexually harassed and groped by Dustin Hoffman as a 17-year-old intern on the set of the 1985 TV film Death of a Salesman. Hoffman was 48 at the time.
In the piece, Graham Hunter published excerpts of a five-week long journal she kept on set, detailing the actor making inappropriate sexual remarks to her and other young women on set, grabbing her butt, and requesting massages. At the time she felt conflicted about the attention she was getting from a big-time movie star, but as an adult sees the situation more clearly now.
Mostly though, my heart aches. It aches for the teenager who was so thrilled to join a movie star's party that she gave him a foot rub even though she didn't want to, even though she tried to protest she wasn't good at it. My heart aches for the awkward virgin with the bad hair who had only been kissed three times in her life, laughing as the man her father's age talked about breasts and sex. I want to weep that she found this charming.
This is not the first time Hoffman has come under fire for his on-set treatment of women. An unauthorized Meryl Steep biography published in 2016 alleged that, while shooting Kramer vs. Kramer, Hoffman would taunt and torment his on-screen counterpart (who had just lost her partner John Cazale to cancer), even slapping her to prepare her for a scene.
When contacted by THR about Graham Hunter's allegations, Hoffman responded: "I have the utmost respect for women and feel terrible that anything I might have done could have put her in an uncomfortable situation. I am sorry. It is not reflective of who I am."
(Via The Hollywood Reporter)